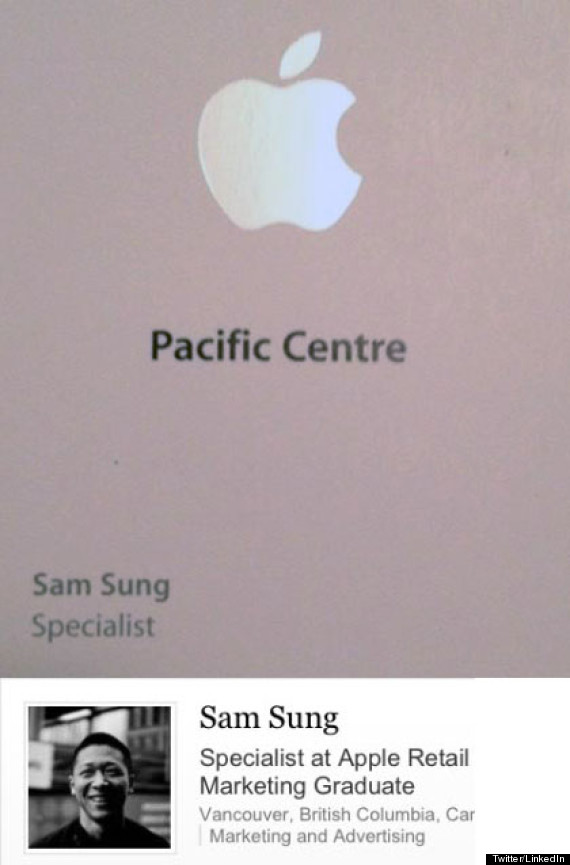 We've unravelled the mystery of whether Sam Sung actually works for Apple. He does! And he's really nice.
The curious case started when Shaun O'Toole tweeted a photo of a business card belonging to Sam Sung, who works in the Apple store in Vancouver's Pacific Centre mall. He said Sung had helped his wife's aunt.
@sotoole

Shaun O'Toole
Of course, the card went viral with everyone wondering, "Is Sam Sung real?"
A LinkedIn profile for "Sam Sung" was deleted shortly after the Twitter photo was shared around the Internet. It shows that Sung, a marketing graduate, has worked for Apple in Vancouver since September 2010.
We took a stroll to the mall on our lunch break (we did not stop at H&M) and decided to check it out ourselves.
In a very crowded Apple store, we spotted a young man wearing a name tag that said, "Sam." He also matched the photo on the defunct LinkedIn profile.
Sam confirmed to us that his last name was "Sung." He said he was aware of the Internet interest but couldn't say much because of Apple's strict media policy.
When pressed about what he thought about all the commotion, the very gracious Sung just smiled and shook his head. He sent us off with a friendly: "Have a nice lunch!"
Now if only Apple and Samsung -- mired in an intense legal patent battle -- could be so genial with each other.
Related on HuffPost:
Loading Slideshow
Samsung

This is most the obvious and the most packed with irony, given that Apple is <a href="http://www.huffingtonpost.com/2012/08/24/apple-samsung-lawsuit-verdict_n_1829268.html?1345857263&utm_hp_ref=technology" target="_hplink">suing</a> Samsung in every country it can. The new, larger iPhone -- with a 4-inch display vs. the 3.5-inch display on all older models -- is closer in size to the 4.8-inch span on the Galaxy S III's screen. Was Apple's decision to up the iPhone's screen real estate a response to the popularity of Samsung's plus-sized and popular handsets?

Google

Google, which makes the operating system the Galaxy smartphones run on, is also embroiled in spat with the iPhone maker. Apple snidely decided to make <a href="http://www.huffingtonpost.com/2012/06/11/apple-debuts-maps-app_n_1587726.html" target="_hplink">its own map app for iOS 6</a>, which ships on the iPhone 5; Google Maps won't be preloaded onto iOS 6 devices. (Users can still go to the App Store and download it themselves.) Apple touts Maps as being <a href="http://www.apple.com/iphone/features/" target="_hplink">smooth and responsive,"</a> implying that Google Maps left something to be desired.

HTC And Nokia

So the new iPhone can take panoramic photographs, huh? Where have we seen that before? Oh right: Both HTC and Nokia smartphones. Nokia's new Lumia 920 comes with a camera setting that lets users <a href="http://reviews.cnet.com/8301-19512_7-57510802-233/iphone-5-vs-galaxy-s3-vs-lumia-920-by-the-numbers/" target="_hplink">create panorama shots of their surroundings</a>; HTC Windows Phones have come with a similar tool into the camera software "for some time now," <a href="http://www.pocket-lint.com/news/44983/nokia-creative-studio-for-windows-phone" target="_hplink">according to Pocket-lint</a>. (Image courtesy of Apple.)

Instagram

Another nifty photo-related feature of the iPhone 5 is the ability to seamlessly share pictures with your friends. "The Shared Photo Streams feature is arguably the most practical addition, since previously sharing photos by email limited users to sending 5 photos at a time," <a href="http://techcrunch.com/2012/09/12/apple-shows-off-panoramic-photos-better-photo-sharing-in-new-iphone/" target="_hplink">explains TechCrunch</a>. "MMS'ing photos is also not ideal." But text and email's limitations haven't stopped iPhone users from sharing photos. Instagram didn't get to 100 million users by being a bad alternative for publishing mobile pics. There are also plenty of photo-sharing app out there, with smaller but devoted user bases than Instagram's. (Photo courtesy of <a href="http://www.engadget.com/2012/09/12/iphone-5-hands-on-video-details/" target="_hplink">Engadget</a>)
Loading Slideshow
4.8-Inch Super AMOLED Display

The screen is huge, up from 4.3 inches on the Galaxy S II. A 4.8 inch screen makes it one of the largest displays on a flagship phone there is. Compare with HTC's One X (4.7 inches), the Motorola's Droid Razr Maxx (4.3 inches), and Apple's iPhone 4S (3.5 inches). The resolution is 1280x720.

S Voice

Samsung introduces 'S Voice' on the Galaxy S III. To wake the phone up and activate the voice sensor, you simply say "Hi Galaxy!" and the phone wakes up; no need to push a button. Other voice commands, in addition to the stock ones in the Google Voice Actions catalogue: Using your voice, you can launch the camera and take a photo, turn the volume up and down, snooze the alarm (say "Snooze" as your alarm is going off -- dangerous!), and send texts and emails.

Motion Detection

If you're writing a text to someone, and then you raise the phone to your ear, the GS3 launches the telephone app and automatically calls the person you were texting.

S Beam

The Galaxy S III comes with an NFC chip that allows you to "bump" information like photos or video to other Galaxy S III owners by touching phones together, using a combination of the NFC technology and Wi-Fi Direct. With All-Share Cast, you can beam your screen to any DLNA-compatible television; All-Share Cast also allows you to share your screen onto anyone else's smartphone for document collaboration.

Pop Up Play

"Pop up play" will allow you to play a video anywhere on the screen while also performing other tasks, like checking your email or responding to texts. You can make the video window as large or small as you want. Here, you can see a YouTube video playing toward the bottom of the screen while a demonstrator prepares to search Google.

Burst Shot

The Galaxy S III's 8 megapixel camera comes with burst photography: Holding down the shutter will take twenty photos in a row; you can then choose the best photo and the phone will automatically erase the other 19. A similar function exists on the HTC One line of phones. An alternate function: The Burst camera can take 8 photos in a row and then automatically choose the best one, if you're too indecisive to choose on your own.

Buddy Photo Share

The photography software comes with smart facial recognition: When you take a picture of a friend, it can recognize their face and will prompt you to send that photo to that person's phone or email address.

Smart Stay

Essentially an eye recognition technology, the GS3 can sense when you are and are not looking it: When you are looking at your screen, the display will stay illuminated; when you stop looking at your phone, the display goes dark to save power. The feature can be toggled on and off, if you prefer to just let your screen time out.

This Commercial

Here's the first commercial for the Galaxy S III. At least, we think it's advertising the Galaxy S III. It might also be advertising a soap opera or Zach Braff film of some kind.
Loading Slideshow
Apple Introduces A New iPad

SAN JOSE, CA - OCTOBER 23: The new iPad mini is displayed after its unveiling at the Apple special event at the historic California Theater on October 23, 2012 in San Jose, California. The iPad mini is Apple's smaller 7.9 inch version of the iPad tablet. (Photo by Kevork Djansezian/Getty Images)

iPad vs. iPad Mini

Apple's New iPad Mini

Source: Apple

Apple's Phill Schiller With iPad Mini

iPad vs. iPad Mini

The iPad Family

iPad Mini Has Same Display As iPad

Source: Apple

Nexus 7 vs iPad Mini

Horizontal View Of The iPad Mini

Source: Apple

Facebook For iPad Mini

Source: Apple

iPad Mini

Source: Apple

The iPad Mini Insides

Source: Apple

Horizontal View Of The iPad Mini

Source: Apple

iPad Mini

Source: Apple

iPad Mini

Source: Apple

iPad Mini

Source: Apple

iPad Mini

Source: Apple

iPad Mini Available In Black And White

Source: Apple

iPad Mini

Source: Apple

iPad Mini's Weight

Nexus 7 vs. iPad Mini

iPad Mini With Its Own Smart Cover

Using The iPad Mini

Source: Apple

iPad Mini Cover

Source: Apple

Inside Apple's Big Announcements

Bianca tells Josh about the side-by-side product comparison Apple demonstrated at their recent press conference.

Apple Unveils iPad Mini - What You Need To Know

Josh and Bianca chat about the just-announced iPad Mini.

iPad Mini Announcement

Josh and Bianca discuss the highlights of the new iPad Mini--does it measure up?

Apple Introduces Latest iPad

SAN JOSE, CA - OCTOBER 23: The new iPad mini (L) and fourth generation iPad are displayed after they were unveiled during an Apple special event at the historic California Theater on October 23, 2012 in San Jose, California. The iPad mini is Apple's smaller 7.9 inch version of the iPad tablet. (Photo by Kevork Djansezian/Getty Images)

Apple Introduces Latest iPad

SAN JOSE, CA - OCTOBER 23: The new iPad mini is displayed after its unveiling at an Apple special event at the historic California Theater on October 23, 2012 in San Jose, California. The iPad mini is Apple's smaller 7.9 inch version of the iPad tablet. (Photo by Kevork Djansezian/Getty Images)

Apple Introduces Latest iPad

SAN JOSE, CA - OCTOBER 23: The new iPad mini is displayed after its unveiling at an Apple special event at the historic California Theater on October 23, 2012 in San Jose, California. The iPad mini is Apple's smaller 7.9 inch version of the iPad tablet. (Photo by Kevork Djansezian/Getty Images)

Apple Introduces Latest iPad

SAN JOSE, CA - OCTOBER 23: The new iPad minis are displayed after their unveiling at an Apple special event at the historic California Theater on October 23, 2012 in San Jose, California. The iPad mini is Apple's smaller 7.9 inch version of the iPad tablet. (Photo by Kevork Djansezian/Getty Images)

Apple Introduces Latest iPad

SAN JOSE, CA - OCTOBER 23: The new iPad mini is displayed after its unveiling at an Apple special event at the historic California Theater on October 23, 2012 in San Jose, California. The iPad mini is Apple's smaller 7.9 inch version of the iPad tablet. (Photo by Kevork Djansezian/Getty Images)

Apple Introduces Latest iPad

SAN JOSE, CA - OCTOBER 23: The new iPad mini is displayed after its unveiling at an Apple special event at the historic California Theater on October 23, 2012 in San Jose, California. The iPad mini is Apple's smaller 7.9 inch version of the iPad tablet. (Photo by Kevork Djansezian/Getty Images)

Apple Introduces Latest iPad

SAN JOSE, CA - OCTOBER 23: Apple CEO Tim Cook speaks as the new iPad mini and fourth generation iPad are unveiled during an Apple special event at the historic California Theater on October 23, 2012 in San Jose, California. The iPad mini is Apple's smaller 7.9 inch version of the iPad tablet. (Photo by Kevork Djansezian/Getty Images)

Apple Introduces Latest iPad

SAN JOSE, CA - OCTOBER 23: Apple Senior Vice President of Worldwide product marketing Phil Schiller displays the date when the new iPad mini and fourth generation iPad will be available to the public during an Apple special event at the historic California Theater on October 23, 2012 in San Jose, California. Apple introduced the new iPad mini at the event, Apple's smaller 7.9 inch version of the iPad tablet. (Photo by Kevork Djansezian/Getty Images)

Apple Introduces Latest iPad

SAN JOSE, CA - OCTOBER 23: Apple CEO Tim Cook speaks as the new iPad mini and fourth generation iPad are unveiled during an Apple special event at the historic California Theater on October 23, 2012 in San Jose, California. The iPad mini is Apple's smaller 7.9 inch version of the iPad tablet. (Photo by Kevork Djansezian/Getty Images)

Apple Introduces Latest iPad

SAN JOSE, CA - OCTOBER 23: Apple Senior Vice President of Worldwide product marketing Phil Schiller shows the prices of the new iPad products during an Apple special event at the historic California Theater on October 23, 2012 in San Jose, California. Apple introduced the new iPad mini at the event, Apple's smaller 7.9 inch version of the iPad tablet. (Photo by Kevork Djansezian/Getty Images)

Apple Introduces Latest iPad

SAN JOSE, CA - OCTOBER 23: Apple Senior Vice President of Worldwide product marketing Phil Schiller shows the prices of the new iPad products during an Apple special event at the historic California Theater on October 23, 2012 in San Jose, California. Apple introduced the new iPad mini at the event, Apple's smaller 7.9 inch version of the iPad tablet. (Photo by Kevork Djansezian/Getty Images)

Apple Introduces Latest iPad

SAN JOSE, CA - OCTOBER 23: Apple Senior Vice President of Worldwide product marketing Phil Schiller shows the prices of the new iPad products during an Apple special event at the historic California Theater on October 23, 2012 in San Jose, California. Apple introduced the new iPad mini at the event, Apple's smaller 7.9 inch version of the iPad tablet. (Photo by Kevork Djansezian/Getty Images)

Apple Introduces Latest iPad

SAN JOSE, CA - OCTOBER 23: Apple CEO Tim Cook speaks displays the new iPad mini after it was unveiled during an Apple special event at the historic California Theater on October 23, 2012 in San Jose, California. The iPad mini is Apple's smaller 7.9 inch version of the iPad tablet. (Photo by Kevork Djansezian/Getty Images)

Apple Introduces Latest iPad

SAN JOSE, CA - OCTOBER 23: Apple CEO Tim Cook (L) displays the new iPad mini after it was unveiled during an Apple special event at the historic California Theater on October 23, 2012 in San Jose, California. The iPad mini is Apple's smaller 7.9 inch version of the iPad tablet. (Photo by Kevork Djansezian/Getty Images)

Apple Introduces Latest iPad

SAN JOSE, CA - OCTOBER 23: Apple CEO Tim Cook speaks displays the new iPad mini after it was unveiled during an Apple special event at the historic California Theater on October 23, 2012 in San Jose, California. The iPad mini is Apple's smaller 7.9 inch version of the iPad tablet. (Photo by Kevork Djansezian/Getty Images)

Apple Introduces Latest iPad

SAN JOSE, CA - OCTOBER 23: Apple CEO Tim Cook speaks displays the new iPad mini after it was unveiled during an Apple special event at the historic California Theater on October 23, 2012 in San Jose, California. The iPad mini is Apple's smaller 7.9 inch version of the iPad tablet. (Photo by Kevork Djansezian/Getty Images)

Apple Introduces Latest iPad

SAN JOSE, CA - OCTOBER 23: Apple CEO Tim Cook speaks displays the new iPad mini after it was unveiled during an Apple special event at the historic California Theater on October 23, 2012 in San Jose, California. The iPad mini is Apple's smaller 7.9 inch version of the iPad tablet. (Photo by Kevork Djansezian/Getty Images)

Apple Introduces A New iPad

SAN JOSE, CA - OCTOBER 23: The new iPad mini is displayed after its unveiling at the Apple special event at the historic California Theater on October 23, 2012 in San Jose, California. The iPad mini is Apple's smaller 7.9 inch version of the iPad tablet. (Photo by Kevork Djansezian/Getty Images)

Apple Introduces A New iPad

SAN JOSE, CA - OCTOBER 23: The new iPad mini is displayed after its unveiling at the Apple special event at the historic California Theater on October 23, 2012 in San Jose, California. The iPad mini is Apple's smaller 7.9 inch version of the iPad tablet. (Photo by Kevork Djansezian/Getty Images)

Apple Introduces A New iPad

SAN JOSE, CA - OCTOBER 23: The new iPad mini is displayed after its unveiling at the Apple special event at the historic California Theater on October 23, 2012 in San Jose, California. The iPad mini is Apple's smaller 7.9 inch version of the iPad tablet. (Photo by Kevork Djansezian/Getty Images)

Apple Introduces A New iPad

SAN JOSE, CA - OCTOBER 23: The new iPad mini is displayed after its unveiling at the Apple special event at the historic California Theater on October 23, 2012 in San Jose, California. The iPad mini is Apple's smaller 7.9 inch version of the iPad tablet. (Photo by Kevork Djansezian/Getty Images)

Apple Introduces Latest iPad

SAN JOSE, CA - OCTOBER 23: Apple Senior Vice President of Worldwide product marketing Phil Schiller announces the new iPad Mini during an Apple special event at the historic California Theater on October 23, 2012 in San Jose, California. The iPad Mini is Apple's smaller version of the iPad tablet. (Photo by Kevork Djansezian/Getty Images)

Apple Introduces Latest iPad

SAN JOSE, CA - OCTOBER 23: Apple Senior Vice President of Worldwide product marketing Phil Schiller announces the new iPad Mini during an Apple special event at the historic California Theater on October 23, 2012 in San Jose, California. The iPad Mini is Apple's smaller version of the iPad tablet. (Photo by Kevork Djansezian/Getty Images)