Surrey Memorial Hospital ER Flooded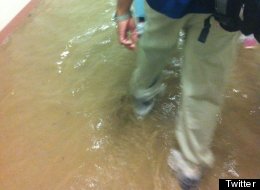 Surrey Memorial Hospital's emergency room -- the busiest in B.C. -- has been evacuated after it was flooded Monday morning.
A construction accident led to a water-main break, said Fraser Health officials. The contaminated water affected the ER and diagnostic imaging areas. The ER has been closed but the rest of the hospital is still open.
ER patients have been relocated to other areas within the Surrey hospital, said officials. New incoming patients are being directed to other hospitals. All non-essential surgeries, including cataract surgeries, are being postponed.
The water is reported to be knee-deep in some areas. Crews are working on the "decontamination process," said officials.
City officials have confirmed the water main was broken by a construction crew working on the hospital expansion, reported CBC News.
Heavy rain continued in the Lower Mainland Monday, but the weather does not appear related to the hospital flooding.
Surrey Memorial Hospital Flood - Nov. 19, 2012
Outside the Surrey Memorial Hospital ER

Hospital staff and emergency crew members are seen outside Surrey Memorial Hospital after being evacuated due to flooding in the emergency room on Monday, November 19, 2012, in Surrey, B.C.

Inside Surrey Memorial Hospital

Ankle-deep water inside the Surrey Memorial Hospital

Sign on third-floor washroom

Scene outside the hospital.