Generation Y Back Pain: Millennials' Technology Habits May Put Them At Increased Risk For Back Pain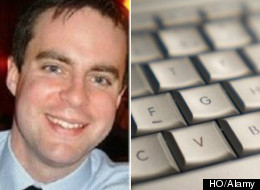 Michael MacIsaac, a 24-year-old law student in Victoria, describes the neck pain he experiences after hunching over his laptop as "a little unbearable."
But he and others in his age group might say the same thing about the prospect of life without computers.
"My entire life is on a computer. If my computer crashed right now, I wouldn't be a law student, I'd just be a lost little puppy with no information," he said.
MacIsaac belongs to the Millennial Generation, also known as Generation Y, that five-million strong cohort of Canadians aged 18-30.
The time they spend with technology, often in poor postures, can take a toll anywhere from the lower back to the shoulders and neck, possibly leaving Gen Y more susceptible to back discomfort than previous generations, says Pam Grills, an Ottawa-based ergonomist.
"I suspect that they may be a little worse off because the tendency to spend time using computers and smartphones and tablets is exposing them to a greater level of risk," she said, citing the discomfort caused by "repeated wear and tear, day after day after day."
Gen Y first planted itself in front of desktop computers in elementary school. In adolescence, they spent hours messaging each other on ICQ, MSN and Facebook. Today, they are at the forefront of a trend that sees Canadians spending more time online — 45 hours a month, on average — than users in any other country, according to a 2012 trends report by marketing research company comScore.
Young Canadians contributed to that growth with huge social media use and online video consumption on a variety of devices. The "Canada Digital Future In Focus" report found that in the fourth quarter of 2011, young people aged 18 to 24 spent 10.8 hours a month on social media sites such as Facebook, Twitter and Tumblr, up 67 per cent from the previous year. Canadians under the age of 35 accounted for 57 per cent of all videos viewed online.
Forty-six per cent of online Canadians between the ages of 18 and 34 own a smartphone and use it 20.6 hours a week, Ipsos Reid reported last May, a "significantly higher" usage than older Canadians. Other research shows Gen Y is more likely than older generations to hear about important events on Facebook, watch TV on laptops and use their phones to text.
In short, most millennials spend a large chunk of their waking hours using electronic devices.
Story Continues Under Gallery.
Position the monitor an arm's length away so you can read text easily without having to bend forward. You should look at it straight on, and keep it slightly below eye level. To avoid glare, adjust the lighting in the room or tilt the screen.

Try to use an external, adjustable keyboard. It should sit at elbow height and allow shoulders to relax. Position it at a distance that eliminates the need to reach for the keys. It should rest directly in front of you so your wrists are straight when typing. Arms should bend at a 90-degree angle at the elbow. Use an external mouse and keep it near the keyboard. Ergonomic options can help ease the strain on your wrist.

Use an ergonomic chair with an adjustable back rest, seat height and arm rests. It should be comfortable and offer lumbar support. Its height should allow you to rest your feet flat on the ground, or you can use a footrest if need be. Adjust your chair so your thighs are parallel with the floor and your knees rest at the same height as your hips, or slightly lower. When sitting, press your hips back into the chair as far as possible, ensuring the chair supports your back's natural curve in both the upper and lower back areas.

Straining your neck and raising your shoulder to hold a phone can result in strain. Instead, use a headset.
Doing so in unhealthy positions, bent forward over keyboards or smartphones with curled upper backs, for instance, can over time lead to problems such as muscle strain, stiffness and nerve compression that can result in discomfort, Grills says.
And as people rely more and more on computers, she expects to see millennials experiencing more of these symptoms if they don't take preventative steps, such as setting up workspaces properly.
MacIsaac likens the technology in his life to a "security blanket." His devices serve as his calendar, notebook and textbooks, not to mention his social connection to the rest of the world via Facebook, Twitter and Skype. At home or in the library, his laptop usually sits lower than eye level, so he leans forward and slouches over it. His neck strains from repeatedly looking down.
Every now and then he will make a conscious decision to sit up straight, he said, but eventually he slumps over again. MacIsaac uses his computer "literally all day at school from 9 to 3," and will stay on it at home until about 8 p.m.
Such habits might concern Dr. Benjamin C. Amick III, a professor of behavioural sciences and epidemiology at the University of Texas School of Public Health, and scientific director and senior scientist at the Institute for Work and Health in Ontario. He found that college and graduate students who engage in "binge computing"— working at computers for extended periods of time without a break — have an increased risk of reporting musculoskeletal symptoms that can develop in the back, shoulders, neck, and even the arms and hands.
Desktops and laptops can "anchor" people to desks, he said, as can email and video platforms such as Skype.
"People can literally sit at their desks for eight to 12 hours without moving. All they have to have is a couple of energy drinks," he said.
Doing so is a big mistake, according to Dr. Karen Jacobs, a clinical professor in occupational therapy at Boston University's Sargent College. Taking breaks is key to reducing discomfort, she says, urging people to do so for two or three minutes every 20 to 30 minutes of computing activity. This can help alleviate musculoskeletal discomfort that may occur when seated at a computer.
Unfortunately for many millennials, regular breaks from technology aren't always top of mind.
Even at lunch, MacIsaac said, he will eat at his laptop in a common area at school and continue to work.
"It's kind of a weird social setting. Even if you're sitting down with people for an hour at lunch, everyone's talking as they're on their computer," he said.
If time spent on devices can mess up your back, so can a sedentary lifestyle.
Of 1,004 millennials surveyed by HuffPost Canada, 26 per cent said the lack of physical activity is the biggest health challenge facing their generation, topping a list that included mental health (19 per cent), addiction (17 per cent) and obesity (16 per cent).
Trends point towards declining fitness levels for both children and adults. Canadians adults are sedentary for 9.5 hours a day on average, a lifestyle that can lead to weak muscles, inflexibility, and obesity. Canada's obesity rates have increased over the past 25 years, and one out of four Canadians is clinically obese, a condition that can put pressure on the lower back and lead to damage over time.
However, Dr. Amick believes changes in technology may spell relief for millennials who work at computers. The proliferation of tablets and mobile devices probably will unchain people from their desks, possibly resulting in more time moving around, he said. This might be beneficial to millennials, particularly since he expects they will not work on handheld devices for hours on end the way they do on desktops or laptops.
"New technologies are going to change the way people work. They're not going to sit in one unsupported posture for extended periods of time," he said.
On the downside, mobile devices raise the possibility of different kinds of harmful postures, such as holding devices at a low position and looking down at them, which may cause more discomfort in the neck, shoulders and upper back.
Reducing technology use may not be in the cards for 'Generation Wired' — if anything they are likely to become more connected through gadgets. But ways to limit back problems may be on the horizon.
Dr. Jacobs hopes younger generations will figure out how to use technology in healthier ways. For instance, elementary school kids should be taught how to properly set up work stations. And technology itself can be used to encourage betters choices, she said, pointing to an app she developed for mobile devices that reminds users to take breaks and stretch.
But without a major public awareness push, back problems may only increase, she explained.
Dr. Amick suggests that workers need to look seriously at new technologies and decide what their digital lives will look like in the future.
"It gives us the opportunity to reinvent how we work," he said, "and to really think again about how we want to do some types of work to make it healthier."
— Abacus Data has focused research on the Canadian Millennial. Read more here.
What do you think about this story? Join the conversation below or tweet us @HuffPostCanada with the #AskingY tag. We may feature your comments in an upcoming post. You can also check out our Tumblr, and our dedicated page for more from the Asking Y series.