Man Asleep In Dumpster Nearly Crushed To Death In Toronto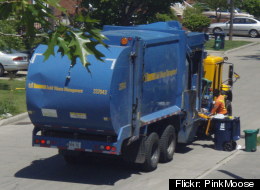 Just in case you were on the fence about sleeping in dumpsters, this frightful near-death story may sway you.
A Toronto man was catching a snooze in a west-end dumpster when he was tipped into a garbage truck during the wee hours of Thursday morning, reports CP24.
The collectors heard banging and shouting from amid the garbage and found the man trapped in trash, reports the Toronto Star.
His shouts were heard just in the nick of time. The driver was about to compact the load, which would have crushed the man, possibly to his death.
"I heard a noise and I thought someone was up there [on a building balcony] complaining about the noise," Chris, the driver, told CityNews.
The man was taken to hospital but is uninjured.