Paul Hardy Tweet Dress: Fashion Designer Creates Dress Made Of Suggestions From Twitter (PHOTOS, VIDEO)
If the latest fashion unveiling out of Alberta is any indication, we can safely say that Twitter is ubiquitous.
Calgary fashion designer Paul Hardy revealed his latest design, a "tweet dress," in Calgary Wednesday night to hundreds of eager shoppers at The CORE shopping mall's 'Twas The Night event.
The concept behind the tweet dress was simple: Calgarians were asked to send tweets answering the question "What's in style in Calgary?" with the hashtag #StyleYYC to Tourism Calgary's Twitter account, @Calgary. They sought answers not just about fashion, but also what's stylish about Calgary's foodie scene, architecture, nightlife, attractions, music and people.
After collecting hundreds of tweets, they were handed over to Hardy, who was tasked with creating an outfit suited for the runway.
"People obviously referenced western and cowboy quite a bit," Hardy told the Calgary Herald.
This was the end-product: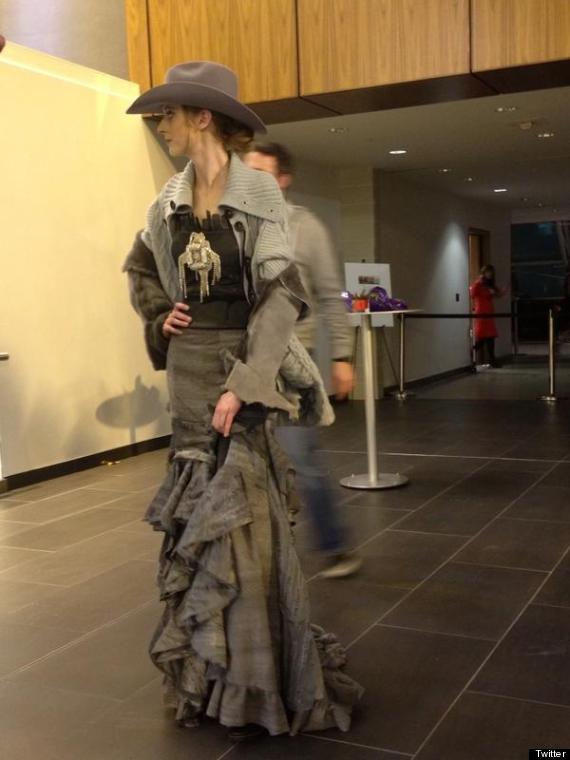 According to the Calgary Herald, Hardy worked with tweets like "diamonds in denmin" and "rough luxe," to create the dress. The six-piece ensemble included spats, denim stretch pants, a ruffled skirt, a leather bustier showcasing Calgary's skyline, a sweater that feature a Calgary Stampeders logo and a hooded top.
Story continues after the slideshow...
'Twas the dress of the night

@calgary @COREshopping @Paulhardyinc

A dress made out of tweets! Congrats on a beautiful piece @paulhardyinc! #twasthenight

@Paulhardyinc did an amazing an amazing job on the tweet dress! The details truly represents @Calgary.

The @PaulHardyINC TWEET DRESS was finally revealed at #TwasTheNightYYC Nice!

Hand dying wool knit for the tweet ensemble- Finishing applying tweets while waiting for it to dry. Last chance to tweet what's in #StyleYYC

Buying local @artcentral_yyc is #StyleYYC

@Paulhardyinc @calgary #styleyyc limitless with a lip of attitude.

Making our city better by being the right combination of snarky and compassionate-- COMPASSIONARKY! #StyleYYC

@calgary #styleyyc beauty and style comes in all sizes #plussize #lookingood

@calgary What's in Style? leather, denim & diamonds - Street Style #StyleYYC

RT @stewmcdonough: Volunteerism, community building, giving back are always in #styleyyc

Our humble #styleyyc suggestion for @calgary: spats. Don't answer right away @paulhardyinc. Just think about it.

@calgary a fur stole, ear muffs and red mittens paired with a Canada Goose coat makes for classy Canadian style. #styleyyc

My Calgary style incorporates layers - for those 20 degree temperature shifts when the Chinook blows in/out! #styleyyc

White after Labour Day? ...snow is always in #styleyyc @calgary
"A lot of people tweeted about the mix of cosmopolitan and nature, so the ruffles [in the skirt] are meant to represent the mountainous ranges. And there was a tweet about wintery nights and dirty snow and that's where the colour palette came from," he said.
We think the idea behind the tweet dress is cool, but we're not sold on whether this is the dress we want represent Calgary style. What do you think? Do you like it or do you think it's ugly? Let us know in the comments below.