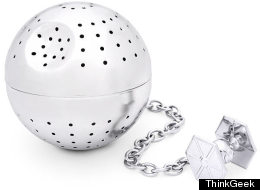 If you think a run-of-the-mill gadget with a coat of pink paint is going to please the geeky woman on your list, think again.
Geeks of the female variety not only take their fandoms as seriously as the guys, but they can sniff a junky "lady tech" product from a mile away.
If you want to make the Star Wars lovin,' Tolkien-reading, tech-savvy woman on your list happy as a hobbit at second breakfast this holiday season, you've got to indulge her obsessions.
And if you're going to give the gift of tech, it's okay for it to look pretty, just as long as the substance matches the style.
Here's 25 gift ideas for the delightfully nerdy ladies in your life:
Gift Ideas For Geeky Women
Weighted Companion Cube Cookie Jar, $45.00 from Geek Chic It's no secret that many geeky women love to bake — it is, after all, chemistry you can eat. This Portal-inspired cookie jar looks awesome on the kitchen counter and gives her a place to proudly keep her home-baked goodies.

Star Wars Death Star Tea Infuser, $19.99 from Think Geek That's not a moon, it's a tea infuser! And that's just one of the many Star Wars jokes she can make while using this totally geeky, but totally handy tea infuser.

Star Trek Family Car Sticker Set of 4, $10 from Etsy Those family stickers you see on every minivan? Lame. These? Amazing.

Samsun Galaxy Note II, price varies by wireless carrier We are well aware that social websites and apps like Tumblr, Instagram and Pinterest are dominated by women. This oversized, tablet-esque phone offers a big screen and 8-megapixel camera for easy sharing on the go.

KIVIK Footstool with storage, $179.00 from Ikea If she's already the type that waits at midnight for the latest game, chances are you're not going to be able to surprise her with the next big thing. But what you can give her is a place to keep her hobby neatly stowed. Organize her piles of dusty video games cases and extra controllers into this ottoman for neat storage and a place to rest her feet while she's slaying dragons.

The Hobbit: Gift Edition, $15.74 from Amazon She may already have a beat-up copy from her childhood, but this hardcover special edition of The Hobbit has brand new reproductions of all the drawings and maps by J.R.R. Tolkien.

Bamboo Keyboard & Mouse, $98 from Anthropologie She'll be the coolest person at the LAN party.

Dr Who Tardis Skirt, $65.43 from Etsy An awesome gift for Dr. Who fans — and it conveniently fits any size up to an 18, taking out the messy work of guessing her fit.

Fitbit Zip, $59.95 from Amazon.ca Be careful with this one — giving a fitness tracker to someone who's not already a health nut may send the wrong message. But for geeky gals who like to stay in shape, this the Fitbit Zip tracks her steps, distance and calories and conveniently syncs them wirelessly to her profile. Plus it connects with the various health and fitness apps we bet a tech-savvy lady like her is already using.

Wonder Woman Bathrobe, $49.99 from the Silver Snail Let her know she's always your heroine — even if she just rolled out of bed.

Zombie Snow White 15.4" Macbook Decal, $16.28 from Etsy A gruesome twist on the usual Snow White decal for her laptop.

Bokeh Kit, $25 from Photojojo She already has a DSLR, an array of lenses and a Flickr obsession — but has she tried making city lights look like puppy paws? This kit adds a whole new level of fun to nighttime photography by turning those out-of-focus lights into different shapes.

White Tree of Gondor Throw Pillow, $40 from Etsy Help her home look a little more like Middle Earth's Rivendell.

GoPro Hero3 $249.99 to $449.99 from BestBuy The newest GoPro is out and packed with upgrades and a sleek new size for filming her outdoor adventures. The woman on your list isn't an extreme athlete, you say? No problem. She'll have a blast attaching it to her cat.

Cat Woman 8GB USB Flash Drive, $25 from Indigo This small but fierce Catwoman flash drive makes a great stocking stuffer.

The Big Book of Hacks: 264 Amazing DIY Tech Projects, $31.95 from Chapters If you know someone who loves to do-it-herself, this will keep her busy for weeks. Make a toothbrush robot, supercharge a paper plane, hack your cable box... this book has it all.

Jawbone Jambox Red Dot, $199 from The Bay The first thing she'll notice about this Bluetooth speaker is its ultra-stylish design. But it's the long battery life, great sound for the size and streaming abilities that will have her hooked.

Magic Cube Keyboard, $200 at Holt Renfew This wireless, projected keyboard connects to your mobile device via Bluetooth and looks like she's basically living in the future while doing it.

Set of 3 Willow Ornaments, $41.99 from Pixel Barrel Relive the magic of the greatest vampire show of all time (sorry, Vampire Diaries) right on her Christmas tree. Canadian collectibles seller Pixel Barrel has all your favourites, from Oz in werewolf mode to Giles as the Fyarl demon.

Minecraft Diamond Pendant Necklace, $16.99 from Geek Chic Okay, so maybe you didn't actually take the time to dig through blocks of dirt, stone and gravel, avoiding creepers and lava to find this diamond... but we're sure she'll still love it.

Marc By Marc Jacobs Dreamy embossed neoprene iPad case, $98 from Net-A-Porter Who says a woman can't love geekdom and fashion? Certainly not us. Many high-end designers have added tablet covers to their lines in every luxe material and styling imaginable. We like the bright colours and relative affordability of the Marc by Marc Jacob's line.

Reclaimed maple wood iPhone and iPad dock, $75.36 from Etsy Holds both her iPad and iPhone with a touch of the outdoors.

The Clutch for iPad, $89.99 from Think Geek Style meets function with lambskin all-in-online iPad case and organizer (with an adorable owl on the front to boot).

Star Trek Command Badge, $14.75 from Geek Chic Just so she can say, "That's not a brooch, that's a command badge."

Jedi Pendant, $20 from Etsy Pretty enough to wear to the office; geeky enough for knowing high-fives from co-workers. This handmade brass Jedi necklace is a beautifully subtle way to wear her geek pride every day.