Nexen Canada And Progress Energy Deals Approved, Here Are The Facts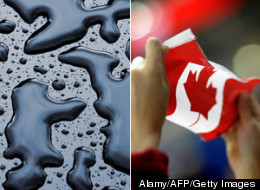 Prime Minister Stephen Harper announced the approval of foreign takeovers of Calgary-based Nexen Inc. and Progress Energy Resources Corp. on Friday afternoon.
But what are the details of the deals that will see China's state-owned CNOOC Ltd. and Malaysia's state-owned Petronas take control of Nexen and Progress respectively.
Here are some quick facts about the two deals.
Details Of Nexen And Progress Energy Deals
Nexen is a global oil and gas company that produced 207,000 barrels of oil equivalent per day at the end of 2011. In this April 25, 2012 photo, Nexen chief executive Kevin Reinhart addresses the company's annual meeting in Calgary. With files from The Canadian Press

Only about 30 per cent of Nexen's production comes from its Canadian operations, with the rest coming from offshore platforms in the North Sea, Gulf of Mexico and West Africa.

CNOOC Ltd. is China's largest offshore oil and gas producer and is one of the largest oil and gas exploration and production companies in the world. At the end of 2011, it had 909,000 barrels of oil equivalent per day of production. Its Beijing-based parent, China National Offshore Oil Co., operates directly under the State-owned Assets Supervision and Administration Commission of the State Council of the People's Republic of China. CNOOC Ltd. shares trade on Hong Kong and New York stock exchanges.

On July 23, Nexen announced it had accepted CNOOC Ltd.'s all-cash offer of $27.50 per share, worth $15.1 billion. In a circular to shareholders a month later, Nexen revealed it had rejected two earlier CNOOC offers as too low.

61 per cent over Nexen's closing share price on the trading day before the deal.

CNOOC and Nexen had a relationship well before they announced their deal. In 2011, CNOOC acquired Opti Canada Inc., Nexen's beleaguered partner in the Long Lake oilsands project and the two have been working together on that project since. Later in 2011, CNOOC and Nexen formed a joint venture in the Gulf of Mexico. Around the same time, Nexen also agreed to sell a 40 per cent interest in some of its northeastern B.C. shale natural gas lands to a Japanese-led consortium.

Progress Energy Resources Corp. (TSX:PRQ) is a mid-sized natural gas producer with daily production of about 50,000 barrels of oil equivalent per day.

Progress is the largest landholder in the Montney shale in northwestern Alberta and northeastern B.C. It is also active in Alberta's Deep Basin.

Petroliam Nasional Bhd, or Petronas, is wholly owned by the government of Malaysia. It has assets and interests in more than 30 countries and is heavily involved in the liquefied natural gas, or LNG, business.

Progress announced in late June it had agreed to Petronas' $20.45-per-share takeover offer. A month later, the Malaysian state-owned company sweetened its offer to $22 per share in order to trump a rival bid, bringing the deal's total value to $6 billion.

The sweetened offer is worth double what Progress shares traded at the day before the initial takeover deal was announced.

In mid-2011, Progress and Petronas formed a 50-50 partnership to jointly develop the some of the Canadian company's land in the north Montney. The two companies are also partnering on a liquefied natural gas terminal near Prince Rupert, B.C., that will be 60 per cent bigger if the takeover deal