90s Nostalgia: Generation Y's Childhood TV Shows, Toys, Trends And More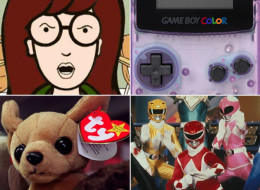 For millennials, the 1990's were a simpler time — formidable years of YTV, boy bands and Beanie Baby collections.
Life is much different today for Generation Y, that 5-million strong cohort of Canadians aged 18-30. The recession has taken a toll. Good jobs are scarce. Home ownership is just a dream.
For struggling millennials, remembering the '90s is escapism at its best, which perhaps explains the large number of fansites dedicated to the neon-bedazzled magic of the era. Wouldn't you rather remember the joys of childhood than your mountain of student debt?
Feelings of nostalgia can also quite literally make us feel warm and fuzzy inside. Studies have suggested that reminiscing about fond memories can make us feel physically warmer and more giving toward others.
So let us warm you up with 90 awesome things from the 1990's. Did we miss anything? Share your '90s memories in the comments.
90 Awesome Things From The '90s
Millennials grew up during a boom in portable technology and for many, this way their very fist digital camera.

This is how millennials remember Ryan Gosling.

Millennials will remember popping a floppy disk into their school's computer lab to play this Canadian classic.

This '90s CGI show was produced in Vancouver.

Released in 1998, the Game Boy Color was a revolution in handheld gaming and on every kid's holiday wishlist.

This Canadian show ran from 1996 to 1998.

This classic YTV game show ran between 1997 and 2003.

Older millennials may remember TVOntario's Polka Dot Door which ran from 1971 until 1993. But for the younger crop, it was all about Polka Dot Shorts, which ran from 1993 to 2001.

You know, before things got weird.

Neil Buchanan may be single-handedly responsible for introducing a generation to mixing water with white glue.

Yes, they were around in the '80s, but millennials got to experience that whole scandal about them allegedly being a sex act reward.

Tamagotchis were just one of many tiny digital pets that burst onto the scene in the '90s — don't forget Dinky Dinos, Giga Pets and Nano Pets.

It was just a one YTV host with clay animals and some imagination, and yet it was awesome.

This cherished series from Ann M. Martin was published between 1986 and 2000.

What's the story, Wishbone?

These musically-inclined Canadian brothers stole the hearts of every tween girl in the '90s.

This classic CBC show taught youth how to be competent consumers.

If you want to relive the agony of being eaten by the Abominable Snow Monster every time, you can download the game here.

(And Mandy Moore's music career.)

The first-ever winner of Making the Band.

As hosted by Bob Saget, of course.

The original, of course.

And they always, always skipped.

Don't miss Bill Clinton on the sax.

Starring Elisha Cuthbert and Jay Baruchel.