Best BC Photos 2012 By The Canadian Press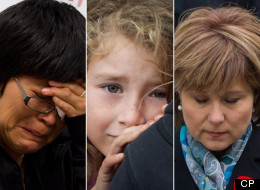 For West Coast news photographers, it's been an extraordinary year marked with natural disasters, tragic loss and public pipeline pushback.
The images captured by The Canadian Press are snapshots of the elation, shock and heartbreak experienced by some British Columbians and shared across the province.
Some photos that stayed in our memory long after the news event include the haunting face of a six-year-old Peachland fire evacuee, the grief of a mother days after daughter was found murdered, and the excitement over federal Liberal leadership candidate Justin Trudeau.
Our gallery below celebrates 2012 Canadian Press photos that left some powerful impressions:
Best B.C. Photos Of 2012 By Canadian Press
Home Team Pride" width="52" height="52"/>

B.C. Lions' fans Ray Brittain, left, and his wife Jenny pose for a photograph at their home in New Westminster, B.C., on Nov. 12, 2012. Regardless of whether their home team is in the final, CFL fans are universally game for a celebration come Grey Cup time.

Pipeline Pushback" width="52" height="52"/>

A group of protesters gathers outside the Northern Gateway hearings in Prince Rupert, B.C. on Dec. 10, 2012.

Strength In Numbers" width="52" height="52"/>

B.C. Premier Christy Clark, left, pauses next to a cadet after laying a wreath on the cenotaph at Victory Square during a Remembrance Day ceremony in Vancouver, B.C., on Nov. 11, 2012.

Quiet Disbelief" width="52" height="52"/>

Valerie Wood walks down a flooded street in Sicamous, B.C. June 26, 2012. About 350 people in the summer tourism town of 3,100, more than 340 km northeast of Vancouver, were ordered evacuated and its Two Mile subdivision was declared under a state of emergency after the weekend's natural disaster.

Beached Whale" width="52" height="52"/>

A young girl touches a beached humpback whale that died during low tide in White Rock, B.C., on June 12, 2012.

'Forsaken'" width="52" height="52"/>

Cee Jai Julian, left, cries as as Commissioner Wally Oppal (background) delivers his final report on the findings of the Missing Women Commission in Vancouver, B.C., on Dec. 17, 2012.

Defend Our Coast" width="52" height="52"/>

Protests like the one in Victoria were planned across 60 B.C. communities as part of the "Defend Our Coast" day of action on Oct. 22.

Fallen Brother" width="52" height="52"/>

RCMP Const. Ben Oliver wipes away a tear during a regimental funeral for his twin brother Const. Adrian Oliver in Langley, B.C., on Nov. 20, 2012. Const. Adrian Oliver died Nov. 13 after his unmarked police cruiser collided with a transport truck in Surrey, B.C.

For The Love Of The Game" width="52" height="52"/>

Eight-year-old Rachel Hopkins, right, shows her excitement as the Vancouver Angels novice C1 minor hockey team gather around the Stanley Cup after they were surprised with it before their practice in Vancouver, B.C., on Dec. 7, 2012. Five minor hockey teams in Canada were randomly chosen to receive a surprise appearance by the Stanley Cup as part of the Scotiabank Community Hockey Sponsorship Program.

Honour & Respect" width="52" height="52"/>

Annie Johnson burns sweetgrass and sage during a National Aboriginal Veterans Day ceremony at the Victory Square Cenotaph in Vancouver, B.C., on Nov. 8, 2012. The ceremony is held to remember Aboriginal, Metis and Inuit men and women who served in the Canadian Forces.

It Begins" width="52" height="52"/>

A University of British Columbia student looks up to the crowd while waiting to receive her diploma during a graduation ceremony at the university in Vancouver, B.C., on May 24, 2012.

Amanda Todd Remembered" width="52" height="52"/>

People gather during a memorial for Amanda Todd in Surrey, B.C., on Oct. 19, 2012. Hundreds of people in more than 40 cities around the world are expected to light candles tonight to remember bullying victim Amanda Todd and to take a quiet stand against the kind of torment that led her to take her own life.

Winter Sleep" width="52" height="52"/>

Fog envelopes the Lions Gate Bridge, bottom, and the downtown core of Vancouver, B.C., on Feb. 4, 2012.

Mother's Heartbreak" width="52" height="52"/>

A photograph of Summer "CJ" Morningstar Fowler, of the Gitanmaax First Nation near Hazelton, B.C., is displayed as her mother Matilda Fowler weeps during a news conference in Vancouver, B.C., on Dec. 12, 2012. The body of her daughter was found in Kamloops Dec. 5, an autopsy confirmed it was homicide.

B.C. Ally-Oop" width="52" height="52"/>

A supporter picks up Liberal leadership candidate Justin Trudeau following a event in Richmond, B.C., on Oct. 3, 2012. Trudeau announced Tuesday in Montreal that he will run for the leadership of the Liberal party of Canada.

Child Evacuee" width="52" height="52"/>

Peachland wildfire evacuee Azaneth Mejia, 6, waits outside an evacuation centre with family friend Carmon Gorzynski in West Kelowna, B.C., on Sept. 10, 2012.