Jose Canseco: Toronto Mayor's Seat Has My Name On It (TWITTER)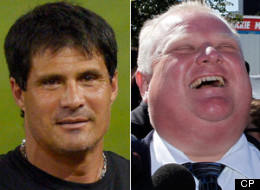 Former baseball star, and current Twitter celebrity, Jose Canseco says he's plotting a run to become Toronto mayor.
Canseco, who is notorious for his bizarre tweeting habits, took to his favourite social network earlier this week to declare his plans to run against current Mayor Rob Ford in a potential byelection.
It all started when Canseco listed getting "elected to a important political office in the U.S. or canada [sic]" in a series of tweets on his New Year's resolutions. Other notable pledges? A resolution to fight Shaquille O'Neal in a mixed martial arts cage fight and to develop an anti-ageing drink called "Ponce de Canseco."
As if that wasn't strange enough, Ontario political consultant Robb Derkatz tweeted to Canseco suggesting he could run for a council seat in Toronto. Canseco's response indicated he has bigger plans.
"Can't do enough on council. I hear you are getting rid of mayor [sic] Ford on Monday. I love Toronto and will be glad to replace him," Canseco posted.
Toronto Star reporter Daniel Dale, who Rob Ford infamously called the police on last year after an altercation outside the mayor's home, also got in on the action, asking Canseco what his platform might include (you can read Dale's story here). The former slugger suggested generating new revenue without raising taxes, as well as fixing the budget, traffic, and schools.
Sound familiar to anyone?
You can see the entire exchange as well as some of the most hilarious responses in the slideshow below.
STORY CONTINUES BELOW SLIDESHOW
"My name its Jose Canseco, and I am jogging for Mayor." #CansecoSlogans #Canseco4TO #YesWeCanseco

Ezra Levant: "MAYOR CANSECO, why do you think the MEDIA PARTY refuses to properly vet you?" Mayor Canseco: (eats bovine testosterone cream)

In October 2001, Canseco and his brother, Ozzie, got into a fight at a Miami Beach nightclub. two counts of aggravated battery, probation

The positive reaction to the Canseco story is why Toronto can't have nice mayors. #TOPoli

Rob and Doug Ford only think they understand Roid Rage. Jose Canseco has been there, he's done that and he gets results #YesWeCanseco

I'd vote for Canseco for the CFRB radio show alone. #YesWeCanseco

Following Jose Canseco on Twitter is like an in-depth case study in mental illness.

Sheik do you hear this garbage canseco want to run for Toronto mayor ?? That should be your job @the_ironsheik

Breaking: A judge has just reviewed Jose Canseco's citizenship situation and has ruled that he canx run for mayor. #TOpoli @dmrider

Leave it to @jessehawken to coin the definitive Canseco for Mayor hashtag: #YesWeCanseco.

I feel like Jose Canseco wants to run for mayor to get attention from baseball teams, like when Jimmy James ran for president to meet women.

jose canseco just visiting

Good thing about Canseco running for mayor? There is clearly no ego that needs stoking.

I hope Canseco was inspired to run for mayor of Toronto by watching Jamie Kennedy's New Year's Eve broadcast

It'll be awesome when Jose Canseco replaces the entire Toronto water supply with his energy drink.

Since Rob Ford was elected mayor we've had Don Cherry deliver remarks to council and Jose Canseco announce a possible mayor run. Nuff said.

canseco attack ads

@ruhee_ Of course, there's also a good chance Canseco will get stuck trying to save a burning house and re-arrainging furniture outside.

"Forum Research has not yet included Canseco in one of its six-candidate polls" is my favourite joke from @ddale8's article. Perfect.

I'm sure Jose will be such a popular replacement for Rob Ford that he'll be elected to 2 CANSECO-tive terms as mayor #YesWeCanseco

WARNING TO @JoseCanseco : HULKMAYOR BROTHER DOUGIE CAN KICK OZZIE BUTT ANY DAY OF WEEK #TOpoli #YesWeCanseco
Before you get too excited about the prospect of Canseco further burnishing Toronto's reputation for choosing wise leaders, the slugger has already admitted he probably won't be able to run.
In an email to Dale on Friday, Canseco said he's not going to be able to figure out getting Canadian citizenship.
But then Canseco confused matters with a new tweet suggesting he's still interested in the job: "Need exact guidelines of what I need to run for Toronto mayor and how long it takes to claim residency. #yeswecanseco."
Were he able to somehow fulfil the legal requirements, he possesses many of the same attributes that won Ford the mayoralty in 2010.
Remember, once upon a time Ford was just a longshot with the gift of gab too.
Canseco played for the Blue Jays during the 1998 season and hit 46 home runs. His statistics as a slugger now carry a prominent asterisk, since Canseco has admitted he used steroids throughout his career. In his tell-all book "Juiced: Wild Times, Rampant 'Roids, Smash Hits & How Baseball Got Big," Canseco accused many of the sport's biggest stars of being on performance-enhancing drugs, a move which hasn't won him many fans among his home-run hitting peers.
As for whether the byelection Canseco wants to run in will even take place, Ford's appeal of a judge's ruling removing him from office will begin on Monday. If the panel of three judges does not overturn the decision, city council will either call a byelection or appoint a new mayor.