'Big Brother Canada' Host: Arisa Cox To Helm Reality Show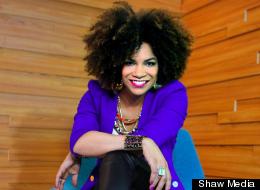 Move over, Julie Chen -- there's a new "Big Brother" host moving in. Arisa Cox, co-host of "E! News Weekend," has scored the coveted gig for the inaugural season of "Big Brother Canada."
Cox will introduce viewers to Canada's first-ever houseguests, steer them into doing ridiculous things and guide them through the twists and turns that comes with living in the "Big Brother" house.
Executive producer John Brunton says, "Arisa knows first-hand what our group of houseguests will be going through," alluding to Cox appearing on the first season of Canadian reality series, "The Lofters," where her every move was caught on camera for a full year.
"Her experience and insight into this unique situation will allow her to get into the minds of the houseguests and ask the questions that the viewers want to hear. She will be the perfect bridge between the houseguests and the viewing audience at home. We are thrilled to have Arisa take the reins of 'Big Brother Canada,' the show could not be in better hands."
Cox, who also writes fashion commentary for the National Post, concurs. "I am ecstatic to be on board to host 'Big Brother Canada.' As a huge fan of reality television, and someone who has experienced living in a house full of cameras capturing my every move, I'm looking forward to meeting our Canadian houseguests to see how they play without getting played!"
The first Canadian instalment of the reality franchise premieres on Feb. 27, and will air three nights a week (Wednesdays, Thursdays and Sundays). "Big Brother Canada After Dark" kicks off the same night but will air seven days a week.
'Amazing Race Canada' Teams We'd Love To See
Hockey's national treasure and his daughter would make a great team. His natural athletic ability paired with her good looks could get them past any obstacle.

You'd think that Mr. Trudeau would want to prove himself by conquering the entire country on a reality show, with his wife at his side to temper the storm. And if there's a boxing challenge, he's golden.

They may be successful entrepreneurs, but could they last in a physical contest? It would definitely be interesting to find out. If they finished the Race without killing each other, that is.

Yeah, yeah, we know. This could never happen. But c'mon, the combined hotness of this team has to guarantee some success, right?

They would probably win -- they're fit, they're fun, and every Canadian knows and loves them.

If this team was as physically adept as they are funny, then they'd cross the finish line first.

Judging by the size of Avril's engagement ring, they're not hard up for money, but these two rockers could consider the Race as a bonding exercise for their burgeoning love.

Pairing one of Canada's hottest models with Canada's fashion maven would be killer -- they're both well-travelled and well-versed with the rules of the road.

OK, this one is just voyeuristic curiosity. We admit it.

Affectionately dubbed "The Hair Team," these authors might just surprise you with their wily, sneaky ways. Never underestimate the brains.

True Canadians on a wholly Canadian course? They might stand a better chance than you think.

A Hollywood-hockey relationship teaches you all about hardships. (Just ask Candace Cameron and Valeri Bure.) These two would be able to conquer anything.

Drake and Snake, a 'Degrassi' twosome? Very unlikely, we admit, but the cross-generational aspect is appealing.

These funny folks (and lifelong friends) would have the advantage of communication -- something teams sorely lack on the Race. Plus you cannot deny the humour value they'd bring to the show.

This team of intellectual juggernauts is intimidating to say the least. Suzuki knows the chemical composition of every blade of grass in the country, and Trebek knows random facts about ... everything else.

These two would flip, traipse and sashay their way from one coast to another -- and look fine doing it.

Young indie film darlings Baruchel and Pill could bring the hipster quotient and a little dash of cuteness to the Race. (Ed. Note: Unfortunately these two have since broken up ... but, who knows? Perhaps the Race could rekindle their love?)

Wouldn't a 'Today's Special' reunion just warm the cockles of your Canadian heart? It would be even better if they wore their trademark costumes too.