It's no longer a secret: We know that nearly every model in a print advertisement or magazine cover is airbrushed.
But did you know that many of your friends, your kids, and co-workers are touching up their own photos before posting them online?
According to a survey conducted by Glamour magazine last year, self-Photoshopping is becoming a regular practice for the Millennial Generation. Nearly 25 per cent of women aged 25 to 29 retouch their photos. That number jumps to 41 per cent for women aged 18 to 24.
The number isn't too surprising, as the image-editing process is easier and more accessible than ever. Some of the software and applications that are used to edit photos include Instagram, PicMonkey, BeFunky, SumoPaint, Picasa, and, last but not least, Adobe Photoshop. There is even an HD video retouching program that can fix blemishes, smooth skin tone, add makeup, and even adjust face and body shape.
"[Retouching] is the nature of the digital age, we edit because we can," said David Hlynsky, a University of Toronto professor in Photoshop and digital media. "Technology will process our image whether we like it or not."
While changing your online appearance may soon be the norm, it also raises a few pointed questions. Where is this desire to self-Photoshop coming from? Are the millennials so uncomfortable with their personal appearances they feel the need to change what they actually look like? And what does this mean for how our culture will view photos in the future?
Photo editing, of course, is not entirely new.
Photo manipulation and editing have been around since the beginning of photography, Hlynsky says. Before computers arrived, photographers could change the filters on a lens to soften an image, alter the colouring by hand with ink or paint, or even put negatives together to compose a completely new image.
Female Hollywood film stars in the 1930s were often photographed with a soft focus lens and soft lighting, which in turn would hide facial imperfections and even out the skin tone.
However, when Photoshop arrived 24 years ago, the photography community was up in arms, according to Hlynsky.
"[Photoshop] affected photographic truth," he said, although he is hesitant to place the blame solely on the photo editing software. "[But] is it any more dishonest than wearing makeup?"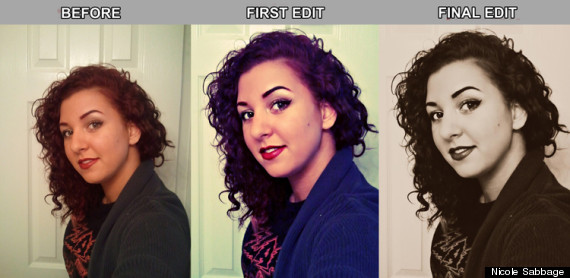 Nicole Sabbage, pictured above, in before, first and final edits of a Facebook profile picture
Seventeen-year-old Nicole Sabbage sees nothing wrong with editing her photos before putting them on her Facebook page.
"I feel it just enhances what I already have…" Sabbage said. "If you have a nasty pimple or your face is oily and you don't want all 700 of your friends to have to see you like that, a little help from something like Picmonkey is okay. People should be comfortable with others' just wanting to look their best. It's a neat little way to look as good as you can without having to spend the time to do it."
Danielle Smith, 23, started editing her photos when she was 16.
"People who know me can distinguish between an original and an edit. People who don't, well, you can clearly see the difference if you compare photos. It's obvious. I'm not ashamed by any means," Smith said.
Smith believes photo editing can help a picture appear to be more professional, and can express one's personality. Smith enjoys cosmetology, so she shows that in her photos by changing up her hair colour and makeup.
"For example," she said, "if I wanted to have pink hair, I'm not going to go out and get pink hair, but with these programs, I can bring that to life."
Ryerson University graphic communications student and hobby photographer Karley Wu, 21, enhances her photos with Adobe Lightroom, but rarely uses facial retouching tools.
"I mostly edit my photos to adjust colour, enhance brightness and contrast, highlight and shadow areas, and add sharpness. It adds better details to the overall photo," Wu said. "I think it is fair for me to be editing photos before posting them, since they are technically my photos and I guess it's my right with what I want to do with them.
"However I don't think it's ethical or fair to change a photograph drastically, especially when it comes to doing portraits of people, because they can become unrecognizable," she said.
It's not just women who are feeling the pressure. Although 20-year-old Ryan Bulmer has never edited any of his own photos, he wonders if he would want to.
"On one hand, as an overweight man I'm constantly thinking about my image and how people see me. I've always imagined slightly 'trimming' up my photos to look better. Yet I can never bring myself to actually do so," Bulmer said.
"But I equate Photoshop with lying, or more so, false advertising. Sure, looking thin is great, but I wouldn't feel right as an honest person lying about how I look. The same reason I wouldn't date a person with Botox, fake breasts, and other drastic surgeries, is the same reason I wouldn't date a person who touched up their pictures."
Similar to Bulmer, Smith and Wu, Sabbage feels that editing her body in her photos would be unethical. She draws the line with her photo editing by not changing her body shape to make herself appear skinnier, and she also doesn't enhance her breasts or bum, as she feels it completely misrepresents her appearance.
"When you Photoshop your body, it makes [you] seem needy or fake," she said.
Some millennials blame the media for their self-image insecurities. As reported by the Toronto Star, H&M was called out by an advertising watchdog for setting "unrealistic physical ideals" after the company launched an online campaign that used computer-generated men and women to model their clothing.
Despite the request to remove the virtual figures and replace them with human models, H&M defended their campaign, as the company uses real models in some of their ads. The virtual models' structure and size were based on one of the store mannequins.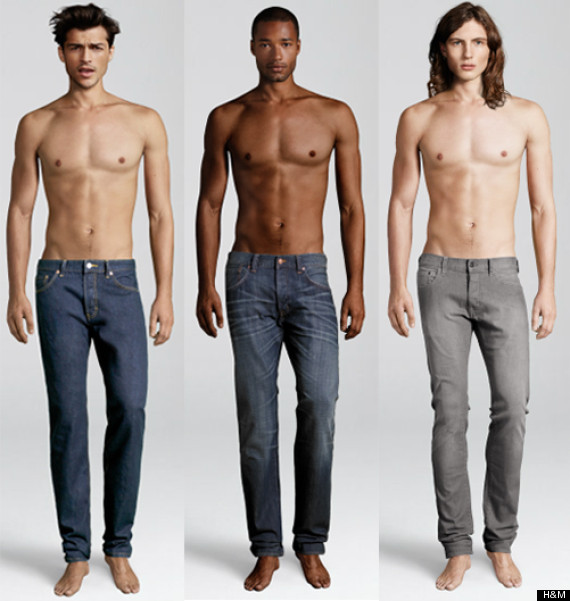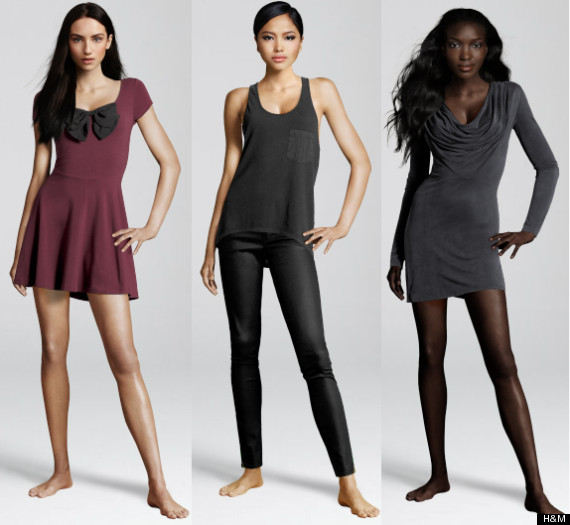 H&M's Dressing room features digitally composed bodies, but uses the real faces of models
"In the media, I think, Photoshop is kind of bad because whether you are aware of it or not, everyone kind of worships beautiful famous people. They are all Photoshopped so it makes regular people feel shitty," Sabbage said.
Smith also feels that growing up with retouched images has influenced the way she feels about herself.
"I battled anorexia. It had a lot to do with media, expectations, and standards of today's society," she said. "There is far too much emphasis on physical attributes.
 There are a lot more elements to beauty.
 It just depends on an individual's background or experience, which affects their opinion."
Yet there are some advertising companies and magazines out there that are responding to millennial body image concerns and are beginning to reshape their Photoshopping practices and body ideas.
Jacob Clothing Canada, a company that primarily uses millennial models, established a no-retouching policy more than two years ago, and the customer reaction has been very positive. Cristelle Basmaji, the marketing and communications director of Jacob Clothing Canada, says the policy was set forth to portray women in a healthy way, rather than degrade them – though some retouching rules still apply.
"We will edit the photo if there is a huge tattoo on the model's back, a huge pimple on her face, and so on.…" Basmaji said. "However, we never reduce or add volume on the body, or reshape the figure.
"Customers are really proud of what we are doing. They now hold us up to a new higher standard."
More from Asking Y, HuffPost Canada's special project on the Millennial Generation:
Joining Jacob Clothing Canada in the shift is Seventeen Magazine. Seventeen introduced the body peace treaty in 2012, after readers complained about their misleading model photos. The treaty states the magazine will never retouch face or body shape of models and only showcase healthy body images.
Bulmer believes the way to prevent millennials from Photoshopping themselves is to try to change the attitude and self-esteem of the demographic. He thinks educating millennials that photo editing is used for business purposes can help them be aware that images in ads and the media do not reflect real models, as those women themselves do not actually look that way in real life.
This may help people realize that when they use Photoshop, "Sure they look great, but they look no more real than Jessica Rabbit," he said.
"The best [media and advertisers] can do is set the standard," Basmaji said. "We have to walk the talk."
This feature was produced by Hayley Brauer, a student in Ryerson University's School of Journalism, in partnership with The Huffington Post Canada.
Also on HuffPost:
Loading Slideshow
Glamour Chops Off Kristen's Arm

When Kristen Stewart (awkwardly) posed on the cover of Glamour's November issue, she too fell victim to the photoshop madness. The potentially cute photo is ruined by a strange choice to cut off half of her arm (which somehow disappears into her leg).

The Strange VS Model's Ribcage

In the ad, Victoria's Secret model Lais Ribeiro <a href="http://www.huffingtonpost.com/2012/08/02/victorias-secret-photoshop-fail_n_1734800.html?utm_hp_ref=photoshop-fail" target="_blank">stands with her torso bent at an angle</a>, but from our viewpoint, it looks like VS spliced two halves of two separate photos together to create one model, bisected by her arms. There's no way any human can have that whittled a ribcage, right? Right?

Drew Barrymore's Too Skinny

We know for sure that Drew has some sexy curves. Where are her hips?

Behati Prinsloo's Missing Toes

When we first saw these photos of Namibian model Behati Prinsloo for Juicy Couture's fall 2012 jean line, we expected to see signs of Photoshop in Prinsloo's arms, torso or even hips. We were happy to see that the model actually looked pretty natural, until we realized that her left foot in this photo is wonky and she's missing several toes.

Oh, Ann

Not only did <a href="http://www.huffingtonpost.com/2010/08/04/ann-taylor-website-glitch_n_670030.html" target="_hplink">Ann Taylor</a> take a few inches off of a model's waist, the brand's website accidentally revealed the "before" shot, thanks to a tech glitch. The "before" is on the left, and Ann's "improved" version is on the right.

Alloy's Arm Mishap

Oopsies, this model lost her funny bone when the people who were editing Alloy's catalogue released this photo.

Gwyneth's Amazing Pose

Gwyneth Paltrow is a women of many talents, but her pose in this Terry Richardson shot seems impossible.

Tattoo Be Gone

<em>Grazia</em> airbrushed one of <a href="http://www.huffingtonpost.com/2012/04/11/megan-fox-tattoo-airbrush_n_1417917.html" target="_hplink">Megan Fox's tattoos</a> off her April cover. The tattoo that vanished? The Friedrich Nietzsche quote: "And those who were seen dancing were thought to be insane by those who could not hear the music." (Courtesy photo)

And Your Little Dog, Too!

We know Ralph likes to retouch his models, but <a href="http://www.huffingtonpost.com/2010/06/29/ralph-lauren-dog-photosho_n_629538.html" target="_hplink">can't</a> he leave the animals alone? We're guessing that's an entirely new head on the dog wearing a Polo and that he was just dropped into the image on the right.

Misplaced Thumbs

In this jarring<a href="http://www.huffingtonpost.com/2012/05/18/ann-taylor-loft-photoshop-fail_n_1527096.html" target="_hplink"> Ann Taylor LOFT photo </a>of Linen Twill Shorts, the model appears to have a thumb emerge directly out of her arm, above the wrist. (LOFT photo)

Free People's Small Boob

This just shows how advertisements mess up women's perceived image of what the "perfect" body is. This model had perfectly fine-sized breasts but either Free People or Karma Loop decided to enhance the model's right breast, and then promptly forgot to give the other one the extra lift.

The Magical Shrinking Head

Natalia Vodianova's July 2012 cover for <em>GQ Russia</em> has the model all out of proportion... and her hair seemingly carved out with the "lasso" tool on Photoshop.

J. Crew's Weird Pants

In this J. Crew ad, someone went a little crazy with the photoshop and left some very interesting thigh cut-outs.

Only Half Of A Bike

Maybe this model is super-talented and rides some kind of unicycle contraption. We doubt it. This is a case of horrible photoshop. How could Neiman Marcus have<a href="http://www.huffingtonpost.com/2012/06/11/photoshop-fail-disaster-neiman-marcus_n_1586127.html?utm_hp_ref=photoshop-fail" target="_blank"> assumed that this model's backside could cover up the entire half of a bike</a>?

Pink Haze

<a href="http://www.huffingtonpost.com/2012/05/15/jessica-alba-photoshop-marie-claire_n_1518929.html" target="_hplink">Jessica Alba is the latest victim of over-enthused retouching,</a> on the June 2012 cover of <em>Marie Claire.</em> The whole cover seems washed in a bright pink haze, and something seems a little robot-y about it to us. Maybe it's the way they did her hair? (Courtesy photo)

Look Ma, No Legs!

<a href="http://www.huffingtonpost.com/2012/03/27/luciano-conti-professional-photoshop_n_1382739.html" target="_hplink">In this printed ad from an Italian haircare line</a>, the female model's legs seem to have gone missing... or perhaps the male model's biceps are so big they conceal them? (PSD photo)

Angela's Swan Neck

Model Angela Linvdall posed for the March cover of Vogue Mexico looking every beauty but also, very elongated. Her neck and jawline seemed to have been smoothed and stretched out or she's a modern-day Stretch Armstrong.

BCBG's Knee Conundrum

It's one thing for model's to have endlessly long legs, but how can a human have more than two knees? Apparently, these models do. In this ad -- if you look closely -- the models' knees are bending but not where the skirt is bending. Optical illusion? Who knows.

Bloomie's Mutant Elbow

<a href="http://www.huffingtonpost.com/2010/08/30/bloomingdales-retouch-photoshop-model_n_699015.html" target="_hplink">Bloomingdales</a> turned a perfectly innocent model into a mutant, giving her the pointiest, most elongated elbow we've ever seen.

Out On A Limb

The leg bone is not connected to the hip bone. Period. And for more, <a href="http://www.huffingtonpost.com/2010/06/08/victorias-secret-photosho_n_603661.html#s97486" target="_hplink">check out</a> a dozen or so airbrushed Angel fails.

Healthy...er

By now, we're used to seeing models' bodies whittled down -- but how about reverse retouching? Like, making someone appear heavier than she is? <a href="http://www.huffingtonpost.com/2010/05/17/kamilla-wladyka-airbrushe_n_579030.html" target="_hplink">That's</a> what happened with Kamilla Wladyka who was Photoshopped to look healthier. For the cover of <em>Healthy</em> magazine.

On And On

And On And On. <a href="http://www.huffingtonpost.com/2010/09/28/suaves-mango-mandarin-photoshop-retouched_n_741493.html" target="_hplink">This</a> model loves Suave's Mango Mandarin body wash so much that she hasn't realized she's an amputee.

Something's Still Not Right...

We don't think the lady model's legs make any sense in Dolce & Gabbana's ad for light blue, <a href="http://www.huffingtonpost.com/2010/12/07/dolce-gabbanas-photoshop-_n_793208.html" target="_hplink">although</a>, somehow, 47 percent of you thought everything looked just peachy.

Will's New 'Do

<a href="http://www.huffingtonpost.com/2010/02/16/prince-william-brunette-o_n_464426.html" target="_hplink">We still</a> don't know what this was about but it seems more relevant than ever. Did Wills dye his hair just for the <em>Hello</em> cover shoot? Or was someone playing around with the color and contrast in everyone's favorite retouching program?

Looking For A Lawsuit

Here's an interesting spin: <a href="http://www.huffingtonpost.com/2010/11/24/irina-shayk-nude-sues-gq-spain_n_788213.html" target="_hplink">model</a> Irina Shayk claims <em>GQ</em> Spain Photoshopped the underwear right off of her and that she never posed in the buff. She's taking the Spanish glossy to court over the pics.

Getting Steamy

"New Zealand's Next Top Model" came <a href="http://www.huffingtonpost.com/2010/08/25/new-zealand-top-model-michaela-steenkamp-topless-photo_n_693714.html" target="_hplink">under fire</a> for having a 16-year-old contestant pose topless, with only mud smeared across her naked breasts and then posted an unedited picture from the shoot online. The solution? A spray of Photoshopped steam covering up the girl's chest.

Anne Hathaway's Armpit

While Anne Hathaway looked stunning on British GQ's February 2010 issue, something's not quite right with her ultra-smooth armpit...

Missing Arm, Thanks Ann Taylor

Another Ann Taylor photoshop fail...this time, they took out their airbrushing anger by amputating this poor model's arm!

Model Or Barbie?

On the January issue of ELLE Czech, model Denisa Dvorakova's arms channeled Barbie's freakishly sharp angled limbs. Furthermore, the synthetic looking visage of her face doesn't adds to her plastic-doll appearance.

Hilary Rhoda's Angular Cheekbones

We're not sure why someone would change Hilary Rhoda's already perfect and sky-high cheekbones to begin with-- but that didn't stop <em>Numero </em>Tokyo from engaging in this photoshop fail. The model's razor-sharp cheekbones were given a little <em>too</em> much tapering...yikes!

The Duchess' Shockingly Tiny Waist

Some were shocked at Kate Middleton's frail frame in her Alexander McQueen gown on her wedding day. But a <em>Grazia </em>magazine retoucher decided to take it up a notch by airbrushing her already tiny waist, to look just like a life-size Barbie's instead. It seems that<em> Grazia </em>has tried to trick us into thinking the Duchess has the worlds smallest waist.

Christy Turlington Falls Victim

It's hard to even tell that this Maybelline ad features the one-and-only Christy Turlington, who is <em>so</em> airbrushed that she's basically unrecognizable. While the supermodel has always been known for her flawless complexion, her skin is <em>so </em>overly retouched that it bares more resemblance to a 3D animation than Christy herself. <strong><em>CORRECTION:</em></strong> A previous version of this caption identified the makeup brand incorrectly.

Louis Vuitton's Magic Mirror

Louis Vuitton's fall 2010 campaign featuring models Christy Turlington, Karen Elson and Natalia Vodianova is so aesthetically pleasing to look at, that it's hard to notice this photoshop mystery. But if you look closely in the mirror, you'll see a random reflexion in the mirror that doesn't match up with the actual scene going on.

Lila Grace Is Missing A Finger

Kate Moss and her eight-year-old-daughter Lila Grace are as pretty as can be in this September 2011 <em>Vogue </em>spread. But unfortunately, Lila Grace and her poor fingers are the victims in this photoshop disaster.

Kim Kardashian's Kurves

Kim Kardashian has always embraced her curvy figure--but the original and untouched photo that Complex.com accidentally posted of a thinner Kim says otherwise.

H&M's Disappearing Act

This photoshop faux-pass is brought to you by H&M, who decided to give this model a face lift...but literally. We're not quite sure why they choose to make her entire face disappear from a 45 degree view, but whatever the reason, it seriously freaks us out.

American Apparel's Optical Illusion

Even though it was confirmed by a company rep that this was not Photoshopped, it still looks as if there is no horse body behind that model!

Charlize's Claw

Photoshop was used and abused on the cover of Charlize Theron's <em>Los Angeles Confidential </em>cover. Her hand looks more like a paw (or claw) as it appears that her fingers have all melted together-- creepy!

Walmart's Coloring Book

We're pretty sure that a child was responsible for scribbling up (and coloring in) this photoshop fail. The sketchy image from Walmart appears to be selling a bikini top...but we can't really tell.

Campari Thins Out Jessica

This Campari campaign morphed Jessica Alba into a much (much) thinner version of herself. While she looks perfectly fit in both images, if the originals hadn't been leaked, we probably would have actually believed the lies...But unfortunately this wasn't the case.

Another Ann Taylor Blunder

While this isn't exactly the worst (or most obvious) photoshop flub we've seen, the original footage from this Ann Taylor campaign tells a different story. The screenshot, taken from a "behind-the-scenes" video, is a much more accurate portrayal of Naomi Watts- who looks way too overly airbrushed in the final version.

Scary Skinny

Someone messed up big time with this unrealistically photoshopped waist on Nordstrom's website. We're so distracted by her startlingly small torso that we can't even focus on the cute orange polo shirt. <em>Note: This caption was edited for clarity's sake.</em>

Set's Very Flexible Model

Russian model Anna Selezneva has been stretched to her limit in this photo for German label Set. While her left leg is lifted onto a couch, her right leg has been attacked by some vicious monster that bit right into her thigh!

Paris' Plastic Cover

Is it just us, or does Paris Hilton looks faker than ever on this Vanity Fair cover? Her strangely smooth face actually sort of creeps us out to be honest.

Talbot's One-Legged Model

Does anyone else feel bad for this victim of retouching madness? This Talbot's photoshop abuser settled on giving this poor model only one leg.

Lancome's Wrinkle-Free Ad

For being 44 years old, Julia Roberts looks pretty near amazing. And while the actress still looks pretty in this Lancome ad, we just wish they didn't make her skin look <em>so</em> freakishly smooth. From the looks of it, the retouchers airbrushed the life out of Julia Roberts' face, and gave her a plastic visage instead.

Something's Off About This...

Victoria's Secret, who is a notorious fan of photoshop abuse, was up to their old tricks again. This time, Model Candice Swanepoel's shoulder joint appears to be disconnected from the rest of her body.

Marissa's Amputated Arm

Um, should someone tell Marissa Miller that she's missing a limb? Evidently, Victoria's Secret took out a fit of retouching rage on the model's arm.

Zooey's Creepy Lookalike

Just wondering, but who is that girl in those recent Rimmel ads? The faulty campaign featured a photoshopped image of someone who resembled a Zooey Deschanel lookalike with plastic surgery gone wrong.

Khloe's Shrinking Height

Last time we checked, Khloe Kardashian is noticeably taller than both Kim and Kourtney...Khloe, who at 5'10 normally towers over her pint-sized sisters, apparently shrunk down to "fit" the frame for this Sears campaign shot by Annie Leibovitz. And what's going on with Khloe's right hand?

A Lapse In Judgement From Ralph Lauren

It's pretty disturbing that these Ralph Lauren photos somehow got the go-ahead to be published in the first place...The fashion label received harsh criticism for these images featuring an emaciated looking model, who actually more so resembles a bobble head on a skeletal frame. Even more alarming is that the photoshop victim, Filippa Hamilton- claims that she was actually fired by Ralph Lauren for being "too fat."