Oprah In Calgary: Talk Show Host's Inspirational Message Warms Hearts In A Chilly City (VIDEO)
Calgary has officially caught the fever. The Oprah Winfrey fever.
In the middle of her Western Canadian tour, Oprah took the stage at the Saddledome Tuesday night to talk about her life and deliver her message of inspiration.
Following the tradition of Calgary's unique welcome for dignitaries and celebrity visitors, Oprah stepped out on stage in a white cowboy hat to accompany her teal, floor-length gown.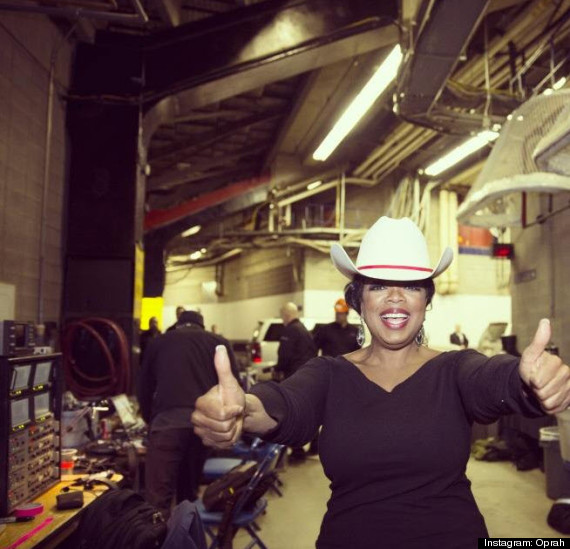 (Oprah Instagrams a shot of herself wearing her new white hat in the belly of the Saddledome. " 'Thank you CALGARY! Don't forget the "whispers,"'" she tweeted after the show.)
According to the Calgary Herald, Oprah's message to the sold-out crowd was to listen to your inner voice, follow your instincts and find value in helping others.
"Living your life in the service of other people, that is how you validate yourself, that is how you find purpose," she said.
"Honour the power within, honour your calling ... and shift the paradigm to service. That is the shift that changes everything."
Earlier in the afternoon, Oprah caught up with reporters and fans on the streets of downtown Calgary, as her SUV made its way to the hotel.
She thanked Calgarians for their support and encouragement.
"It's amazing for me that people are, you know, taking showers and coming out to see me."
Oprah seemed a bit surprised people would venture out in the chilly weather to see her speak -- in fact, she mentioned the sub-zero temperatures several times during her two days in Alberta.
"I've only been here an hour, but so far it's a lot warmer than Edmonton, just let me say that," she told reporters from her car as she arrived in downtown Calgary, before scolding Global reporter Reid Fiest for not wearing a jacket.
As well, she got tripped-up during her talk at the Saddledome and called Calgary "Edmonton," before apologizing with the excuse that it was so cold in Edmonton her brain froze.
Story continues after the slideshow...
Dear @Oprah I still love you even if you called us Edmonton tonight. Love your Calgary fan lol #oprah #dreamcometrue #bucketlist

Hey @Oprah are you going to grab a @TimHortons coffee before you leave calgary? Surely it wouldn't be a real canadian trip without one!!

@Oprah I am so chapped that you instagram about Calgary and not Edmonton #firstworldproblems #yeg

Oprah came to Calgary? Lol wow that is so weird because no one comes to Calgary.

@Oprah you are a phenomenal speaker. I learned so much from you. Thanks for sharing your wisdom and grace with all of us in Calgary. #yyc

@Oprah #Calgary You are amazing, a true inspiration!

No worries about the Calgary/Edmonton switch @oprah- @ChrisofColdplay did the same thing last Spring! You're both invited back for Stampede!

Oprah in a Calgary cowboy hat. What next? http://t.co/Oxaoeolf

Oprah was amazing Calgary!! Key message was live you life in service. #yourbestself #yyccc #OprahinYYC #Change

@Oprah was like seeing an old friend. Calgary show was amazing.

@Oprah Calgary looks good on you! :)

@Oprah Awesome night I'll never forget!! Oprah Thank you so much for helping me grow over the years!! Calgary loves you!! As do I 😍

@oprah thank you for an enlightening evening! I'm looking forward to being more in touch with my journey! #calgary #BLESSED

@Oprah was very inspiring & humorous tonight in Calgary. I loved her thoughts on one's purpose and listening to your instincts.

i like how every famous person that comes to calgary has to wear a cowboy hat. i'm looking at you, oprah.

@Oprah because your hobby is all about baths, you have to get something from Rocky Mountain Soap co. before you leave Calgary
14,000 fans packed the Saddledome to get a glimpse of Oprah and listen to her Q and A with CBC's George Strombolopolous.
Just days following her exclusive interview with Lance Armstrong, where he admitted to doping in order to win seven Tour de France titles, Oprah told Strombolopolous "It wasn't my intention to get him to say anything."
"It was my intention to create an open field."