Epic Meal Time Jamie Oliver: Chef Gets Kidnapped, Held Hostage By Canadians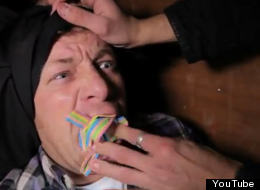 You've just entered Jamie Oliver's worst nightmare: Being tied up with candy, kidnapped and gagged with candied bacon.
In a fun (and pretty convincing) episode of Canadian food series Epic Meal Time, the British chef is located, kidnapped and forced to listen to the team create a giant fast food fish and chips filet sandwich.
And this is not just any sandwich — it's one with a whopping total of 59,144 calories and 2,840 grams of fat. Delicious.
Trapped in a fridge, Oliver yells out 'pink slime', 'nuggets' and at one point, he's even caught drinking whiskey. For the chef, known for his healthy cooking lifestyle and Food Revolution campaign aimed at getting people to eat and cook real food, this might as well have been one of the circles of hell.
And though he may hate our country's love for bacon, Oliver is no stranger to Canadian soil. Last summer, he partnered up with Canadian chef Derek Dammann to open up a new restaurant in Montreal called Maison Publique, according to The National Post. Frankly, if you're geared toward healthy food, there may be better locations to choose in our fair nation than the home of poutine, smoked meat and a chef who can't get enough of foie gras.
Can't handle all that fat? Check out these easier (and somewhat healthier) recipes for fish and chips:
To make a quick meal, use good-quality store-bought breaded fish fillets for these fish sandwiches. Serve with your favorite potato chips. Get the Recipe for Fish 'n' Chips Sandwiches

Put an international twist on the classic fish and chips. Here curry powder adds subtle heat to the fish batter. Serve the fish with tomatillo guacamole, which works as a cooling dip. Get the Recipe for Beer-Battered Fish with Tomatillo Guacamole

To make these fish sticks, simply combine canned flaked salmon with eggs and flour and form into sticks. Dredge in cornmeal and fry. Serve with a yogurt-based tartar sauce. Get the Recipe for Fish Sticks and Tartar Sauce

Cornmeal creates an extra-cripsy coating for these fish sticks. Use firm white-fleshed fish, such as cod, pollock or catfish for the best results. Get the Recipe for Fast Fish Sticks

This recipe for fish and chips is just like the English original, except the fish and chips are baked instead of fried. Get the Recipe for English Oven-Fried Fish 'n' Chips

Soak these fish fillets in buttermilk just as you would with chicken. It tenderizes as well as adds tangy flavor to the fish. Bake them in the oven for a healthier option. Get the Recipe for Oven-Fried Fish Sticks

What kid wouldn't eat these crispy cod nuggets? They are much more appealing than the freezer-section boxed nuggets. The secret to the coating? Ritz crackers. Get the Recipe for Crispy Cod Nuggets

Everyone loves a classic beer-battered fish recipe. Pair this one with double-fried fries and a homemade tartar sauce jazzed up with Sriracha hot sauce. Get the Recipe for Beer-Battered Fish and Chips with Spicy Tartar Sauce

Traditionally the English eat their cod drizzled with malt vinegar. This recipe has the fish fillets coated in salt-and-vinegar potato chips for a fresh new take on the classic. Get the Recipe for Fish and Literally Chips

To create the fluffiest fries -- er, chips -- first bake the potatoes whole, then cut them into wedges and fry. Serve the fried fish and chips with tangy homemade tartar sauce. Get the Recipe for Fish and Chips with Homemade Tartar Sauce

The beer batter for this recipe includes yeast, which creates a fluffy, crispy coating. For really good fries, parboil them first before frying. Get the Recipe for Beer-Battered Cod with Homemade Chips and Tartar Sauce

Watch how fish and chips are served in London shops.