Albertans Will Save The Most In 2013, Says BMO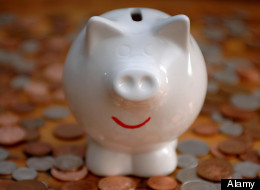 Albertans aim to save more than Canadians in all other regions in 2013, according to a BMO survey released Monday.
Alberta residents expect to save, on average, $18,035 in 2013, almost doubling the national average of $9,859, states the BMO Household Savings Report.
The report states that although as a whole, Canadians expect to save $600 more in 2013 than they did in 2012, the amount that Albertans are positioning themselves to save far surpasses B.C., the next closest region. Residents of B.C. say they plan to save $11,109 in 2013.
"It's encouraging to see Canadians are planning to maintain or increase their personal savings this year, particularly as we look to balance increasing debt loads and turn around decreasing rates of savings," said Ernie Johannson, Senior Vice President, Personal Banking, BMO Bank of Montreal.
"While it's important to pay down debt - particularly high-interest debt - it's essential that households build themselves a financial cushion as well, whether it be for retirement or other goals."
HOW DO REGIONS COMPARE IN TERMS OF SAVINGS PLANNING?
Story continues after slideshow
Canadians are planning to save more in 2013, according to the BMO Household Savings Report, released on 4 Feb. 2013. Click through the slideshow to see how Canadians living in all regions expect to tackle their saving this year.

Residents of Quebec expect to save less than Canadians in all other regions. In 2013, they expect to save $5,477.

Next up are residents in Atlantic Canada, who expect to save $6,698 in 2013.

Residents in these prairie provinces plan to save $9,702 in 2013.

Residents in Ontario expect to save $10,465 in 2013.

Residents on the West Coast come second in the list of Canadians who expect to save the most in 2013. British Columbians expect to save $11,109 this year.

Albertans expect to save more than Canadians in all other regions, aiming to stash away $18,035 in 2013.

The BMO Household Savings Report showed differences in saving patterns from region to region but there were also marked differences between the sexes.

Men expect to save $11,631 in 2013.

Meanwhile, women aim to save much less than men, expecting to put into savings $8,091 this year.

On average, Canadians aim to save $9,859 in 2013.
Vacations, luxury items, entertainment and hobbies topped the list of reasons for Canadians' savings strategies this year, states the report.
"It is sometimes difficult to balance financial priorities and responsibilities with spending on items and experiences we enjoy," said Johannson.
"However, given the economic realities, it is key that we don't let the nice-to-dos overshadow our must-dos."