CALGARY -- A Calgary real estate agent has stirred up controversy with a suggestive billboard.
The Re/Max advertisement features a closeup photograph of Diana Arvatescu and the invitation: "Let me take you home. It's gorgeous inside.''
Some industry experts say they are concerned with the tone of the ad, given the ongoing safety campaigns to protect women hosting open houses alone.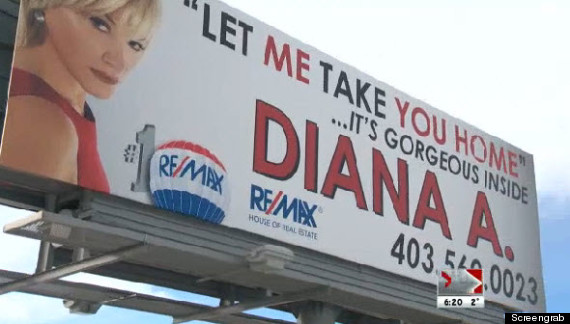 Doug Firby of the Calgary Real Estate Board says women in the business need to be aware of potential risks.
He says the board offers advice on what it thinks are the best practices for agents, and he doesn't think the ad fits into that category.
The advertisement is also concerning to Jeff Buziak, whose daughter Lindsay, a real estate agent, was murdered after being lured to an open house.
Five years after her death, he continues to advocate for more safety measures.
"It scares me that anyone would want to put an invitation out there,'' Buziak says. "As subtle as it might be or humorous as some might think it is, I do believe it's an invitation, opening the door for something else that is not real estate.''
"I was very surprised to see something so sexually inviting and provocative,'' says Mary Valentich, a social work professor at the University of Calgary.
"It's a misguided effort to communicate selling houses -- she's selling herself and I don't think women need to do that.''
Arvatescu says she stands by her ad but would not comment further.
Her supporters say the billboard is a clever way for the blonde-haired, blue-eyed Realtor to stand out among her competitors.
"If there's a couple driving by, the husband is going to like her and the wife says no,'' says Andrey Butenko, a mortgage specialist.
"But if they're looking for a professional and it proves she is a professional, I am sure they will go that way.''
Also on HuffPost:
Loading Slideshow
Budweiser: Flash Fans

Arguably the most buzzworthy Canadian commercial of the year, this Budweiser spot that aired on Canadian stations during SuperBowl XLVI featured two Toronto-area amateur league hockey teams who were told they were being filmed for a documentary. Instead, the filmmakers got a flash mob to show up to the game, dressed in team colours, to throw confetti and cheer on the local teams. The end result was an ad that convincingly looked like a highlight reel from an NHL game. The video went viral in the U.S. and around the world.

Whistler Film Festival: Princess (GRAPHIC LANGUAGE)

Made by Vancouver's Dare agency, this promo for the Whistler Film Festival looks like a genuine Pixar CGI cartoon, right up until the end, when the video takes a seriously gangsta turn....

Canadian Paralympic Committee: Unstoppable

Made for the 2012 Paralympic Games, this ad features a disabled runner making his way past wheelchairs, emergency vehicles and an accident scene, before breaking away into a fast run. It's an inspiring metaphor for people's ability to overcome challenges, and one of HuffPost's most totally favourite ads of the year.

Zellers: Zeddy Gets Laid Off

Zellers is going out of business, but at least it's doing it with humour. In this ad, one of a series on the same theme, store mascot Zeddy is driven out into the woods and informed his services are no longer needed.

Shaw: Car Chase

This ad for Shaw Cable's on-demand movie service has viewers strapped into the middle of high-octane action sequences. A silly but noticeable way to get the message across that your movie service puts the audience "in the heart of the action."

Heart & Stroke Foundation: The Undeading

Is receiving CPR like becoming a zombie? We certainly hope not, but that's the amusing premise of this Heart & Stroke Foundation public service video, which shows a woman suffering a heart attack during a zombie invasion, only to be revived by the zombies ... and then attacked by them again. We'll overlook the conceptual confusion here and applaud the ad's eye-catching production values and the useful tidbits about carrying out CPR.

Maynards Mouth Chase: Fishing

Candy maker Maynards produced a series of ads called "Mouth Chase" in which a man in a mouth costume chases people in various random situations. The ads combine intentionally low-quality amateurish video with a dramatic, cinematic soundtrack to produce a uniquely bizarre effect.

Astral: In Between Odds

Astral Media wanted to show off its efforts to support the Canadian film and TV industry, so they made this mockumentary featuring a filmmaker who is suffering from an unfortunately flattened nose due to doors being repeatedly closed in his face. A subtle bit of humour, but it gets the point across.

War Child: Jam (CAUTION: GRAPHIC IMAGES)

This intense, at times disturbing ad made for the non-profit group War Child Canada shows a battle breaking out in some unidentified African civil war. As the battle rages, gun clips turn into crayons and bullets into bubbles. "Where childhood thrives, war does not," the ad concludes. Powerful stuff.

Sick Kids Hospital: Pain Squad

This promo video outlines how Toronto's Hospital for Sick Children managed to get child cancer patients to keep track of their treatment-related pain. The hospital built an app called "Pain Squad" that "recruits" kids into becoming part of "a special police force dedicated to hunting down pain." As far as promo videos go, it doesn't get much more touching than this.

McDonald's: Our Food, Your Questions

McDonald's Canada deserves kudos for coming up with a unique approach to selling its product this year: Telling customers the truth about it. The fast food chain ran a series of online and TV ads this year, answering challenging questions from customers. In this video, McDonald's explains why their hamburgers look a lot better in ads than they do in real life.

Tourism Commission: Canada Shared by Canadians

The Canadian Tourism Commission issued a call-out to the public to send them their video footage of Canada. They took the submissions and boiled them down to these two minutes of awesomeness. Canada has never looked better, or more fun.