Dr. Martens holds a soft spot in our nostalgic hearts — who didn't rock at least one pair of 8-hole lace-ups back in the day? The brand has always embodied a rebel yell DNA and yet manages to shake up its offerings (read: Swarovski-studded high-heeled booties) without forgetting this.
So, when spunky model Agyness Deyn teamed up with them last year for a collaboration the peanut gallery was all, "Oh yeah, that makes total sense,"instead of, "Oh Lordy, yet another collabo up in this retail landscape?"
Related: Dr. Martens Knows How To Party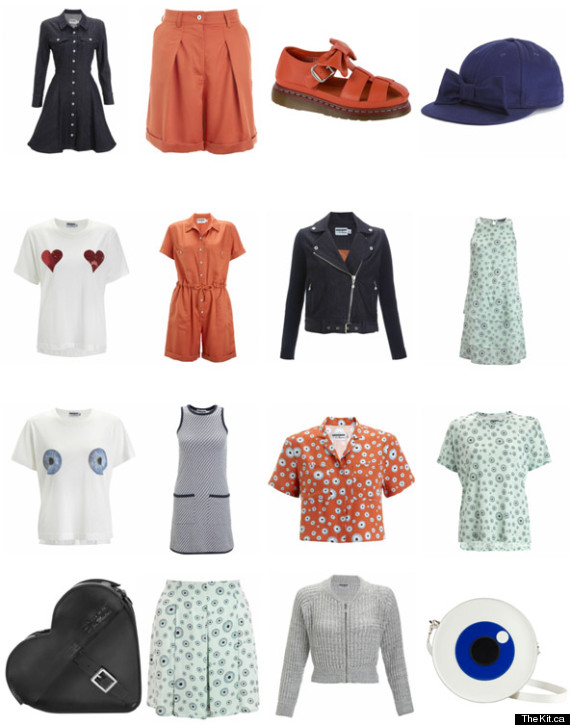 Now Aggy's back with her Spring 2013 collection that features more eclectic, casual-cool Brit girl pieces even though it's supposedly inspired by Harajuku girls (those girls should seriously think about starting their own branding company — just don't let Gwen Stefani take any residuals!).
We're the first media outlet in Canada to share the new collection with you, and here are a few favourites: the jean jacket dress cleverly designed to fit up top like your favourite worked-in denim topper, the high-waisted pleated shorts (need those–need 'em), and the adorable patent leather bow sandals hereby known as your go-to weekend shoe for the spring season. See the short film produced for the campaign below:
And you might be wondering what's up with all the evil eyes they've sprinkled across the pieces. They aren't evil at all–the signature print is inspired by Aggy's own pretty peepers. We're betting the eyeball bag is going to be one hot seller (not unlike the popular Maison Martin Margiela x H&M candy wrapper clutch), so please don't sleep on this and then complain about having to hunt down the carry-all on eBay later. Just don't.
Related: Agyness Deyn For Dr. Martens Capsule Collection
The collection is available online at www.drmartens.com and at Dr. Martens stores across Canada beginning mid-to-late February. Clothing ranges between $85 and $320; accessories between $60 and $260; footwear between $60 and $220.
See More Models Who've Expanded Into The Fashion Biz:
Loading Slideshow
Shine by Heidi Klum

The supermodel launched her first fragrance in collaboration with Coty in 2011 entitled Shine. (WireImage photo)

Kate Moss

In 2007 the supermodel started a collaboration with UK-based clothing store Topshop. (Getty photo)

Victoria Beckham

Singer turned model turned fashion designer, has a denim brand: dVb Style, along with a range of sunglasses and perfumes entitled Beckham. She has also collaborated with Japanese store Samantha Thavasa for a line of handbags. (WireImage photo)

Gisele Bundchen

In 2011 the supermodel launched an eco-friendly beauty line called Sejaa Pure Skincare. Bundchen also designed a line of sandals entitled The Ipanema Collection. (WireImage photo)

Josie Maran

The model and actress launched her own beauty line entitled: Josie Maran Cosmetics. (Buzzfoto/FilmMagic photo)

Iman

The model launched Iman Cosmetics, a makeup and skin line for women of color. (Getty photo)

KLS by Kimora Lee Simmons

On top of being the CEO of Baby Phat, the model has started another clothing line, KLS, as well as a Hello Kitty fine jewelry line.(Getty photo)

Naomi Campbell

The supermodel designed a line of jeans and t-shirts for Fiorucci in 2011. (Getty photo)

Miranda Kerr

In 2009 the model launched her own skin care brand called KORA Organics. (Getty photo)

Kate Upton

In 2012 the<em> Sports Illustrated</em> cover model turned designer by launching a bathing suit line in collaboration with Beach Bunny swimwear. (Beach Bunny photo)

Kathy Ireland

After launching a line of socks that became a smash hit at Kmart in the early '90s, Ireland expanded her brand, which is now sold around the world and includes apparel, area rugs, wedding dresses, ceiling fans, carpeting, wigs, futons, jewelry and office furniture. She was named the richest model in the world by <em>Forbes</em> magazine in 2012. (FilmMagic photo)

Agyness Deyn

In 2012 the British model announced a collaboration with Dr. Martens, for whom she'll design clothes, accessories and of course, shoes. (Getty photo)

Rosie Huntington-Whiteley

In Fall 2012, the British model is launching a lingerie line, Rosie for Autograph, with British high street retailer Marks & Spencer. (Getty photo)

Bar Rafaeli

In 2012 Bar is launching under.me, a line of "simple, comfortable, quality" underwear. (Getty photo)

Isabeli Fontana

The Brazilian model unveiled her inaugural design effort in June 2012, creating a cruise collection for French brand Faith Connexion. (Getty photo)

Topshop Gives Us A Style Makeover

Sir Philip Green surprised our host Marianna Hewitt during their interview with a style makeover with Topshop's personal shopping department. Which look was your favorite?
More from TheKit.ca: