Funniest #SenatorSongs On Twitter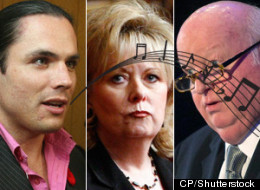 What if your favourite songs were about Canada's Senators?
That's the question that took off on Twitter Thursday afternoon, with users tweeting under the hashtag #SenatorSongs.
The trend originated with the National Post's master of political satire Steve Murray. Others soon joined in, including NDP MPs Alexandrine Latendresse and Rathika Sitsabaiesan

Check out the funniest song titles in the slideshow below.