Roll Up The Rim Prizes 2013: Tim Hortons's Iconic Promotion Begins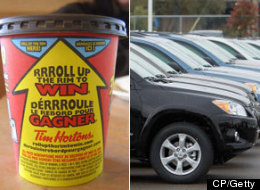 Get ready to roll, Canada.
Tim Hortons' popular Roll Up The Rim promotion returns Monday. And the iconic Canadian company revealed to The Huffington Post Canada that it's adding a new prize of 100 pre-paid MasterCards loaded with $5,000 each.
Other prizes include 40 Toyota Rav4s, 1,000 Napoleon grills, 25,000 Tims gift cards worth $100 each, and 47 million food and beverage prizes.
Sadly, there will be no Priestly doughnuts involved in the giveaway.
The list of prizes is quite similar to rumours reported by several blogs in the weeks ahead of the hotly-anticipated launch.
In the days leading up to this year's contest, which runs as long as supplies last, Canadians took to social media to express their giddiness. One tweet counting down the days to the launch had been retweeted 794 times as of late Friday.
But Tims fans in the Twitterverse aren't the only ones enthusiastic about the 27th annual event. Roll Up The Rim is also the most anticipated event of the year for employees, says Dana Brochu, the company's brand director for coffee and tea.
"We do look at it as the biggest celebration of the year where we get the opportunity to really thank our guests for buying our coffee."
And it's not just the prospect of winning one of those 2013 Rav4's, which retail starting around $23,000, that have java enthusiasts buzzing, she notes.
"What's very interesting about the contest is there's a lot of excitement, obviously, for all the major prizes that we offer our guests, but there's also an equal level of excitement around what we call the everyday prizes like the coffee and the doughnuts."
Still, it wasn't a free coffee that had Danielle D'Angela jumping for joy after she unfurled the lip of her cup during last year's contest.
The 23-year-old nurse in Sarnia, Ont., took her last sip then unceremoniously rolled up her rim during a movie night with her boyfriend and discovered she had won a Toyota Camry.
"We rolled it up as you would do after you drink your coffee, and it said 'Camry' so we were like 'Oh my God, we just won the Camry.' We were like 'Is this real?'"
The couple picked up the phone to call their friends and family and posted news of their score on Facebook.
"Nobody would believe it until we showed them the picture of the roll up the rim. We went into the Tim Hortons and they didn't believe it either, so we showed them the ticket of course and they were more excited really than us."
Story continues below slideshow
Roll up the Rim to Win: A History
Here are nine important, fun or just plain random facts about Tim Hortons' Roll Up The Rim To Win Contest.

Ron Buist was the marketing director for Tim Hortons when the chain rolled out its first Roll up the Rim to Win contest. Buist says he came up with the idea because of cost constraints. The chain didn't have enough money to make cups for a scratch-and-win contest, so he came up with the idea of rolling up the cup's rim instead. "Like any invention, one person comes up with it, but it's the company that makes it work," Buist said.

Giller Prize-nominated writer Leo MacKay Jr.'s novel Roll up the Rim is "a comic tale of obsession, redemption, divine intervention, and Timbits." MacKay is selling the book directly, and depending on how much money you send him, you can get the book autographed, get a reading from the author via Skype, or even get an in-person reading. Now that's dedication.

Some retailers who carry Tim Hortons coffee have reported customers doubling or even tripling up on roll-up-the-rim cups. Some brazen wannabe winners are going so far as to take entire stacks of cups out of stores. Retailers have taken to hiding the cups behind the counter to keep people from stealing them.

A winning Timmies cup became the centre of acrimony in 2006 when a 10-year-old Montreal girl found a cup in a garbage can. With the help of a 12-year-old friend, the girl discovered that the cup was a Toyota RAV4 winner. But the contest win turned into a battle between two families when the 12-year-old's parents claimed the prize for their own. And the whole issue became even more complicated when a custodian at the girls' school claimed he had thrown the cup away. In the end, Timmies gave the car to the 10-year-old, as the rules stipulate whoever hands in the cup wins the prize.

A Newfoundland man told the press in 2008 he suspected Timmies employees of sneaking and peeking at cups to suss out winners, then passing along the losing cups to customers. Bernard Delaney said he got a cup that looked like the rim had already been rolled up, and the cup, he said, even had teeth marks. Tim Hortons said a manufacturing problem was to blame for the cup, and denied anyone had bitten into the cup or sneaked a look under the rim.

The Toronto Environmental Alliance criticized the Roll up the Rim contest in 2010, noting that disposable coffee cups of the sort Tim Hortons uses are wasteful and harmful to the environment. "A lot of resources go into making a coffee cup and too often they end up going into garbage. . . . it's a pretty significant waste of resources," the group said. Tim Hortons said they were looking into alternatives, but hadn't found one yet that works.

Tim Hortons took some criticism when it emerged in 2009 that your odds of winning are worse in some provinces than others. CBC reported that, though 52.5 per cent of Roll up the Rim purchases took place in Canada's largest province, Ontario only received 43 per cent of prizes. The best odds of winning were in British Columbia, where the odds of winning were nearly double that of Ontario.

Vancouver Island house painter Matthew de Jong walked into a Tim Hortons in 2009 and presented a winning cup for a Toyota Venza. A week later, the company informed de Jong he wouldn't be getting his prize because his cup was a fake. Tim Hortons even suggested it could bring charges against de Jong. But when the story hit the news, a 12-year-old girl who lived in the house de Jong was painting came forward to admit she had made a fake winning cup as part of an April Fools prank. Tim Hortons dropped the matter.

In 2011, when Tim Hortons missed quarterly earnings projections, the company blamed the bad performance on "significantly increased food and beverage prize redemptions." The company estimated Roll up the Rim had cut about a third off of same-store sales growth that quarter. But the company also noted that a coffee promotion at McDonald's during that year's Roll up the Rim may have cut into sales.
The daily coffee drinker and her boyfriend were both saddled with student loans. They ended up selling the car back to the dealership for $27,000. The couple, who already had a car, used the money to pay off debt and put a lump sum away for a down payment on a house.
D'Angela's win has only made her more intent on buying at least one coffee a day during this year's campaign, though her friends tell her if she wins again, she better pass on her good fortune to them.
The odds of winning at least a coffee or doughnut are one-in-six, says Brochu, adding that winning cups are distributed by a third party and scattered throughout the cup cases, which are randomly distributed in an attempt to ensure no one restaurant gets more winning cups than another.
Tims is also holding a concurrent online contest, Rockin' RRRoll Up Roulette, which offers 10,000 more prizes. That promotion ends March 17. Winners of both contests have until May 19 to claim their prizes.