Elisa Lam Dead: Missing Vancouver Woman's Body Found In L.A.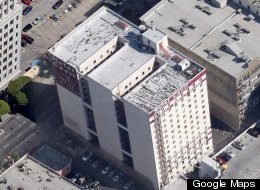 A Canadian who was last seen almost three weeks ago at a Los Angeles hotel has been found dead in a water tank on top of the building, confirmed police.
The body of Elisa Lam, 21, was found Tuesday morning in one of four tanks that hold the water supply for the Cecil Hotel. A worker, who was checking a complaint about low water pressure, discovered Lam's body.
The L.A. Police Department confirmed to The Huffington Post B.C. that Lam was positively identified by body markings.
Police say it is too early to tell if Lam was the victim of foul play.
Lam, who attended the University of British Columbia in Vancouver, was last seen on Jan. 31 at the hotel. L.A. police released surveillance video of her last week that showed her acting strangely in the hotel elevator.
Lam had been travelling alone but was in regular contact with her parents in Vancouver until she disappeared.
Here is a timeline of Elisa Lam's disappearance:
21-year-old Elisa Lam of Vancouver, B.C. arrived in L.A. on Jan. 26. The University of British Columbia student was travelling by herself.

Lam checked into the Cecil Hotel in downtown Los Angeles on Jan. 28. She was set to check out on Feb. 1, reported KTLA.

Lam was last seen alive in the lobby of the Cecil Hotel on Jan. 31. She had been in contact with her family daily. Her disappearance was called "suspicious" by police.

Friends called Lam a caring and conscientious woman. She had been travelling alone in California. Police said her reason for travelling in the state was "unclear."

LAPD released a troubling video captured from the Cecil Hotel's elevator surveillance camera of Lam behaving strangely.

On Feb. 19, Lam's body was discovered by a worker in one of the Cecil Hotel's four water tanks on the building's roof. They were checking a complaint about low water pressure.

A man, left, leaves the Cecil Hotel with belongings as Michael and Sabina Baugh, both 27, of Plymouth, England, wait for transportation as they leave the hotel in downtown Los Angeles on Feb. 20. Early Tuesday, police discovered the body of a Canadian woman at the bottom of the historic hotel's water tank, weeks after she was reported missing. The Baughs, on a 14-day tour package, had been there eight days and had showered in and drank the water. The couple's tour operator was less than cooperative in finding them other accommodations.

An autopsy on the body was completed on Feb. 21, but the cause of death has been "deferred pending additional tests," said Ed Winter, L.A. Country assistant chief coroner.

Two former guests file a class-action lawsuit against the Cecil Hotel after Elisa Lam's body was found in a water tank.

Elisa Lam died of "accidental due to drowning, other significant conditions: bipolar disorder," confirmed Los Angeles County Coroner.