Jose Canseco 'Just Like Rob Ford' On 22 Minutes (VIDEO)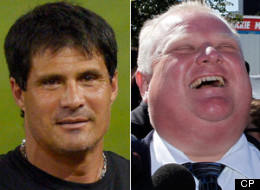 Rob Ford has won his appeal and will remain mayor of Toronto, but that isn't putting a damper on Jose Canseco's heavily-publicized dream to lead the city.
Or maybe the former slugger is just really, really desperate for attention. Remember, this is the man who recently suggested he would make a good replacement for Pope Benedict XVI or the mayor/governor of New England. We'll let you judge for yourself.
Either way, Canseco makes his pitch for the mayoralty Tuesday night on "22 Minutes" and, as far as comedian Mark Critch can tell, the colourful former Blue Jay is "just like Rob Ford" anyway. You can watch a preview of the interview above.
#yeswecanseco for life.
This Hour Has 22 Minutes airs on CBC TV Tuesday nights at 8:30 p.m. Catch more clips of the show on Facebook and Twitter.