Each week, the Huffington Post Canada's Living team will try out something that has sparked our curiosity, and as long as we live to tell the tale, we'll let you know all about it.
Test Drive Subject: QOOQ tablet, "designed for the kitchen"
Price: $399
What It Is: A digital device created specifically for the purposes of cooking, along with meal planning, budgeting for weekly groceries and perusing new recipes — with a few other bells and whistles thrown in for fun
Trying It Out: I don't know about you, but I've always been a bit nervous about the prospect of bringing electronics into the kitchen. Not because of their usefulness — I get pretty much every recipe I make from sites like CookingLight.com or apps like Epicurious — but because of the potential for completely ruining my iPad.
Enter QOOQ, the tablet that's being promoted as a one-stop-shop for all things cooking. As its promotional video (below) shows, the tablet can withstand spills and heat, thanks in part to its raised platform and its wipeable screen. While much to my surprise, I didn't in fact drop any wet ingredients on the tablet while using it, I did have a chance to eliminate my sticky fingerprints from the screen, and happily discovered they came off with ease.
But what did I use it for, you wonder? Well, not nearly as much as its capable of, but during my trial period with the tablet, I searched through hundreds of recipes, cooked a couple of them, made myself a grocery list and started making what could be my favourite element of the device — a weekly meal plan.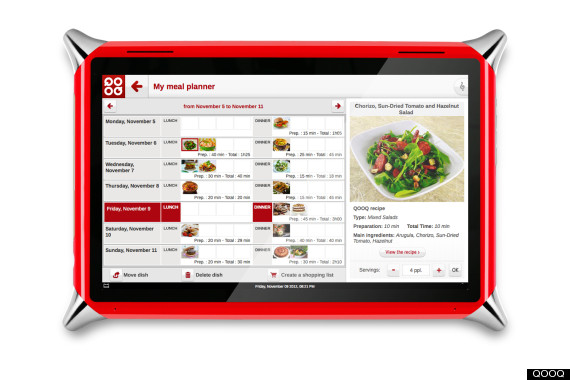 Our Thoughts:
As I mentioned, my cookbooks are growing a thick layer of dust thanks to all the recipes I'm printing from the online world, so it only makes sense to have something I can actually use in the kitchen that brings these together. In addition to QOOQ's database with thousands of recipes, there's also an Internet option, so you can visit any recipe website you so choose.
Those websites, however, won't have the special features included in the QOOQ recipes, like a quick click to figure out the appropriate number of servings (and therefore the ingredients required) for what you're making, a video that demonstrates some of the tougher steps, and heck, even a built-in timer if the one on your oven annoys you.
There's also a multitude of options in terms of how to choose your meal, including everything from the amount of time it takes to prepare to approximately how much the meal will cost based on the ingredients. And that meal plan I mentioned? It's basically my dream come true, because as you scroll through the options, you can pick and choose when you might want to eat that meal — and put it into a spreadsheet, planning out your whole week (complete with prep times) in one fell swoop.
The Warning:
While QOOQ bills itself as sharing features with other tablets (weather information, for example, the ability to watch movies or access to that wild world of the Internet), I wouldn't advise using it as your primarily portable device. The legs make it a bit bulky and typing isn't the simplest task — it can take up to three taps to get a letter to appear on-screen.
And besides, these are all just extras on what is essentially a pretty awesome digital cookbook. If what you're looking for is a tablet to use in the kitchen, then let the QOOQ do what it does best, and leave the other functions to electronics better suited to the games, the surfing and the viewing.
Tips:
Another feature I loved was the "send by e-mail" button, which sends your grocery list to your phone to make sure you know what you're shopping for. This requires a little bit of preparation in the morning if you're planning to, say, do your shopping on your way home from work, but it's well worth it.
I also would advise against getting caught up in too many of the tiny amenities this tablet has on offer. As time goes along, perhaps I will want to use it to listen to the radio through it, or organize my shopping list by grocery aisle, but as the tool I'm leaning on to increase how often I cook (and improve my skills, for that matter), stick to the basics. You could find, as I did, it means better organization in the kitchen, and yes, a fun little toy to show off to your friends.
ALSO: Other things the Huffington Post Canada Living team has tested:
Our Thoughts: Wearing this bra to yoga, a class with more relaxation, little movement and stretching, helped keep my boobs in place. Next, I wore the bra to the gym during an elliptical session and skipping workout. Again, the bra was ideal for keeping things in place and not adding strain to my back or chest. Lastly, I tried out an intense Madonna-inspired dance/cardio class in Toronto, and once again, the bra did nothing but impress. It felt great, it didn't look too cone-like under a basic t-shirt and it was easy to wash as well. Read the article here.

Our Thoughts: I really like the idea of a service that gives you ideas of meals for the week (I can't tell you the number of times I've searched 'meal planning calendar' online), along with high-quality ingredients and recipes that you might not attempt otherwise. Once they're made, the meals are very yummy and often leave leftovers for lunch the next day. Read the article here.

What it is: A 60-minute cardio and dance class for all levels that challenges your ability to stretch, balance and dance. The class was taught by Madonna's trainer Nicole Winhoffer, who also happens to be the creative director of the Addicted To Sweat program and a kickass dancer. Using a variety of equipment, including steps and towels, the high-energy workout is meant to push your cardio limits and "harden" your body. Read the story here.

Our Thoughts: I'm only 5 feet tall, so I'm up for trying anything that targets getting long, lean muscles as opposed to short and stocky ones. The best part is, you can do it anywhere. All you need is a mat, and maybe a chair if you want to get into some of the deep stretches. The balance between strengthening and stretching while focusing on your core also feels kinder to your body than just punishing it with high impact cardio or heavy weights. Read the story here.

Our Thoughts: The abs portions was probably my favourite. Even though having your whole body on a machine seems a bit awkward at first, you start to adapt to it. These exercises challenged my balance, energy levels and of course, my lack of flexibility. Read the story here.

Our Thoughts: The Chromebook is not yet for everyone. You have to "live and breathe" Google in order to be able to use the device to its fullest potential, and also be connected to the Internet. Lucky for me, I use Google's Enterprise service and it integrates beautifully with the device. Read the story here.

Our Thoughts:The Kobo Aura HD addresses the three most important factors in an ereader flawlessly — screen quality, speed and battery life. The secondary objectives such as form factor and feel in hand are somewhat off. One could argue that the device is bulky and the back design does not resemble a conventional, modern gadget. Read the story here

Our thoughts: The size was a little too big — for a tablet at least. For my own use, I would've preferred something smaller in size. However, when it came to typing, size did matter. Since the tablet can rotate, it was easy on the fingers for typing. Next was the quality of photos and videos. For a tablet, I thought the images worked well. Pictures were easy to scroll through (I tested out saving a few in a folder), and videos online were quick to upload. The photo quality for the built-in camera was average — but I've never been a big fan of taking photos with tablets to begin with. (Taking self-portraits with them are even more awkward). The tablet also included a cool travel tool that let you browse different cities and their go-to spots — pretty neat. Read the story here

Our Thoughts: "Years of watching "So You Think You Can Dance" had me terrified to make any hand gestures that might offend, but that didn't seem to be too much of a concern at Sarkar's class. I've never tried Bollywood dancing before, and at first found it a challenge to keep up with the moves -- but fortunately, the size of the class (around 60 people) made me instantly less self-conscious and I was able to enjoy just spending the hour learning new steps." Read the story here.

Our Thoughts: "The first thing I noticed when I got my digest was how empty my inbox was. At least 15 of my regular emails were grouped into one convenient email that was easy to read on my phone and the computer. I also noticed I didn't miss the emails I had unsubscribed to -- I actually couldn't even remember a lot of them." Read the story here.

Our Thoughts: Wow, it's light. Really light. I'm a media junkie so I pick up magazines, newspapers and other things to read like a stray dog picks up fleas. The Mini is probably lighter than this week's issue of The New Yorker and it's definitely lighter than that September issue of Vogue (DEFINITELY lighter). Read the story here.

Tips: If you're planning to start your meal in the morning, the trick is to prepare the ingredients or any sauces the night before. Leaving your full chicken or curries for the morning can get frustrating -- and sloppy. Another option for those of you who don't want to leave your cooker on during the day is to leave it on overnight and unplug it in the morning. This way you have a lunch and a leftover dinner. Read the story here.

The Warning: Not everyone in the office was willing to try Pizza Hut's newest pizza fusion. One editor even described it "wrong," which is probably the biggest thing we have to warn you about: People will judge you for your willingness to try new things. They will judge you hard for your acceptance of hot dogs and pizza belonging together. You may even lose a few friends in the process. Granted, that's what ordering in is for, so feel free to leave your food-fusion hating friends at the restaurant. Read the story here.

Thoughts: "With its motto of "the natural taste," iögo is created without gelatin, artificial colours or flavours, and no preservatives. Available in seven lines (fat-free yogurt, probiotic yogurt with lactose-free options, Greek-style yogurt, drinkable yogurt, fresh cheese and -- wait for it -- cheese in a tube), iögo comes in over 40 flavours." Read the story here.

Our Thoughts: "Like any dance workout, this isn't as easy as it looks and it may take me a few classes to actually catch up and follow every move. The pace did slow me down a bit and by the time I ended up understanding one dance move, the instructor was onto the next one -- I definitely would stand closer next time. But in terms of a workout, it was great. My abs, arms and legs were sore the next day and my back felt more relaxed than ever -- especially after sitting at a desk for eight hours a day." Read the story here.

Our Thoughts: While we didn't have a chance to try out all the features on this prototype (like the full-featured iDrive Touch controller), this system looks to be the most comprehensive out on the market. Announcing Twitter and Facebook statuses has sure been a good way to pass the time in traffic, and those mapping graphics are truly fantastic.

Our Thoughts: With so many workout classes opting for "new" and "improved" techniques these days, it was nice to go to a class that was purely about strength conditioning -- albeit with the suspension gimmick for a bit of interest. As someone who does strength training occasionally -- say, once a week -- the exercises were a challenge throughout. And better yet, there were plenty of options to make it more difficult once you'd mastered the original pose, merely by moving your feet around a bit.

Combining the use of ballet barres, resistance bands and weighted balls, BarreWorks is a group fitness course that focuses on muscle sculpting, cardio, core conditioning and forcing our bodies to stay balanced. Read more here.

Our Thoughts: Did I feel the burn? I felt it right after and the next day, but just like any workout aftermath, it was the best type of pain. My shoulders, neck and thighs felt both tense and relaxed. I could feel that I worked out my abs and butt, even if I couldn't keep up with all of the moves. I realized this was not necessarily for a beginner like me. I did have to work at my own pace, but, with a few more classes, I can see myself catching up. Read the story here.

What It Is: Figuring Heinz et al had the classic ketchup market cornered, LeRoy's, a Milwaukee-based company, set out to innovate. They concocted flavours such as Dill & Celery, Homemade Chili, Mustard & Spice, Smokey Mesquite and Beer & Onion (two additional flavours, Crispy Bacon and Ghost Pepper & Aged Cheddar came out earlier in 2012). Available in select stores in the U.S., and hoping to arrive in Canada this summer, the ketchups are meant for anything from fries to burgers to chips -- or any other recipe incorporating this favoured condiment.

Our Thoughts: "Compared to my last bra with no real support, yes, the ISIS was better. Compared to another one I own from Lululemon that boasts similar functions? I would rank them about the same. This bra does the job of securing your girls when you're running or jumping, and it does a great job of collecting sweat. The straps, again, are the selling point, thanks to the support they allow." Read more here.

Our Thoughts: As someone who's less than stringent about adhering to any particular gym or general wellness schedule, I actually found myself looking forward to my daily Lumosity games. The idea that I could be making my brain work better just by memorizing matrix patterns or figuring out rules to a card game was incredibly appealing, and really compelled me to 'play' every day. Read more here.

Our Thoughts: First, you should know that I L.O.V.E. soup. I can eat it day and night, hot or cold, any time of the year. There are two things I will never get tired of: soup and cheese. Oh, and bacon. Oh, and fruit. So I have pretty high standards for my soup, and especially chicken soup. My mom's is the best (5 stars!), my grandma's was the second-best (4.5 stars!). Canned and prepared soups will do the trick, but generally don't fool me (1 - 3 stars). How did Imagine's soup measure up? Read more here.

Our Thoughts: Approaching the workout as a game is great in concept, but tougher to do when you find yourself yelling at the screen as the trainer "asks" you to do another 12 squats. And that's probably the game's greatest asset -- the feeling that you have a personal trainer motivating you to keep going. Yes, it is a computer-generated person who doesn't respond when you tell them you've had enough, but for many people, this push can be the difference between sitting on the couch and getting up and air boxing. Read more here.

Our Thoughts: Did it work, you ask? Pretty darn good as a moisturizer. It left my skin feeling ridiculously soft, and didn't cause breakouts like I feared it would, but that may be because I use another moisturizer with glycolic acid to help keep my skin clear. But it left my skin dewy, plumped up and kind of glowing, and was a good companion to my other moisturizer (NeoStrata, which I can't recommend enough). Read more here.

PRICE: $3AVAILABLE AT: Most grocery stores across Canada. What's In It: 25 per cent of your daily iron. Putting It To Use: Cooked along green vegetables and mushrooms, this tofu makes the perfect protein option for vegetarians. Read more here.

Our Thoughts: Now, we must be honest -- our testers were a group of adults, none of whom had fevers. So the sheets were slightly small for our foreheads, but no less effective because of it. As soon as we stuck them on, the cool, tingling sensation made an impact, alleviating tiredness and for some, the after effects of excessive holiday partying, including headaches. Taking the "patch" on and off did mean it lost adhesion, but when left alone, the sheet was as cool as when it started, even three hours later. We can imagine in the case of a fever, the sheets would be greatly appreciated, but definitely shouldn't take the place of appropriate medication. We also loved that the sheets were cold upon impact, with no need to stick them into a freezer. Read more here.

Our Thoughts: In the end, I had some pretty good-looking cake pops to give my family, though we could each only eat one because of the sweetness. Were they the same as the ones you buy at Starbucks? Not exactly -- baristas apparently have a better handle on covering the ball in icing, and seem to tone down the sugar so as to keep customers from going into a diabetic shock. On the plus side, the homemade pops were much more moist than the ones in store. Read more here.

What It Is: Get ready to feel like a little kid in a candy store -- just replace all that candy with Coke. The Coca-Cola Freestyle machine is nothing like your typical soft drink fountain. This touch-screen mixer lets you combine up to 100 flavours of traditional Coca-Cola brands with new (and tasty) shots of peach, cherry and lime-flavoured products. Oh, and did we mention the machine also includes the return of classic Cherry and Vanilla Coke? Read the story here.