Almost Famous Chef Contest 2013 Winner Could Be A Canadian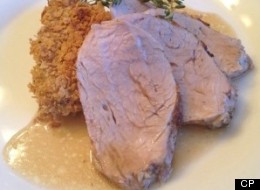 TORONTO - A Quebec culinary student is heading to California after winning the Canadian regional finals of a contest designed to help young people jump-start their careers.
Jean-Christophe Comtois from École hôtelière de la Capitale in Quebec City will compete in the three-day S.Pellegrino Almost Famous Chef contest next month at the Culinary Institute of America at Greystone in Napa Valley.
He executed his signature dish, milk veal tenderloin with matsutake mushrooms and a cheese polenta, for a panel of Canadian chefs and food journalists.
Comtois will compete along with nine regional winners in the March 8-10 finals in three categories: mystery basket, signature dish and people's choice.
Other contestants at Monday's event were from Humber College, the Canadian Food and Wine Institute at Niagara College, the Pacific Institute of Culinary Arts, the International Culinary School at the Art Institute of Vancouver, the Culinary Institute of Vancouver Island and Institut de tourisme et d'hôtellerie du Québec.
Kellie Callender, a student at the Culinary Institute of Vancouver Island in Nanaimo, B.C., won the people's choice award for his signature recipe, a sockeye salmon confit with sunchoke puree and a beet quinoa salad.
Founded in 2002, the competition is a mentoring program that gives culinary students a chance to connect with established chefs and influential media while cooking in some of the most prestigious kitchens in the world.
Comtois' winning recipe has been adapted for the home chef.
Herb Garlic Veal With Crispy Polenta
The rich-tasting sauce is a perfect complement to the veal. Accompany this dish with a colourful assortment of butternut squash, beans and mushrooms.
1 kg (2 lb) veal or pork tenderloins
3 tbsp (45 ml) canola oil, divided
2 cloves garlic, minced
15 ml (1 tbsp) chopped fresh thyme
1 ml (1/4 tsp) each salt and pepper
30 ml (2 tbsp) butter
Veal Sauce
15 ml (1 tbsp) butter
1 shallot, diced
50 ml (1/4 cup) Madeira wine
500 ml (2 cups) veal or light beef stock
1 clove garlic, crushed
1 sprig fresh thyme
15 ml (1 tbsp) finely chopped hazelnuts
Crispy Polenta
500 ml (2 cups) milk
45 ml (3 tbsp) butter
2 ml (1/2 tsp) freshly grated nutmeg
1 ml (1/4 tsp) each salt and pepper
125 ml (1/2 cup) fine cornmeal
30 ml (2 tbsp) buckwheat or whole-wheat flour
3 eggs
30 g (1 oz) aged goat cheese or grated pecorino or Romano cheese
30 ml (2 tbsp) dried mushroom powder (see tip)
375 ml (1 1/2 cups) cornflakes, crushed slightly
Crispy Polenta: In a saucepan, bring milk, butter, nutmeg, salt and pepper to a simmer. Slowly whisk in cornmeal and flour and cook, stirring often, for about 10 minutes or until thick enough to mound on a spoon. Remove from heat and stir in 2 of the eggs, cheese and mushroom powder. Pour mixture into greased 2-l (8-cup) baking dish. Brush top with some of the remaining egg and sprinkle with crushed cornflakes; set aside.
Veal Sauce: In a saucepan, melt butter over medium heat. Cook shallot for about 2 minutes or until softened. Add Madeira and cook until reduced by half. Stir in stock, garlic and thyme and bring to a boil. Reduce heat and simmer for about 20 minutes or until reduced by half. Strain through a fine-mesh sieve and stir in hazelnuts. Season with salt and pepper to taste; keep warm.
Brush veal with 15 ml (1 tbsp) of the oil and coat with garlic, thyme, salt and pepper. Heat remaining oil and butter in a large ovenproof skillet and brown tenderloins. Place skillet and polenta in a 200 C (400 F) oven for about 20 minutes or until meat thermometer reaches 65 C (150 F) for medium or until desired doneness is reached and polenta is golden brown on top. Let veal stand for 10 minutes before slicing thinly.
Divide polenta among each plate and top with sliced veal. Spoon sauce over top to serve.
Makes 8 servings.
Tip: You can make the polenta ahead and refrigerate before baking. When you're ready to make the veal, bake the polenta with the veal as indicated in the recipe.
To make mushroom powder, grind 50 ml (1/4 cup) dried mushrooms such as porcini or shiitake in a coffee grinder or mini food processor until very fine like a powder.
Source: Jean-Christophe Comtois, École hôtelière de la Capitale, Québec City.
Celebrity Chef Winners & Losers In 2012
Why? One word: Victoza. Deen was criticized harshly for simultaneously announcing that she had diabetes and endorsing the diabetes medication in January, after years of pushing unhealthy food. Glimmers of Hope for 2013: The scrum surrounding Deen at the beginning of the year made Deen more famous (or at the very least, notorious) than ever. And, apparently, more lucrative than ever: in July, Forbes reported that she had made $17 million in the past year.

Why? He started a new magazine, got his own day of the year and brought down pink slime. Causes for Concern in 2013: Some people think his campaign against pink slime was wrong-headed.

Why? Chang opened an outpost of his ever-growing Momofuku empire in a third country -- Canada -- this year. His financial success hasn't come at the expense of critical praise. He was nominated for the James Beard Award for outstanding chef and his sweets deputy Christina Tosi won the award for Best Rising Chef. And he also got a little more well-known personally this year, thanks to a starring role in the first season of Anthony Bourdain's food show "The Mind of a Chef." Causes for Concern in 2013: The biggest challenge for any emperor-chef is to maintain high quality at locations spread throughout the world. Chang seems to have a good record to letting his Chefs de Cuisine feel empowered in their kitchens and support his independence, but there's always the possibility of a dud.

Why? When it comes to the "MasterChef" host, where to begin? Maybe with the Dubai restaurant he "severed ties with" in Maybe with the time he slimily stole a restaurant name from Mario Batali? Or the time he was sued by his father-in-law's mistress for hiring a detective to stalk her? Glimmers of Hope for 2013: Like Paula Deen, Ramsay still makes a whole lot of money.

Why? Batali's flagship New York restaurants Babbo and Del Posto are sailing smoothly, his talk show "The Chew" is still on the air and his grocery store Eataly grossed $70 million in its first year after opening. Causes for Concern in 2013: We've been hearing some reports of quality control issues at some restaurants in the periphery of his empire.

Why? "Some combination of radiator fluid and formaldehyde." Glimmers of Hope for 2013: Apparently some people are visiting Guy's American Kitchen & Bar "ironically."

Why? Young Humm skyrocketed this fame in 2012 after years toiling in relative obscurity. In the past year, he and his business partner Will Guidara opened a second restaurant, the NoMad, a few blocks away from their three-Michelin-starred flagship Eleven Madison Park and he won the coveted James Beard Award for Outstanding Chef. It didn't hurt that both the New Yorker and the New York Times gave him tons of adoring press over the past 12 months. Causes for Concern in 2013: Humm hasn't been in the game long enough to guarantee a strong career for decades -- so he has to be sure not to gamble too hard with the success he's found. And to be wary of magicians.

Why? Despite inciting plenty of controversy, almost all year long, Bourdain emerged victorious by the end of 2012, if for no other reason than that he's in the midst of launching three new food shows on three different channels. Causes for Concern in 2013: At some point, Bourdain could pick a fight with the wrong enemy. Things could get very ugly fast.

Why? The former queen of America's linen closets just hasn't been able to retrieve her crown since going to jail, honestly. Trouble in 2012 came in the form of a brutal New York Times article dissing her influence on her company, which has saw huge layoffs this fall. Plus a lawsuit alleging she falsely represented the city of manufacture of a knife line she produced. Glimmers of Hope for 2013: She's apparently really popular in Brooklyn?

Why? Ripert is still one of the most highly respected chefs in country, but this year, he stepped out from behind the range like never before, releasing a chocolate bar in collaboration with Anthony Bourdain and appearing in a new YouTube series. Plus his restaurant Le Bernardin got a spiffy renovation that won it the James Beard Award for Outstanding Restaurant Design and prompted Pete Wells to renew the restaurant's four-star rating in the New York Times. Causes for Concern in 2013: He cut ties with his restaurants in DC and Philadelphia this year... are there business problems beneath his impeccable culinary veneer?

Why? DeLaurentiis started off the year with a bang by preparing all the food for several high-profile Golden Globe parties, and she continued strong (if not all that high-profile) for the next 11 months, signing a mondo contract with Clairol Natural Instincts and announcing that she was starting a new daytime talk show with Bobby Flay. Plus she appeared on HuffPost Live! Causes for Concern in 2013: Nothing we can think of, frankly.

Why? We're tempted to say "just search his name on Google News," but it turns out that that doesn't actually paint the grim picture we have in mind. So instead, just read this article. Glimmers of Hope for 2013: Some of his restaurants are still popular -- and he's opening restaurants almost as fast as he's closing them.