Martha Hall Findlay: Economy Threatened By Harper's Anti-Environmental Stance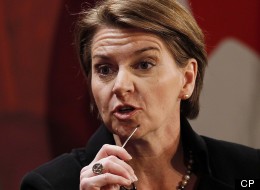 The Harper government's resistance to environmental regulation has given Canada a "black eye" and is hurting the economy and jeopardizing major energy projects, says Liberal leadership candidate Martha Hall Findlay.
During an editorial board meeting at The Huffington Post Canada on Wednesday, Hall Findlay said the Keystone pipeline, the Northern Gateway pipeline and other projects are in jeopardy at least in part because of the federal government's aggressive resistance to international co-operation on environmental issues.
"If nothing else, from a marketing perspective, doing things badly [on the environment] is harming our economy and our economic prospects," said Hall Findlay, who is taking her second stab at the Liberal leadership.
Hall Findlay said in her experience with trade issues, Canada's environmental record was "first on the list" of objections brought up by other countries when it came to doing business with Canada.
She suggested that the current negotiations for a Canada-EU free trade agreement are probably suffering because of Canada's lack of co-operation in recent years on environmental initiatives.
And she said the Keystone XL pipeline -- which has become a political flashpoint for U.S. environmentalists -- is in jeopardy because of Canada's anti-environmental image.
"The irony of Keystone, of course, is that the current government has bungled this so badly," Hall Findlay said.
Story continues below slideshow
Best & Worst Provincial Climate Change Policies
Here's a look at the best and worst climate change policies in Canada, as ranked by the David Sazuki Foundation. All info comes from the report "All Over The Map 2012." (CP)

"Quebec is still leading the field in many areas, including being the first province to enact a modest cap-and-trade system on industrial GHG emissions, although its commitment to expanding oil and gas exploration and road and highway building threaten progress and its standing." (Alamy)

"Ontario's pioneering Green Energy Act is already reaping environmental and economic benefits for the province and could serve as a blueprint for other jurisdictions" (GEOFF ROBINS/AFP/Getty Images)

"Top-ranked in 2008, B.C., although it leads the country on pricing carbon pollution, has lost momentum and stalled on implementing measures to ensure it meets its 2020 reduction target with the threat of shale gas and the potential development of a gas-powered LNG terminal that could undermine the province's leadership." (PUNIT PARANJPE/AFP/Getty Images)

"Although concerns remain about past failures, Nova Scotia has taken important steps, including a hard cap to reduce GHG emissions from the power sector." (Tim BREAKMEIE/AFP/Getty Images)

With emissions already below 1990 levels, P.E.I. has made strong commitments to increasing both energy efficiency and renewable energy. (MICHEL VIATTEAU/AFP/Getty Images)

"Although Manitoba has shown some leadership on energy efficiency, there have been too many broken promises and half (if any) measures to reduce emissions from major sources." (Flickr: Jezz's Photostream

"Progress has stalled in New Brunswick with a change of provincial government. It remains to be seen whether the new government will continue to stall, go forward or go backward." (Luke Pinneo/Getty Images)

"The government of the Northwest Territories still relies more on subsidies than regulations, but it has made a commitment to increasing renewable energy and is considering a carbon tax." (Chris Jackson/Getty Images)

"Although the government of Newfoundland and Labrador has, more so than many jurisdictions, led by example in tackling its own emissions, its long-awaited updated action plans detail no concrete steps to tackle and reduce emissions from major sources." (Flickr: magnolia1000)

"The territory of Nunavut still has no GHG reduction targets and has failed to include promising measures in official strategies." (Flickr: courosa)

"Despite an admirable goal for government of Yukon operations to be carbon neutral by 2020, there are no territory-wide GHG reduction targets or plans to tackle emissions from industry." (Flickr: Andrewsaurusrex)

"Alberta's commitment to heavily polluting, damaging and unsustainable fossil fuel industries continues unabated with a recent analysis showing the province is only on track to achieve one third of its pollution-reduction target for 2020." (MARK RALSTON/AFP/Getty Images)

"It is difficult to imagine any jurisdiction taking the threats of climate change less seriously than Saskatchewan currently does." (Flickr: Just a Prairie Boy's photostream)
Hall Findlay said Canada should be building a global image as a responsible, environmentally concerned developer of energy and natural resources.
"Instead of having a black mark that's reinforced by the government, why don't we turn that around and say Canada should become a world leader in pipeline monitoring technology; Canada should become a leader in spill containment," she said.
Hall Findlay has expressed support for Keystone and other controversial energy projects, as well as arguing for oil and gas access to Asian markets by way of the West Coast.
But she said she suspects the controversial Northern Gateway project, which would bring natural gas from Western Canada to a port on the Pacific Ocean, is likely dead in the water.
Northern Gateway has become "problematic" because of how it was presented to the public and "how the federal government has spoken of it, trying to ram it through," Hall Findlay said.
She added that even if the project passes environmental review, "I don't think Northern Gateway will have the social license that we need in Canada to proceed with projects like that."
Hall Findlay is considered one of the front-runners for the Liberal leadership, a departure from her 2006 campaign, when she was seen as an also-ran.
The latest fundraising numbers
show she has raised the second-largest amount of any Liberal leadership contender
, though she was out-raised by Justin Trudeau by a ratio of more than four to one.