Chris Hadfield's Portrait By Alberta Artist Receives Compliment From Space (PHOTOS)
Alberta artist Patrick LaMontagne - who's already been praised by the Sheens - received a compliment on his portrait of Chris Hadfield that was truly out of this world.
Hadfield, who is aboard the International Space Station on a five-month stay, was tagged in a mention on Twitter about a portrait of him and he wrote back.
"Thanks Patrick - what skill! I wish you could be up here to see and be inspired by what we can see," he said.
Even the Canadian Space Agency wrote to LaMontagne on Twitter saying, "Well done! Nice blog entry too!"
LaMontagne painted the portrait to commemorate Hadfield taking over as commander of the ISS on March 13th. In a blog post, he says he was inspired by the images and videos Hadfield has been sharing from space.
Story continues after photo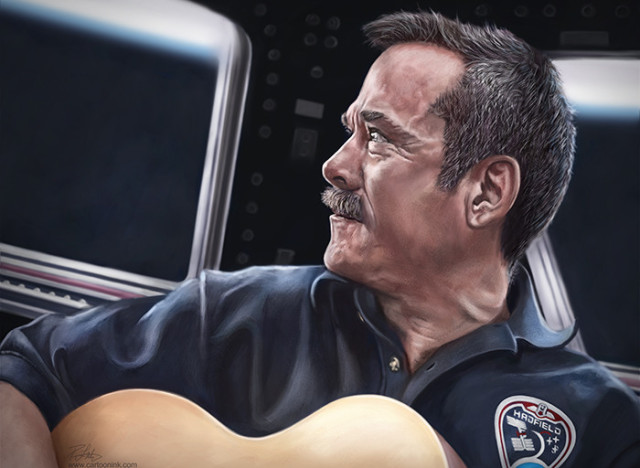 "I feel like a 10 year old kid again, excited about the possibilities," LaMontagne said.
This is not LaMontagne's first brush with popular figures appreciating his work.
He painted a portrait of Martin Sheen last year, that Sheen's son Emilio Estevez decided to gift to his father.
A look at other portraits by LaMontagne:
Patrick LaMontagne's Portraits
Canadian astronaut Chris Hadfield. First Canadian to command the International Space Station.

Martin Sheen as Tom, from the movie 'The Way'. Emilio Estevez gave the original to Martin, and said, "...you've captured my father in a way that few have."

Madeline Kahn as Elizabeth, from the movie 'Young Frankenstein.'

Russell Brown, Adobe's Senior Creative Director in his Abe Lincoln character persona

A portrait of a good friend for his 50th birthday

Sylvester Stallone as Rocky from the movie, 'Rocky Balboa'.

Barack Obama - Caricature

James Whitmore as Brooks Hatlen from the movie, 'Shawshank Redemption.' Painted on the iPad.

Harry Morgan as Colonel Potter from the television series, M.A.S.H.