'Big Brother Canada' Draws In Huge Numbers For Slice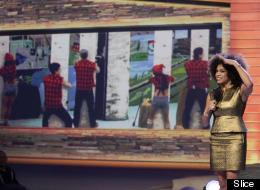 Good news for Canada's reality TV fans -- "Big Brother Canada" is one of Slice's biggest hits, with the series drawing 4.2 million viewers in just one week.
The interactive nature of "Big Brother Canada's online community has also been a big draw, with voyeuristic viewers streaming hundreds of thousands of hours of the live feed, and over 20, 000 Canadians signing up for "Big Brother Canada's predictive game, which can shape what happens in the house. In one week, "Big Brother Canada's official site gained 3.5 million page views.
"Big Brother Canada" is smashing records everywhere. We've seen unbelievable numbers on air and online as fans have been taking full advantage of the various platforms in which they can watch and interact with this fascinating series," said Barbara Williams, Senior Vice-President of Content, Shaw Media.
If your "Big Brother Canada" fix isn't satisfied by the show itself -- which airs three times a week -- and the 24-hour live feed, viewers can catch "Big Brother After Dark" seven days a week on Slice to see footage that doesn't make it to the main episodes. According to its site, "Nothing is sacred and anything goes."
The show has been a boon for the channel, whose average audience has grown by 57 percent since the series debuted in late February. Each of the already-aired three episodes of "Big Brother Canada" has outperformed any single episode aired on Slice to date.
If you want to watch total strangers stir up drama while locked in a house, you can catch "Big Brother Canada" on Wednesdays, Thursdays, and Sundays, with evictions happening on Thursdays.
"Big Brother Canada" Season 1 Cast
Toronto socialite with a passion for fashion.

A sweet dental hygienist from Scarborough, this gem is single and ready to mingle.

This calculating professional YouTuber from New Brunswick approaches everything like a mathematical equation.

A self-proclaimed party girl from Fort McMurray who knows how to get what she wants.

Quick on his feet, this slick salesman from Toronto claims he can sell anything to anyone.

A small town elementary school teacher from Nova Scotia with a big personality.

An adorable and innocent East Coast farm boy with a strong work ethic and a heart of gold.

An exotic Persian beauty from Edmonton who's out to prove there is more to her than what meets the eye.

Cocky but lovable, this doctoral student from Vancouver believes his PhD in Social Psychology is his key to the grand prize.

Free-spirited and sporty, this tomboy from Toronto loves life and isn't afraid of a little competition.

A hopeless romantic and charming down-home East Coaster.

A thrill-seeking tanning salon owner from Toronto who works hard and plays even harder.

A sweet, smart, super fan from Richmond Hill who plans to do his thesis on "Big Brother."

A loving mama bear from Vancouver with a passion for hip-hop and her community.

Handsome and hardworking, this Calgary firefighter loves to party.

She's going to have her hands full with this bunch!