Barry Whiteley, Calgary Herald Letter Writer, Sparks Outrage Over 'Speak English' Submission (TWEETS)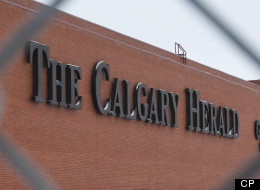 Should Canadians be forced to speak one of the two official languages in public and is the topic worthy of a letter to the editor in a major newspaper? Barry Whiteley apparently thinks so, as the Calgary resident wrote in a message printed and posted online at The Calgary Herald.
The letter — which starts off with the line "being patriotic labels you a racist" and then goes on to recount an encounter the writer had with a group of "Italian-or Spanish-speaking men" — sparked criticisms on Reddit and Twitter as being overtly racist.
"The most racist letter you'll read today was written by someone named Barry WHITELEY," tweeted Carla Ciccone.
Whiteley says he was at Westbrook Mall when he saw the group of men, and asked them to speak English or French since "Canada is bilingual only."
I went back to my coffee. Not 10 seconds later, they started speaking their language again. I got up and yelled, "You want to speak your language, go back to your country." Two security guards approached me and said these men come there almost every day, and they can speak whatever language they want.
Reactions to the letter. Story continues below slideshow
Barry Whiteley Letter To Calgary Herald
The most racist letter you'll read today was written by someone named Barry WHITELEY. http://t.co/jUIV3S2zQF @calgaryherald @myownbiggestfan

Barry whiteley, anyone know him? Pass this on please. http://t.co/hcSue14Zqv

Barry Whiteley of Calgary Does Not Appreciate People Speaking Non-Canadian Languages in Canada - http://t.co/hjzldq8li4

Barry Whiteley, of Calgary, wants everyone to know he's a tool http://t.co/jTEXOLJEDv

Speak English by Barry Whiteley—the stupidest write-in article to hit the Calgary press since #NoseHillGentlemen http://t.co/OYhu9VQoHY

Barry Whiteley seems nice ... http://t.co/l9DxuWfDsi #yyc #cdnpoli #WTF

People and their ignorance still surprise me. Calgary Herald published this letter today --> http://t.co/MwbwB9pA5d #racism #ignorance

Haha some people are threatened by nothing like this asshole's letter to the Calgary Herald "Speak English" http://t.co/62Rr3tiJAw

Wow. Worst person ever to write into the Calgary Herald. http://t.co/j3conLFN28 #idiot #racist #poobag

Wait, so it's racist to demand people speak English or go home to their mother country? http://t.co/JpQIYuKz1g via @oldmugsy

@kharazny why would the @calgaryherald even print that? Those types of racist comments deserve no attention as that man clearly has issues.

Classy. Guy yells at strangers to speak English, but adamant he's not a racist: http://t.co/GffjfQouH7 #yyc

@magicassistant looks like not only was the author racist but also the @calgaryherald editor who decided to publish this ridiculous letter.

@alexkidman @calgaryherald I somehow doubt a man who yells racist invective at people in a mall needs outing as an idiot.

A disgusting, racist column in the @calgaryherald criticizing immigrants for not speaking English in Calgary. http://t.co/DgCMiEM3aG

@ARTofHope @socialoutlook Really offended. Why did @calgaryherald publish such a racist rant? Or is this a self-publish section?
To be fair, there were several other letters responding to the "Speak English" posted to the letter, including one saying "Shameful."
"What kind of person does this and then writes a letter to the editor and proudly trumpets his ignorance to the world?" wrote Len Dafoe.
The letter was also hotly debated on Reddit. Some were criticizing the newspaper for posting the letter in the first place
This isn't the first letter to the editor to the newspaper that has caused a storm. American Walt Wawra became famous after he visited Calgary and told how he felt he was in danger while touring Calgary's Nose Hill Park. He wished he had his firearm. That letter sparked a lot coverage including the hashtag #NoseHillGentlemen.
[
h/t Reddit
]