Keystone XL: New York Times Urges President To Reject Pipeline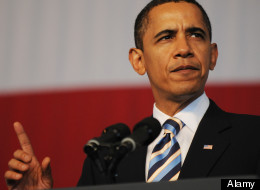 The New York Times has come out against the Keystone XL pipeline, in an editorial published in Monday's paper.
"In itself, the Keystone pipeline will not push the world into a climate apocalypse. But it will continue to fuel our appetite for oil and add to the carbon load in the atmosphere. There is no need to accept it," the Times opined.
The Times' position on the pipeline comes little more than a week after a U.S. State Department report that declared there would be little environmental impact from the Keystone XL, because Canada would develop the oilsands with or without the pipeline.
"Saying no to the pipeline will not stop Canada from developing the tar sands, but it will force the construction of new pipelines through Canada itself," the Times stated. "And that will require Canadians to play a larger role in deciding whether a massive expansion of tar sands development is prudent."
While Keystone backers cheered the State Department report for removing what they see as the major roadblock to building the pipeline -- concerns that it would cause environmental damage -- the report also stated that the pipeline is not necessary to meet the U.S.'s energy needs.
The Times editorial comes as Canadian politicians launch an all-out blitz to pressure U.S. lawmakers into accepting the pipeline. Saskatchewan Premier Brad Wall and federal Natural Resources Minister Joe Oliver were in the U.S. last week, working to convince Washington that approving the pipeline is the right thing to do.
The State Department is expected to release a more complete report on Keystone XL this summer, and the White House is expected to make a decision on the pipeline some time after that.