Kim Kardashian Plastic Surgery: Pregnant Star Debuts Plump New Lips (PHOTOS, VIDEO)
First there was the blood facial. And now... plastic surgery?
The Internet lit up on Wednesday with speculation that Kim Kardashian has had some facial enhancements... while pregnant. The rumours started to spread after The Daily Mail found a video of Kanye West's girlfriend on Keek. The short clip sees Kim K. chatting with fans, but also displaying a rather puffy pout.
Many of her followers were clearly shocked by her "new" appearance. One of many commented: "Her lips aren't real:D She had plastic surgery I thiiiink." Even her Twitter fans, reports Hollywood Life, were caught off guard by the look.
The cosmetic surgery speculation come days after the reality TV personality reportedly swore off plastic surgery. After completing her blood facial, StarPulse.com quotes the star as saying: "Oh my God. I will never get a facelift if it feels like that."
So did Kim have plastic surgery or did she just apply a lip gloss that made her mouth look different? Unless the star confirms these rumours, who can really tell.
The real question is whether one should have plastic surgery -- or even a radical facial -- while carrying a baby. According to WebMD, "Nearly all the procedures that we do in elective cosmetic facial surgery are done under anesthesia; it is never wise to have a procedure while pregnant."
Take a look at a before and after picture of the 'Keeping Up With The Kardashians' star.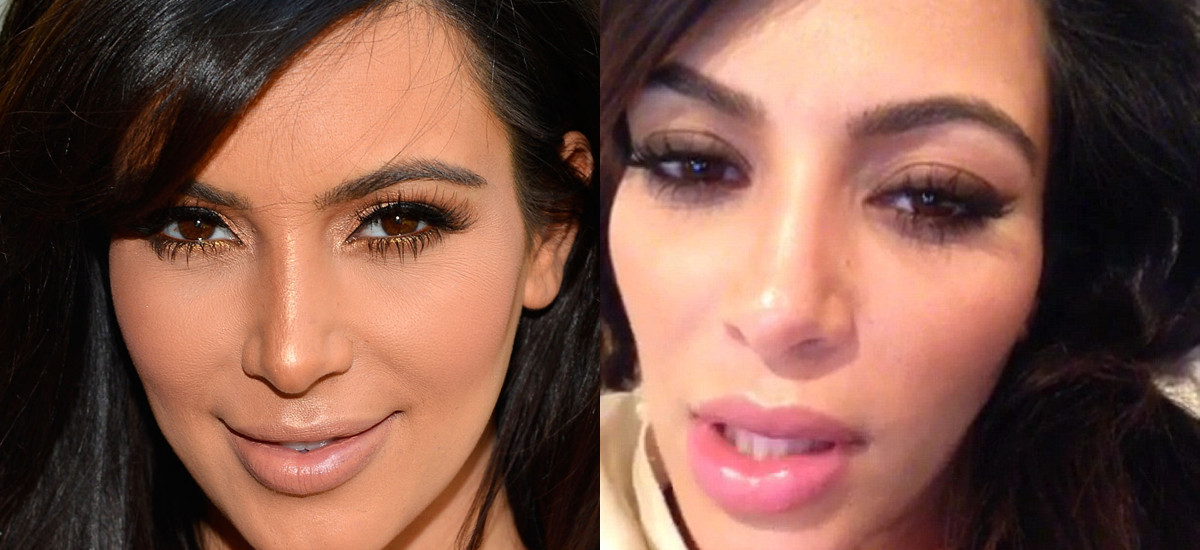 Judge for yourself. Has Kim's look changed over the years?
Kim Kardashian Through The Years
A fresh-faced, 14-year-old Kim attends the "Cinderella" video release event with her mother, Kris, stepfather, Bruce, and siblings, Khloe, Kourtney and Rob.

At E! Entertainment Television's Summer Splash event, we recognize the beginning of Kim's signature sexy look.

Kim proves that even stars have trouble perfecting smoky eye makeup with this heavy-metallic gray shade she donned at the William Rast "Street Sexy" presentation.

Paparazzi catch Kim backstage at the Heatherette Fall 2007 Fashion Show wearing loose curls, bold brows and purple eyeshadow.

Young and impressionable, Kim takes matching her makeup to her outfit too seriously with sea green eye shadow.

Kim embodies B-girl style with a curly, side ponytail and glossy pink lips.

Kim looks ready to dance the flamenco in loose locks adorned with a red flower, heavily-lined lids, rosy cheeks and red lipstick.

This can't be real? Kim's hair is absolutely perfect as she throws out the first pitch at a Los Angeles Dodgers game.

Kim attends the Chelsea FC Soccer Party wearing frosty purple eyeshadow, lipgloss and sculpted cheeks.

Wearing a glamorous half-up, half-down hairstyle, Kim is bronzed to perfection at the Celebrity Catwalk for Charity.

Luxurious waves, kohl-rimmed eyes and ruby red lips complete Kim's "Keeping Up With The Kardashians" premier party look.

Kim continues her red lip affair at the 2008 Teen Choice Awards and accentuates it with porcelain makeup and faux bob.

Kim pairs her one-shoulder dress with a wavy, side ponytail.

For Halloween, Kim channels a modern-day "Wonder Woman" with big hair, cat-eye makeup, blush and bronze lip gloss.

Kim lays it on heavy with big, soft curls, bangs that fall onto her lashes and lots of mascara.

Kim pares it down in barely-there makeup and a tousled faux bob for the 20th Annual MuchMusic Video Awards.

Kim brings the focus to her peepers with graphic eyeliner at the Sugar Factory's grand opening in Las Vegas.

Kim nearly looks unrecognizable in a new honey-blond hair color at the 2009 Teen Choice Awards.

For the Los Angeles premiere of "Whiteout," Kim does rockabilly glam with a rolled updo and bright red-pink lips.

Kim channels the Roaring Twenties flapper beauty in sculpted waves.

Kim debuts a skunky new blond and caramel hairdo at the 12th Annual Cracked Xmas Gala.

With a head full of loose curls, Kim is all smiles as she debuts her new signature scent at Sephora in Miami Beach, Florida.

Kim proves her raven strands are all good with a hood at the Bebe Kardashian Fall 2010 Fashion Show in New York City.

Kim makes us look twice as she poses at the unveiling of her wax figure at Madame Tussauds in New York City.

Kim looks quite the vixen at Comcast Entertainment Group's E! Party in a long, shiny strands, bangs and smoky eye makeup.

Kim promotes her new fragrance line at Perfumania wearing fierce fringe and a super-long ponytail.

Kim matches her auburn-highlighted hair color to her tawny eye makeup.

Kim looks Euro-chic posing with the Queen's Guard in London with her brunette locks topped in a knitted beret.

Always one to play (and look the part), Kim visits Oktoberfest in Munich, Germany wearing fishtail braids.

Kim dons a classic beehive with long bangs at the 2011 Peoples Choice Awards.

Kim had beauty editors buzzing when she showed up at the 17th Annual Screen Actors Guild Awards sans false lashes, opting for her naturally long set.

Kim attends the movie premiere for the mystery-thriller "Unknown," which stars Liam Neeson, Diane Kruger and January Jones, wearing a pumped-up ponytail and center-parted bangs.

Kim parties it up at the QVC Red Carpet Style event in side-swept strands, bronze complexion and bold red lips.

Perfectly placed auburn highlights add warmth to KIm's signature hairdo.

Kim's statement earrings weren't the only things that caught our eye at the 2011 Glamour Women of the Year Awards in London. The reality star looked sophisticated in a sleek updo, doll-like lashes, pink blush and lipstick.

All eyes may have been on Kim's curves at her fragrance launch in London, but we can't seem to stop staring at her cleavage-grazing hairstyle.

For her appearance on "The Tonight Show With Jay Leno," Kim shows off a new shorter 'do, but we think she may have removed a few hair extensions.

Kim goes retro for her new fragrance ad campaign with a Sophia Loren-inspired look starting with soft curls, lush lashes, peach blush and nude pout.

Kim hit up the 2011 Teen Choice Awards blue carpet with her dark strands styled in a ballerina bun; eyes dressed in gold eyeshadow and lips painted in a soft coral shade.

Just three days shy of her wedding day, Kim attends the Kardashian Kollection Launch Party wearing a bridal-worthy glow; voluminous waves; lush lashes and nude glossy lips.

Pared-down on the front row of rumored beau Kanye West's fashion show. Getty Images

Getty Images

Getty Images

Getty Images

Getty Images

Getty Images

Getty Images

Kim Kardashian has a blond moment.

MIAMI, FL - DECEMBER 05: Kim Kardashian attends Surface Magazine's DesignDialogues No. 6 With Hans Ulrich Obrist, Kanye West And Jacques Herzog at Moore Building on December 5, 2013 in Miami, Florida. (Photo by Frazer Harrison/Getty Images for Surface Magazine)

BEVERLY HILLS, CA - DECEMBER 11: Kim Kardashian arrives at the The Hollywood Reporter's Women In Entertainment Breakfast Honoring Oprah Winfrey at Beverly Hills Hotel on December 11, 2013 in Beverly Hills, California. (Photo by Steve Granitz/WireImage)

LOS ANGELES, CA - AUGUST 06: Kim Kardashian celebrates summer with the Kardashian Sun Kissed line and fans at ULTA Beauty on August 6, 2014 in Los Angeles, California. (Photo by Jason Merritt/Getty Images)

LOS ANGELES, CA - AUGUST 10: Kim Kardashian arrives at the FOX's 2014 Teen Choice Awards at The Shrine Auditorium on August 10, 2014 in Los Angeles, California. (Photo by Steve Granitz/WireImage)

INGLEWOOD, CA - AUGUST 24: Kim Kardashian attends the 2014 MTV Video Music Awards at The Forum on August 24, 2014 in Inglewood, California. (Photo by Kevin Mazur/WireImage)

LONDON, ENGLAND - SEPTEMBER 02: Kim Kardashian attends the GQ Men of the Year awards at The Royal Opera House on September 2, 2014 in London, England. (Photo by Samir Hussein/WireImage)
RELATED: Have These Stars Had Plastic Surgery?
Mar 12, 2013 | Sleepy keek by KimKardashian on Keek.com