Federal Budget 2013: Government Stays The Course On Cuts, 2015 Balanced Budget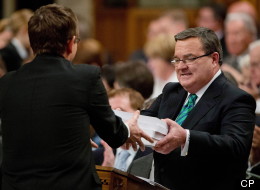 The federal budget for 2013 has landed.
Finance Minister Jim Flaherty stood up in the House of Commons Thursday afternoon after markets closed to deliver the budget speech. Flaherty had telegraphed for several days that he would not stray from an agressive 2015 deadline to balance the budget despite falling revenues and a lower-than-expected GDP forecast for the rest of 2013.
A second round of deep, deficit-reduction measures was expected. Flaherty had also indicated the federal budget, which the government calls "Canada's Economic Action Plan 2013," would focus on skills training, infrastructure and the country's manufacturing sector.
From The Canadian Press:
OTTAWA — When Jim Flaherty was a young man, they called it a brake stand — one foot on the gas and one on the brake, creating lots of noise and plumes of blue smoke but moving the vehicle sideways if at all.
Stephen Harper's finance minister is banking that all the torque in his eighth federal budget, delivered Thursday, will propel the Canadian economy forward in a burst sometime next year.
It's all geared to a fall 2015 election date, when Prime Minister Stephen Harper hopes to woo Canadian voters with the first balanced federal budget since 2008.
Story continues below slideshow
Revenues for 2013-14 forecast at $263.9 billion, spending at $282.6 billion, deficit at $18.7 billion. Deficit projected to drop to $6.6 billion in 2014-15 and become an $800-million surplus in 2015-16. With files from Althia Raj and The Canadian Press.

The Tories plan to create a Canada Job Grant that will provide $15,000 or more per person -- up to $5,000 provided by the federal government, the rest matched by the province/territory and the employer. Nearly 130,000 Canadians are expected to benefit when the new grant is fully implemented in 2017-2018. Essentially, this is the government saying it is taking training out of the hands of provincial governments because it hasn't worked and placing it in the hands of individuals. The Canada Job Grant will replace the Labour Market Agreements the feds signed with the provinces, which expire in 2014.

Manufacturing and small business get tax-credits introduced in past budgets extended to help spur investment and growth. There will be $1.4 billion in tax relief for manufacturers by extending the temporary accelerated capital cost allowance for new investment in machinery and equipment. And hundreds of millions for small business owners.

The government has pledged more than $53 billion in infrastructure spending, including $47 billion in new funding over 10 years. This includes $32.2 billion over 10 years for a "Community Improvement Fund" to build roads and public transit as well as recreational facilities and other community infrastructure projects. The Fund will consist of an index Gas Tax Fund and the incremental GST Rebate for Municipalities.

Military spending will be re-jigged that it is modeled on the ship building strategy and aimed at creating more jobs in Canada and key domestic capabilities with an eye towards exports.

The budget has cancelled the Canadian International Development Agency, the primary agency responsible for foreign aid. Its duties will be merged into the Department of Foreign Affairs.

The government says it is aggressively going after tax avoiders/and closing tax loopholes. They are launching a "Stop International Tax Evasion Program" where the Canada Revenue Agency will pay individuals with knowledge of "major international tax non-compliance" a percentage of the tax collected as a result of information provided. The CRA will only pay a reward if the information results in total additional assessments exceeding $100,000 in federal tax.

Two departments -- Canada Revenue Agency and the Department of Fisheries and Oceans -- will see big cuts. Departments will see a 5 per cent cut in their travel budgets. The government also says in the budget it intends to work with the public sector unions to "further align overall compensation with other public and private sector employers."

The federal budget says new projects related to Canada's perimeter security deal with the United States will go ahead as planned, despite budget woes south of the border. The federal budget has given the green light to almost a dozen information-sharing and infrastructure projects related to the Beyond the Border initiative between the two countries. The vaunted deal was announced with fanfare by Prime Minister Stephen Harper and U.S. President Barack Obama in December 2011 at the White House. The plan aims to speed the flow of goods and people across the 49th parallel while protecting the continent from a terrorist attack.

The government wants to reduce import tariffs on a number of goods including baby clothing, skis, snowboards and gold clubs. But it plans to offset the $76-million revenue loss from that by hiking excise taxes on chewing tobacco and other manufactured tobaccos, to bring them in line with cigarette taxes.

Finance Minister Jim Flaherty's spring budget commits Ottawa to five more years of funding through the Investment in Affordable Housing program. The level of commitment is the same as in the past: $253 million a year over five years, which needs to be matched by the provinces and territories and can be spent on new construction, renovation, home ownership assistance, rent supplements, shelters and homes for battered spouses. But there's a new twist to the funding. Home construction in the program will support the use of apprentices so that newcomers to the construction trades can build up crucial experience. The budget also commits $100 million over two years to build 250 more units of affordable housing in Nunavut, where homes are so crowded that illness spreads easily and poverty abounds.
In the meantime, Flaherty's foot remains firmly on the government spending brake in a 2013-14 fiscal blueprint that shuffles priorities, re-allocates resources and cracks down on tax cheats but adds no new money while continuing dramatic cuts to direct program expenses.
Canadians have faith, Flaherty told the House of Commons in his budget speech, "that their government will be a benign and silent partner in their enterprise, not an overbearing behemoth squeezing them at every turn."
The deficit for the current fiscal year that ends in two weeks is projected to be $25.9 billion — exactly as forecast in the fall fiscal update but up significantly from the $21.1 billion posited by Flaherty in last March's budget.
Part of that bump comes from a one-time, $2.4-billion increase in Ottawa's nuclear cleanup liability.
Total spending, including debt-servicing charges, will rise to $282.6 billion this year, up less than one per cent on the 2012-13 spending envelope of $280.1 billion. That's effectively a cut after inflation and population growth are factored in.
More significantly, direct program expenses — which exclude major transfers to other levels of government — are projected to plunge almost $4 billion this year and another $2.5 billion in 2014-15.
The exact nature of those program cuts remains something of a mystery. The budget was delivered the same day the departing parliamentary budget officer, Kevin Page, was in Federal Court trying to force the government to release departmental details of spending cuts announced in 2011.
"It's very much a status quo budget,'" said economist Derek Burleton of TD Bank. "Reallocation is a key theme."
The centrepiece of the document is a revamped plan for skills training to better align the Canadian workforce with employer needs.
"For the first time, the Canada Job Grant will take skills-training choices out of the hands of government and put them where they belong, in the hands of employers and Canadians who want to work," Flaherty told the House of Commons.
The plan won't kick in until April 2014 and is contingent on negotiations with the provinces, who are expected to foot the bill for a third of each $15,000 training grant, with Ottawa and the employer also chipping in $5,000 each.
Quebec's sovereignist government had begun kicking up a fuss before the budget was even tabled, and likely won't be the only provincial capital to squawk.
Skills training was moved to provincial jurisdiction in the last decade, and Ottawa's more direct intervention may be construed as a sharp change of course.
And after years of corporate tax cuts, the government continues to wrestle with flagging business innovation, introducing a series of new adjustments in an effort to promote manufacturing development.
Other budget elements:
-- A renewed infrastructure fund worth $47 billion over 10 years, again starting in 2014.
-- $241 million over five years linking training programs to First Nations people collecting income assistance.
-- $100 million over two years to support housing construction in Nunavut.
-- Additional tax breaks for adoption-related expenses.
-- Reducing import tariffs on hockey equipment and baby clothes.
-- A proposal to hike fees for processing visa and citizenship applications.
With its emphasis on deficit reduction, personal skills training and catching tax cheats, it is a deeply conservative document. A number of Flaherty's key assumptions, however, are decidedly not conservative.
The 2013-14 budget anticipates that closing tax loopholes and chasing tax cheats will rake in half a billion dollars this year and rise to $1.3 billion the year after. The Canada Revenue Agency is supposed to manage that feat while absorbing a $19-million budget cut this year and another $58 million in 2014.
Flaherty's officials assume GST revenues — which grew 1.8 per cent in 2012-13 — will rise 4.9 per cent annually and that corporate tax revenues will jump by 5.5 per cent a year, on average.
And they book in big savings from program cuts that are still working their way through the federal government.
MORE ON THE FEDERAL BUDGET
To meet these targets, the budget document says the "government will introduce legislation as needed to consolidate operations and eliminate redundant organizations."
The Canadian International Development Agency is to be absorbed into the department of Foreign Affairs and International Trade.
The forecast is that the federal deficit will fall to $18.7 billion this year, then plunge to $6.6 billion in 2014-15 in time to be balanced for 2015-16.
"The stakes are really high on 2015," said Mary Webb, senior economist at Scotiabank.
The Conservatives dangled several pricey promises during the 2011 election campaign that were contingent on them balancing the books, including tax-splitting for couples with children under 18, doubling the annual tax-free savings account limit and doubling the children's tax credit.
"There were some campaign commitments that were made so there'll be lots of demands for funding in 2015-16," Flaherty told a news conference.