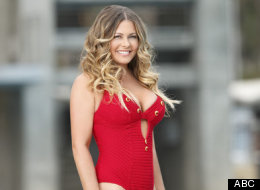 Former "Baywatch" babe Nicole Eggert is making a splash, literally, on TV.
The 41-year-old actress, who is a contestant on the ABC reality TV show "Splash," has been impressing judges and viewers at home with her diving skills.
The unexpected hit series follows celebrities who compete with each other as they perform various dives from high diving boards in front of judges and a live audience. Each week, the dives get more challenging and celebrities get the boot if they get a low score.
It's no wonder that Eggert is still in the running to be crowned the best celebrity diver; the blond beauty is famous for her role as star swimmer Roberta 'Summer' Quinn in "Baywatch." Eggert appeared in seasons 3 and 4.
Although we are now pretty familiar with her style transformation, let's check out her best swimsuit looks too!
Nicole Eggert's swimsuits
Nicole Eggert's "Splash" cast portrait is reminiscent of her former "Baywatch" glory days. Long live the red one-piece!

Black is Eggert's best friend in this flattering retro one-piece, as she practices for "Splash."

Go sporty or go home! Eggert suits up in a sexy black and red bathing suit as she gets ready to practice a dive for "Splash."

Purple is a tricky colour to pull off but Nicole looks great in this no-nonsense suit.

Ok, you may not catch Nicole wearing this in the water, but this wool-knit bikini top is pretty cute.

Classic "Baywatch" red: Nicole Eggert and Pamela Anderson rock the look.

Nicole Eggert, David Hasselhoff, Alexandra Paul, David Charvet, Pamela Anderson in "Baywatch."