Coming home to find her home tagged with racist graffiti and racial slurs broke an Edmonton woman's heart, the victim said Wednesday.
The family had been away for the weekend and returned to find their south Edmonton home vandalized with swastikas and racial slurs, CTV News Edmonton reported.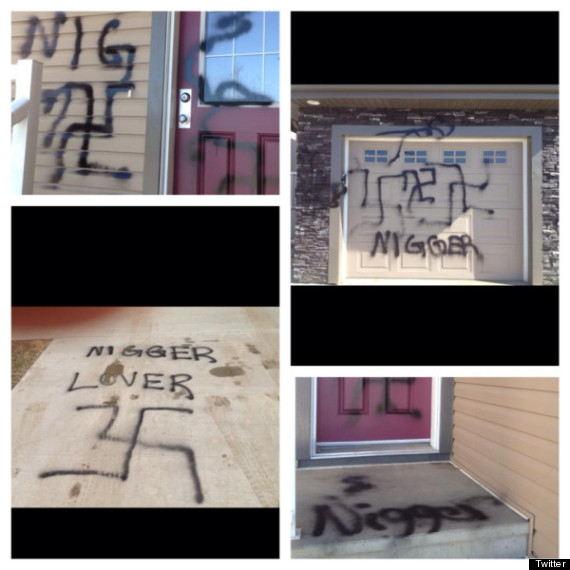 "My heart sank and all I could do was cry for my mixed [race] children in the back seat [of the] car," the victim told CTV News Edmonton.
"It is unreal to me that in 2013, such hate crimes still exist in this city," she said.
"I am trying to reassure my kids that they are safe in their own home."
@ctvedmontonRT @justnicki: This is disgusting. So hateful/horrible. This is somebody's house in Ellerslie. #yeg twitpic.com/cgke4c

— Nicki(@justNICKI) April 3, 2013
The Edmonton Police Service said the crime was targeted.
"We believe this isn't a random incident but this an isolated event," said Insp. Ed McIsaac with Organized Crimes Branch.
"Although one residence was vandalized, the community as a whole is negatively affected by this crime."
The Edmonton police hate crime unit has taken over the investigation, the EPS stated.
Also on HuffPost:
Loading Slideshow
Protest at Nanaimo Daily News

Protesters gathered at the <a href="http://www.huffingtonpost.ca/2013/03/28/racist-nanaimo-daily-news-first-nations-letter_n_2971956.html" target="_blank">Nanaimo Daily News</a> office to demonstrate against the paper's decision to print a letter that insulted First Nations people.

Protest at Nanaimo Daily News

Protesters gathered in front of the Nanaimo Daily News office to demonstrate against the paper's decision to print a letter that insulted First Nations people.

Settler Colonial

Thrifties grocery franchise is pulling their ads from @NanaimoDaily because of the overtly racist commentary it publishes. #CdnPoli #INM

Taiaiake Alfred

Respond to racists like @NanaimoDaily with intelligence &amp; truth like @SettlerColonial http://t.co/mRbInnQX9F And then punch their face: #INM

Settler Colonial

Many thanks to @ThriftyFoods for listening to the community and pulling its ads from @NanaimoDaily. I can continue shopping there everyday.

Taiaiake Alfred

The good people @ThriftyFoods show that not everyone in the VancouverIsland business community is low-down racist like @NanaimoDaily anymore

Geneviève Lyons

Boycott @nanaimodaily and their racist propaganda #bcpoli http://t.co/KZ8VhWbkUx

Haptaatuk Marshall

In case you missed @NanaimoDaily racist article. #cdnpoli #bcpoli #idlenomore #FN http://t.co/14UxUwkaZs

Haptaatuk Marshall

@NanaimoDaily took down racist article,here is pic. FB event #idlenomore #EducateNanaimoDaily https://t.co/zvvLzRMiXH http://t.co/mwr9Ko8BMx

Seedy Roads

@dodge_canada @BMW_Canada So I see you support racism! I will NOT be supporting you! @NanaimoDaily #INM http://t.co/JCtYk1z2dQ

fallontine

@NanaimoDaily your news sucks and you should probably educate your reporters on Canadian colonization

Tanya Kappo

@CKNW Here's Don Olsen's 'facts' he thinks 'public needs to know about First Nations' as published by @NanaimoDaily. http://t.co/0X3hjie6Zj

Settler Colonial

Remember, @NanaimoDaily, you are not issuing a statement of regret that people are upset, you are appologizing for doing something wrong.

Michael Allan McCrae

@NanaimoDaily under fire on social media after a letter to the editor sparked outrage http://t.co/CaldlUSvhG

Venturi-Schulze

@CTVNewsChandler @NanaimoDaily @CTVNewsVI The electronic version of the shocking, hateful editorial has been removed

Dana

@nanaimodaily I guess you're above the Charter but do you think it might inform editorial on letters? http://t.co/vXAksIe4sw @riicnews

Shawn Doyle

@nanaimodaily, I know a few 6 yr olds you could hire to raise the level of discourse in your rag. #noplaceforhatehere

Taiaiake Alfred

Canada a just society? Why don't anti-Native hate speech perps like @NanaimoDaily face the legal consequences that Holocaust denyers do?