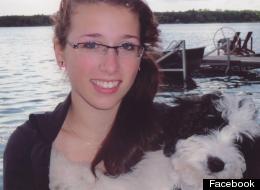 Halifax teenager Rehtaeh Parsons was taken off life-support on Sunday, the end of yet another tragic case of cyber bullying.
Parsons was the victim of an alleged gang rape and online bullying campaign over the last few months, according to a post from her mother, Leah Parsons, on a Facebook memorial page. The trauma of the rape and ongoing bullying caused depression and suicidal thoughts. Parsons tried to hang herself last week, according to the Chronicle Herald.
The rape allegedly took place when Parsons was just 15 and a student at Cole Harbour District High School, near Halifax.
Story continues under gallery.
Rehtaeh Parsons: A Life In Photos
Florida 2004 (from Facebook)

From Facebook: Thank You Richard for sending me this photo...I did not have this class picture of me in grade six but as soon as I saw it I recalled the year and the principal in the back Mr Gallagher. I was starting to become more girlish looking and developing into a young lady (far left front) and a group of boys that were friends since 1st grade noticed the changes and suddenly were grabbing me inappropriately when I was walking the hallways. I told Mr Gallagher, he pulled each boy into his office and I never knew what he said but those boys never touched me or said another word about it. Mr Gallagher, where ever you are I thank you and I never forgot how you stood up for me.

Today on Father's Day remembering the love of a father and daughter. (Glen and Rehtaeh)

These are photos of Halifax teenager Rehtaeh Parsons, who was the victim of an alleged gang rape and an online bullying campaign over the last few months. Her mother, Leah Parsons, posted the images and her daughter's tragic story on a Facebook memorial page.

Online reaction to Parsons death has been swift. Hundreds of messages have flooded the memorial page set up by her mother. Many more have sounded off on Twitter.
"One of those boys took a photo of her being raped and decided it would be fun to distribute the photo to everyone in Rehtaeh's school and community where it quickly went viral," her mother wrote on Facebook. Her mother's post has been shared more than 900 times since it first appeared on Monday.
"They investigated and a year later it pretty much came down to he said she said. Not enough evidence. As far as the actual photo was concerned they didn't feel it was a police issue that the photo was taken and distributed even though she was a minor at the time," Leah Parsons told CBC's Maritime Noon.
"She was never left alone. She had to leave the community. Her friends turned against her. People harassed her. Boys she didn't know started texting her and Facebooking her asking her to have sex with them. It just never stopped," her mother told CBC.
RCMP spokesman Cpl. Scott MacRae told the Chronicle Herald and CBC that police conducted an investigation into the alleged sexual assault and, in consultation with the Crown, determined there wasn't enough evidence to lay charges.
Photos posted to Parsons' Twitter account show the young woman partying with friends — marijuana or alcohol often in frame — along with images of her tattoos, cats and dogs.
Online reaction to Parsons' death has been swift. Hundreds of messages have flooded the memorial page set up by her mother.
Comments to the Chronicle Herald's story on Parsons are closed but many on Twitter are reacting to the story. Click here to see more Twitter outrage.
#RapeCulture has killed another sweet young girl. So much devastation...bit.ly/16LykPZ

— Lisa FactoraBorchers (@LFB27) April 9, 2013
"Who failed Rehtaeh Parsons?" A horrifying reminder that Canada has its own #Steubenville stories. bit.ly/YIl1jb #RapeCulture #WDTL

— Draw the Line (@DrawTheLineON) April 9, 2013
Rehtaeh Parsons' friends and family have also been sharing memories and tributes to her on Facebook.
Parsons' story echoes two other recent high-profile cases. In B.C., the death of bullied high schooler Amanda Todd sparked an online outcry. In that case, bullies also spread explicit photos.
In the United States, two teens in Steubenville, Ohio were found recently found guilty of raping a teen girl who was unconscious at a party and then posting photos and videos online.