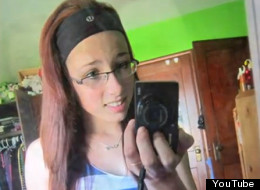 The family of Canadian teen Rehtaeh Parsons, who committed suicide after being cyber-bullied, took to the Internet this week to share her story. Under the alias "Angel Rehtaeh," Rehtaeh's mother, Leah, used Facebook to tell the world about her daughter's tragic death and the events that led up to it.
"This page is (in) dedication to my wonderful Daughter who was smart, beautiful, and full of life with a deep compassion to animals," the Facebook memorial says.
Parsons was the victim of an alleged gang rape and online bullying campaign over the last few months, according to a post from her mother. The trauma of the alleged rape and ongoing bullying caused depression and suicidal thoughts. Parsons tried to hang herself last week, according to the Chronicle Herald.
Under the name Angel Rehtaeh, a video tribute was posted to YouTube, showing pictures of Rehtaeh Parsons and her family. In it, the teenager is shown with her sister and mother. The slideshow plays to the song "The Dance" by The Country Dance Kings. Watch the video above.
Story continues below slideshow
Rehtaeh Parsons: A Life In Photos
Florida 2004 (from Facebook)

From Facebook: Thank You Richard for sending me this photo...I did not have this class picture of me in grade six but as soon as I saw it I recalled the year and the principal in the back Mr Gallagher. I was starting to become more girlish looking and developing into a young lady (far left front) and a group of boys that were friends since 1st grade noticed the changes and suddenly were grabbing me inappropriately when I was walking the hallways. I told Mr Gallagher, he pulled each boy into his office and I never knew what he said but those boys never touched me or said another word about it. Mr Gallagher, where ever you are I thank you and I never forgot how you stood up for me.

Today on Father's Day remembering the love of a father and daughter. (Glen and Rehtaeh)

These are photos of Halifax teenager Rehtaeh Parsons, who was the victim of an alleged gang rape and an online bullying campaign over the last few months. Her mother, Leah Parsons, posted the images and her daughter's tragic story on a Facebook memorial page.

Online reaction to Parsons death has been swift. Hundreds of messages have flooded the memorial page set up by her mother. Many more have sounded off on Twitter.
Here are some of the lyrics for the song "The Dance."
Looking back on the memory of

The dance we shared beneath the stars above

For a moment all the world was right

How could I have known you'd ever say goodbye

And now I'm glad I didn't know

The way it all would end the way it all would go

Are you in crisis? Need help? In Canada, find links and numbers to 24-hour suicide crisis lines in your province here.