Rehtaeh Parsons CNN Segments Include New Details From Mother (VIDEO)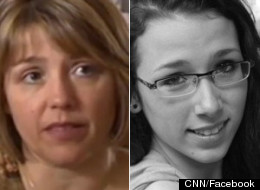 New details about the alleged rape and subsequent suicide of Nova Scotia teen Rehtaeh Parsons have been revealed by her mother, Leah Parsons, in a CTV interview aired on CNN.
In the interview, Parsons explains that on the night of the alleged rape, her daughter and friends were "drinking vodka straight" and that Rehtaeh did not remember everything that happened.
What she did remember was being led up some stairs and then "guys taking turns on top of her."
A photo of Rehtaeh vomiting that night was shared on social media, leading to bullying, according to CNN.
Rehtaeh's mother also describes finding her daughter in the family's bathroom on the night of her suicide.
"I didn't even knock on the door, I just picked it open. I could feel the weight of her body on the door. I didn't think anything, I just opened the door and said 'Rehtaeh,'" her mother says. "I cut her down. She was hung, she was hanging."
Rehtaeh Parson's father is also now opening up about his daughter's death.
In a blog post on his website, Glen Canning says he is "devastated" and feels "dead inside."
He also describes his life with Rehtaeh and shares that his daughter's organs will save the lives of four people.
"Someone out there is going to look at the world with my daughter's eyes," he wrote.
Canning also calls on Nova Scotia Justice Minister Ross Landry and police to do something about the alleged rape.
"Why was this treated like a minor incident of bullying rather than a rape? Isn't the production and distribution of child porn a crime in this country?" he wrote. "Numerous people were emailed that photo. The police have that information (or at least they told us they did). When someone claims they were raped is it normal to wait months before talking to the accused?"
"My daughter wasn't bullied to death, she was disappointed to death. Disappointed in people she thought she could trust, her school, and the police ... For the love of God do something."
Rehtaeh Parsons: A Life In Photos
Florida 2004 (from Facebook)

From Facebook: Thank You Richard for sending me this photo...I did not have this class picture of me in grade six but as soon as I saw it I recalled the year and the principal in the back Mr Gallagher. I was starting to become more girlish looking and developing into a young lady (far left front) and a group of boys that were friends since 1st grade noticed the changes and suddenly were grabbing me inappropriately when I was walking the hallways. I told Mr Gallagher, he pulled each boy into his office and I never knew what he said but those boys never touched me or said another word about it. Mr Gallagher, where ever you are I thank you and I never forgot how you stood up for me.

Today on Father's Day remembering the love of a father and daughter. (Glen and Rehtaeh)

These are photos of Halifax teenager Rehtaeh Parsons, who was the victim of an alleged gang rape and an online bullying campaign over the last few months. Her mother, Leah Parsons, posted the images and her daughter's tragic story on a Facebook memorial page.

Online reaction to Parsons death has been swift. Hundreds of messages have flooded the memorial page set up by her mother. Many more have sounded off on Twitter.