Rehtaeh Parsons' School Didn't Investigate Alleged Rape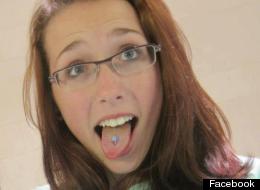 Rehtaeh Parsons' school did not investigate the alleged gang rape and subsequent bullying that the dead teen's family says led to her suicide.
Halifax school board spokesman Doug Hadley told the Chronicle Herald Tuesday that while the administration at Cole Harbour District High School near Dartmouth, N.S., was aware of the sexual assault allegations they did not wish to interfere with the police investigation. The school did not question any of the four boys allegedly involved in the assault or act on the reported bullying.
Kyle Rose, a student at Cole Harbour, told the Herald the school has yet to make an announcement about Parsons' death.
Story continues below slideshow
Rehtaeh Parsons: A Life In Photos
Florida 2004 (from Facebook)

From Facebook: Thank You Richard for sending me this photo...I did not have this class picture of me in grade six but as soon as I saw it I recalled the year and the principal in the back Mr Gallagher. I was starting to become more girlish looking and developing into a young lady (far left front) and a group of boys that were friends since 1st grade noticed the changes and suddenly were grabbing me inappropriately when I was walking the hallways. I told Mr Gallagher, he pulled each boy into his office and I never knew what he said but those boys never touched me or said another word about it. Mr Gallagher, where ever you are I thank you and I never forgot how you stood up for me.

Today on Father's Day remembering the love of a father and daughter. (Glen and Rehtaeh)

These are photos of Halifax teenager Rehtaeh Parsons, who was the victim of an alleged gang rape and an online bullying campaign over the last few months. Her mother, Leah Parsons, posted the images and her daughter's tragic story on a Facebook memorial page.

Online reaction to Parsons death has been swift. Hundreds of messages have flooded the memorial page set up by her mother. Many more have sounded off on Twitter.
Parsons' case made international headlines Tuesday after her mother started a Facebook memorial page detailing how her daughter was raped by four boys, one of whom took photos that spread throughout her school and community. She transferred high schools and moved to Halifax, according to her mother, but could not escape the bullying.
Struggling with suicidal thoughts, her mother wrote that Parsons entered a hospital for six weeks and then returned to Dartmouth. The bullying continued and police concluded their investigation without laying any charges.
On Thursday, April 4, Parsons locked the bathroom and hanged herself. She died Sunday night in hospital.
The lack of action from Parson's school and the criticism it has triggered echoes a number of aspects of the Amanda Todd case in B.C.
Todd also committed suicide after bullying that arose from explicit photos of her which were shared on the web.
The schools Todd attended argued, as the Halifax board is doing, that they lack the authority to investigate or act upon crimes or bullying that takes place off school property, according to the Vancouver Sun.
B.C. schools also faced criticism for their reluctance to show a video Todd made about her bullying ordeal.
A memo to B.C. school districts advised teachers not to show the video to students for fear it might lead to copycat suicide, according to The Toronto Star. Todd's father spoke out against the memo and argued that his daughter's video was a "very powerful tool that they can use to encourage bullies to stop bullying."
Todd's mother, meanwhile, was excluded from an anti-bullying conference by the B.C. Education Ministry because of fears she might upset some students. The ministry had no problem letting "Real Housewives of Vancouver" star May Zilba attend, a move that outraged Todd's mother, according to the Vancouver Sun.
It wasn't all bad news with the Todd case and schools though. A quarter of a million Toronto students observed a minute of silence for Todd and her story became the centrepiece of a We Day event for students in Vancouver.
Parsons' story is also starting to trigger positive debate.
N.S. Liberal MLA Kelly Regan is already calling for more services for victims of sexual assault and the province's Justice Minister Ross Landry took just hours to go from stating that Parsons' case would not be reviewed to saying the government will explore "the mechanisms that exist to review the actions of all relevant authorities to ensure the system is always working to the best of its ability, in pursuit of justice."
All over the country Wednesday, Canadians are wearing pink to show their opposition to all forms of bullying, a hint of light from a story that touches on the darkest region of our culture.