Rita MacNeil Dead: Cape Breton Singer Dies At 68 (PHOTOS, VIDEO, TWITTER REACTS)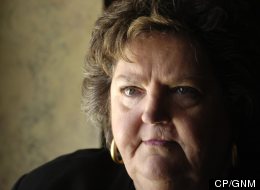 TORONTO -- Rita MacNeil, a singer-songwriter from small-town Canada whose powerful voice explored genres from country, to folk, to gospel, died Tuesday night following complications from surgery. She was 68.
Always seeming an unlikely star, MacNeil worked tirelessly over decades to gradually become a beloved fixture in Canadian culture, with her greatest success coming only after she was in her 40s.
Her spotless, astonishingly full voice carried a light Celtic lilt that only sweetened her dulcet tones, but she was a versatile singer who could produce grittier notes as well.
She was painfully shy and admitted to battling self-confidence issues, largely stemming from her weight. Yet she was a renowned live performer who sold out gigs around the world.
"I am deeply saddened by the loss of a dear sweet woman and a gifted singer-songwriter who represented women and her beloved Nova Scotia so eloquently in her songs,'' singer Anne Murray said in a statement.
Country music legend Tommy Hunter said his "one vivid memory'' of MacNeil was when she was a guest on his show.
"Coming from a coal mining area she had a soft spot in her heart for those miners. When she sang 'Working Man' there wasn't a dry eye in the house. Rita could convey that kind of warmth and sincerity through her songs to the people in the studio audience and to the viewers at home. It was evident that she touched them all from the many letters and comments we received after that show. I have lost a good friend.''
Added Prime Minister Stephen Harper: "Saddened to hear about the passing of one of Cape Breton and Canada's finest voices, Rita MacNeil.''
Story continues below slideshow
Sad news. Cape Breton's 'first lady of song', Rita MacNeil has died at the age of 68. #RIP

RIP Rita MacNeil, one of the nicest and one of the most talented people I ever had the pleasure of meeting and working with.

I just saw at CBC.ca that Rita Macneil Died. I remember her playing a show at my elementary school in grade 5. http://t.co/kijTU2i1SS

RT @Shoemosher: Yo, I'm in America, but real talk, RIP Rita MacNeil. That lady brought the vocal ruckus.

@zaddiepie sad day for Nova Scotians "@CBCNews: Cape Breton singer Rita MacNeil dies at 68 http://t.co/nXESbkHFZa"

RIP Rita MacNeil. Cape Breton has lost a beautiful voice.

Sad to hear of Rita MacNeil's passing. She was an amazingly kind and talented person. Thankful I had the chance to meet her.

RIP Rita! A true Maritime legend! "@CBCAlerts: Singer Rita MacNeil dies at 68"

Rest in Peace Rita MacNeil, an incredible talent an incredible lady.

Stompin Tom, Jay Smith, and Rita MacNeil having a jam session tonight. #RIP

Sad news about Rita MacNeil. Canadian icon. RIP.

So sad to hear about the death of Rita MacNeil. She was a star of the island and beyond. She will always be synonymous with Big Pond for me

RIP Rita MacNeil. Her songs about Cape Breton help me connect with my roots.

Rita MacNeil (A Tribute) by Stompin' Tom Connors. A sad day for Maritimers. http://t.co/O3ne2IKwBh

I first met Rita MacNeil at the restaurant in the Woolco in Sydney River. I have her autograph on a receipt. Such a kind, sweet lady.

Sad to learn we lost another Canadian music icon RIP Rita MacNeil

"You can be shy. But somewhere deep down, you have to have belief or nothing's going to happen." - Rita MacNeil http://t.co/laY0UuNLEG

RIP Rita MacNeil -- Heaven's choir will sound even sweeter now
Born in Big Pond, N.S., in 1944, MacNeil grew up with three brothers and four sisters. She fell in love with singing by the age of six, despite her shy disposition and a cleft palate that eventually required surgery.
She relocated to Toronto at age 17 in 1962. Once there, she endured a succession of low-paying jobs, including a retail gig at Eaton's and a stint as a cleaning woman.
Meanwhile, she turned heads with appearances at Toronto's famed Riverboat folk club and performances at the Mariposa folk festival, but wasn't earning enough to pay the rent.
While struggling to make ends meet, she found comfort in the fledgling women's movement. She began attending meetings in Toronto in the early '70s that she found out -- years later -- were being monitored by the RCMP.
"If you wanted to see a bunch of women sitting around talking about issues and going on demonstrations that are peaceful and non-violent, then so be it, but I don't think there was a reason to do that,'' MacNeil said in 2008.
"What's radical about equal pay for equal work? And trying to empower women to reach the potential that they have?''
MacNeil has said these meetings gave her strength and pushed forth her songwriting -- in fact, after one get-together, she was inspired to write her first song.
By 1975, she was ready to independently release her first album, "Born a Woman.''
"All of those songs would have been sung at rallies, demonstrations or meetings that we attended,'' MacNeil said.
She had two children during that time as well -- Laura and Wade -- though she would eventually divorce their father.
She returned to Big Pond, N.S., in 1976 and continued writing. In 1981, she issued "Part of the Mystery,'' a record financed by family and friends. Big Pond Publishing and Productions Ltd., was operated on a minuscule budget and was forced to conduct sales on a consignment basis.
Still, MacNeil was building a fan base through her consistently first-rate performances and slowly growing discography. She issued another album, "I'm Not What I Seem,'' in 1983.
Her breakthrough came with 1987's "Flying on Your Own.'' The album -- with a cover featuring MacNeil under one of her trademark floppy hats -- finally won her some radio play, largely on easy-listening stations in smaller Canadian cities. It was soon certified platinum.
Also in 1987, MacNeil won her first Juno Award as Canada's "most promising female vocalist'' -- at age 42 (she graciously accepted the award even though some thought it odd).
She didn't wait long to issue a followup, releasing "Reason to Believe'' the following year. Some reviewers thought the record represented a compromise in MacNeil's sound, with a move toward a more rock-oriented style. MacNeil disputed that and pointing out she always loved rock.
Audiences seemed to embrace MacNeil's new sound and the record quickly reached platinum status in Canada.
She issued a popular Christmas album later that year and began recording hit records at a torrid pace, with a new release coming near-annually for the next decade.
The von Trapps, who toured Canada with MacNeil during Christmas in 2011, said in a statement that it was an honour to be able to know and work with such a prolific songwriter.
"She had such a generous heart, and great sense of humour. We will miss her dearly. She will always be with us through her music and the special moments we shared.''
MacNeil won female vocalist of the year at the 1990 Junos and country female vocalist of the year at the '91 show.
And she further expanded her reach by launching the CBC-TV variety show "Rita & Friends'' in 1994. The show ran through 1997 and won a Gemini Award.
MacNeil was made a member of the Order of Canada in 1992 and the Order of Nova Scotia in 2005. In addition to her three Junos, she won multiple Canadian Country Music Association awards and East Coast Music Awards trophies.
"The most genuine entertainer I have ever worked with,'' said Rocklands Entertainment Inc. CEO Brian Edwards.
"I had the honour to travel with Rita all over North America. Each of the 400 shows Rita performed during our 15 year of working together carries a very special memory that I will always cherish.''
STATEMENT FROM RITAMACNEIL.COM:

Sydney, NS (April 17, 2013) It is with great sadness that we announce the passing of Cape Breton's first lady of song, Rita MacNeil. Rita died last evening (April 16th) from complications following surgery, at the age of 68.


A gentle soul with a heart of gold and the voice of an angel, Rita's music spoke of her love of home and family, the courage to rise above life's challenges and the hardworking men and women that tie this country together. "Working Man", "Flying on Your Own", Reason to Believe", "I'll Accept The Rose Tonight" and "Home I'll Be", are just a few of the songs that endeared Rita to fans in Canada, the U.K and Australia.

Born in Big Pond, Cape Breton on May 28th, 1944 to Neil and Catherine (Rene) MacNeil, Rita was one of eight children. It wasn't an easy life, as depicted in her autobiography "On A Personal Note"(released in 1998), but with determination and a passion for writing songs and singing, Rita pushed beyond a profound shyness and found her way to a stage at Expo 86 in Vancouver. It was here that the world discovered Rita MacNeil.

In 1987 she won her first Juno Award for Most Promising Female Vocalist. She was 42. "Flying on Your Own" followed in 1987 and in 1989, her Juno performance with Cape Breton's Men of the Deeps of "Working Man", brought the house down.

Over the course of her career, Rita recorded more than 24 albums which sold in the millions. She won 3 Juno's, as well as numerous East Coast Music Awards, Country Music Awards, and a Gemini for her CBC variety show 'Rita & Friends' that ran from 1994 to 1997. She was a Member of the Order of Canada, was awarded the Order of Nova Scotia and is the recipient of five honorary doctorates. In 1986 she opened up Rita's Tea Room in her hometown of Big Pond, which in the past few years enjoyed frequent visits from Rita herself.

Rita's quick wit and sly sense of humour was a hallmark of her live shows and was in evidence when she was featured in an episode of the Trailer Park Boys.

A mother to Laura (Dana) and Wade (Lori), a grandmother, a dear friend, and a sister, Rita was a Canadian icon – a woman who had a dream that became a reality - who brought joy and inspiration to so many.

And you never let the hard times
Take away your soul
And you stopped the tears from falling
As you watched the young ones go

You're as peaceful as a clear day
You're as rugged as the seas
I caress you, oh, Cape Breton, in my dreams

Home I'll Be – Rita MacNeil

"Music is timeless and ageless," noted the legendary singer, "the passion I feel for what I do can't be put aside with a number and a year. It is a big part of my life – the concerts, the touring, the letters and the joy the audience gives back to me when the music touches a chord with them." Rita MacNeil