Anonymous And Rehtaeh Parsons: Group Slams Suspects' Supporters, Makes Demands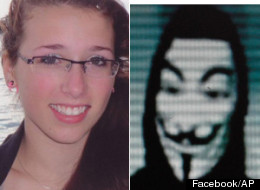 Hacking collective Anonymous reacted with outrage Thursday to posters spread by supporters of the suspects in the alleged rape of Rehtaeh Parsons.
In a video and text statement, Anonymous said the family of the Nova Scotia teen, who killed herself after being bullied in the wake of an alleged rape, "continues to endure harassment and intimidation at the hands of these young men and their so called supporters."
The posters in question urge people to "Stay strong, support the boys."
The Parsons family has reacted with rage to the posters.
"It just felt like someone kicked me in the stomach. How dare they do that?" Rehtaeh's mother, Leah Parsons, told Global News.
Story continues below video
Rehtaeh Parsons: A Life In Photos
Florida 2004 (from Facebook)

From Facebook: Thank You Richard for sending me this photo...I did not have this class picture of me in grade six but as soon as I saw it I recalled the year and the principal in the back Mr Gallagher. I was starting to become more girlish looking and developing into a young lady (far left front) and a group of boys that were friends since 1st grade noticed the changes and suddenly were grabbing me inappropriately when I was walking the hallways. I told Mr Gallagher, he pulled each boy into his office and I never knew what he said but those boys never touched me or said another word about it. Mr Gallagher, where ever you are I thank you and I never forgot how you stood up for me.

Today on Father's Day remembering the love of a father and daughter. (Glen and Rehtaeh)

These are photos of Halifax teenager Rehtaeh Parsons, who was the victim of an alleged gang rape and an online bullying campaign over the last few months. Her mother, Leah Parsons, posted the images and her daughter's tragic story on a Facebook memorial page.

Online reaction to Parsons death has been swift. Hundreds of messages have flooded the memorial page set up by her mother. Many more have sounded off on Twitter.
Anonymous also called out the "cynicism and dangerous hypocrisy" of the authorities in N.S. and said that while the group was pleased to learn an independent inquiry has been ordered, it does not believe it goes far enough.
"Instead of seizing this chance to learn and educate, you have responded by dragging your feet, protecting your own interests, and acting with unrepentant cynicism," the release states. "The independent inquiry you have ordered is but a shade of what is required to get to the bottom of this case."
The group also makes some demands, including an expansion of the inquiry and an apology from N.S. Justice Minister Ross Landry.
You can read about the rest of Anonymous' demands in the full statement posted below.
Hello, leaders of the Government of Nova Scotia. We are Anonymous.



We reacted with satisfaction to your announcement of an independent inquiry into the Rehtaeh Parsons case. But upon further inspection, the depths of your cynicism and dangerous hypocrisy have been made clear to us.



Rehtaeh's family continues to endure harassment and intimidation at the hands of these young men and their so called supporters. And your inquiry omits critical pieces of the puzzle, all designed to safeguard your power. We call upon the public to speak loudly to this conduct and remind her family and the world that we are still here. What is being done is not yet enough.



Darrell Dexter, the eyes of the world are upon you. This case is being heralded as the quintessential example of rape culture and its devastating effects on humanity. You have an opportunity to determine the causes and potential solutions to one of the most troubling and complex subjects of our time. It is your duty to present the unvarnished facts of this case not only to Nova Scotians, but to the world. The public deserves to know why everyone from The RCMP to elected officials did not act until they were made to.



Instead of seizing this chance to learn and educate, you have responded by dragging your feet, protecting your own interests, and acting with unrepentant cynicism. The independent inquiry you have ordered is but a shade of what is required to get to the bottom of this case. Rehtaeh was failed not only by the police, prosecutors, and school board. She was failed by her school, her hospital, her mental health care system, her community, and you.



You hoped we would not notice the independent review stops immediately at the doors of your offices. You thought we would let you get away with that didn't you?



Think again.



Anonymous issues the following new requirements to be met:



1. The independent inquiry will expand to include all government departments that should or could have helped Rehtaeh.



Including: The Capital District Health Authority, Capital District Mental Health Services, The IWK Mental Health and Addictions Program, The Administration of Cole Harbour High School, The Nova Scotia Department of Justice, The Nova Scotia Department of Education, The Nova Scotia Department of Health, and The Office of the Premier.



2. A detailed and public apology from Justice Minister Ross Landry, by May 4th 2013.



Mr Landry, the situation demands you take at minimum an hour of your time to read about rape culture before this happens. Consult your colleagues, take this opportunity to educate. Explain to the public your personal thoughts on any link between rape culture and your failure to act until forced. Without such an apology, you will have lost the moral authority to govern.



3. Any inquiry called into this tragedy will be fully transparent, open to members of the public at all junctures, and operate under the auspices of a neutral body whose job is not to form opinion, but to collect the facts for all future experts researching this field.



4. All non-independent investigations of government departments will immediately cease with all files related to this case frozen, including internal emails. We do not trust your hands on this evidence.



Anonymous will not stop until these goals have been achieved. We invite all members of the public to participate in a day of action on Saturday May 4th, to bring Justice For Rehtaeh. If you cannot join us at Province House in Halifax, we encourage you to have your say in your own community.



To Premier Darrell Dexter and the New Democratic Party: we have had to do your job for you once already. Do not make us do it for you again. After all, there is an election just around the corner.



We are Anonymous.


We are Legion.


We do not forgive.


We do not forget.


Expect us.



Facebook Event: http://on.fb.me/10m3UqA