Via Rail Terror Plot Foiled, Twitter Cracks Jokes About Canada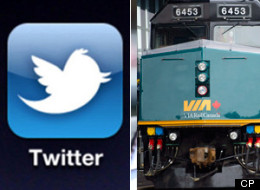 The RCMP announced Monday that it has foiled a terror plot aimed at a Via Rail and Twitter was quick to make sure the world knows just how quaint it is for Canada to become a target. Seriously.
Many Americans, and Canadians, took to the social network to crack jokes not only about the alleged plot being based north of the border, but also about the French portions of the press conference where the RCMP said it has arrested Raed Jaser and Chiheb Esseghaier of Toronto and Montreal respectively.
Fox News even got in on the action. Host Shepard Smith openly mocked the press conference and remarked that "God love Canada, but they're not great for television."
Of course not all the tweets were light in tone. Many expressed relief and thanked police, while others speculated that the timing of the arrests is related to the Conservative government's push to pass controversial anti-terror legislation in the wake of the Boston bombings.
You can read some of the most interesting tweets in the gallery below.