Jeff Bliss Schools His Teacher Over Her Lecturing Style (VIDEO)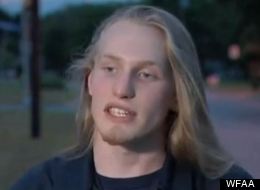 Jeff Bliss is being hailed as an exemplary student, but not for his grades or projects.
The 18-year-old from Duncanville, Texas, is being praised for schooling his teacher after getting kicked out of a World History class.
In a YouTube video uploaded by one of his classmates, Bliss is seen eloquently criticizing his teacher's methods, saying she can't expect students to learn from "packets."
"If you would just get up and teach 'em instead of handing them a freakin' packet... There's kids in here who don't learn like that," Bliss says.
"You want kids to come to class? You want them to get excited? You gotta come in here, you gotta make 'em excited, to change him and make him better, you gotta touch his freakin' heart. You can't expect a kid to change if all you do is just tell him."
The video, uploaded on May 8, has gone viral, grabbing almost 127,000 views and getting the Duncanville school district talking, according to WFAA.
"The district is aware of the video and we are currently addressing the situation," Tammy Kuykendall, the district's chief communications officer, said in a statement.
Kuykendall said the district wants teachers and students to be "engaged", but added that Bliss could have handled the situation differently.
Online, Bliss is being showered with compliments. Check out some of the reactions in the slideshow below.
Let us know what you think in the comment section.
Jeff Bliss YouTube Video -- Twitter Reacts
Jeff Bliss is a hero.

That's a great thing Jeff Bliss did. Filter out the bad educators and Improve our education through efficient use of our tax dollars!

@Real_Jeff_Bliss Great job! Your courage and passion are truly admirable!

@ansonmount @Real_Jeff_Bliss LOVE THIS KID!! Every word he said was so true. Thanks for sharing Anson.

@Real_Jeff_Bliss That's whats up. I cried watching your video.

Jeff Bliss is so wise, if I was in his classroom when he was speaking I would've given him a round of applause.

@Real_Jeff_Bliss I am 28 with a daughter and I am scared of what teachers will become by the time she is in school. Thank you!!

@Real_Jeff_Bliss You are now speaking for the disaffected disenfranchised youth. This is an opportunity to foster change #libertarian #real

Jeff bliss...I salute you.

Kudos to Jeff Bliss he at least is trying to learn! Too many bad teachers these days!

@Real_Jeff_Bliss gotta get this guy at Southeastern! He's bein the change in the world he wants to see!

@real_jeff_bliss proud of you man! Love from Toronto! We need teachers who love their students not ones who don't give a shit!

Jeff Bliss is my hero. Truly my hero. We need more people like him in the world.

@Real_Jeff_Bliss You've said what I think every school student has wanted to tell a teacher at some point in time. Thank you!

@BillGates I saw your talk at TED about teacher's needing feedback, I think Jeff Bliss might have also watched it: http://t.co/k0wIFYlTmr

@MaryeArnold1 @ansonmount @Real_Jeff_Bliss The hair is awesome.

jeff bliss is a legend. it also helps he sounds just like katt williams.

S/O to my dude @Real_Jeff_Bliss ! Dude speaks that real! Teachers wanna point the finger and never take responsibility! Props yo

Thank you Jeff Bliss

Omg come to my class plzz Jeff Bliss, a High School student gives a lesson to his teacher at Duncanville http://t.co/9McdRV48KC via @youtube

@Real_Jeff_Bliss Good job and putting that woman in her spot, she was being so ignorant. A man amongst boys!!

@Real_Jeff_Bliss is one cool kid.