Justin Trudeau has been Liberal leader for more than a month but it appears he could use a hand in question period.
The new Liberal leader is calling on Canadians to submit questions that, if selected, will be taken directly to Stephen Harper in the House of Commons.
Trudeau released a YouTube video Monday morning asking for queries on "middle-class concerns" to be submitted to the party website.
In the clip, Trudeau says that Canadians he's met — whether in food courts or teachers' lounges — have been telling him it's getting harder and harder to make ends meet.
"So I get up in question period and ask the government about our struggling middle class and where their economic policies are for them," Trudeau says. "And I get no answers."
Well, Trudeau thinks you may have better luck challenging the prime minister.
"Together I know we will hold this government to account and get the answers Canadians deserve," he says.
But there's a bit of a catch.
In order to submit a question, Canadians must first enter their first and last names, email address, phone number, full address and postal code — all information that will be mighty useful in the party database.
On Sunday, Conservatives encouraged Canadians to wish Laureen Harper a Happy Mother's Day by entering in the same information online.
Story continues below photo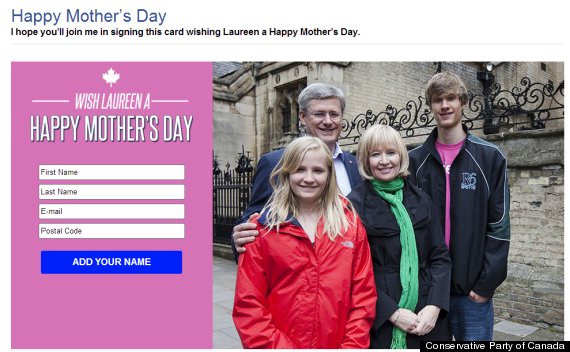 "This Mother's Day, I'd like to recognize a woman who has been an amazing mother to our two kids — my wife, Laureen," the message reads. "I hope you'll join me in signing this card wishing Laureen a Happy Mother's Day."
Harper also tweeted out a photo of him and his mother in Edmonton.
When the prime minister turned 54 on April 30, Canadians were encouraged to wish him a happy birthday online but not before — you guessed it — submitting their names, email addresses and postal codes. The site is still up and running if you'd like to send belated best wishes.
Still, Trudeau's latest video may be seen as something of an upgrade from the clip he released last week to celebrate the Liberals' recent success with grassroots fundraising.
The clip — which famously showed Trudeau in a green T-shirt and cargo shorts — was the subject of some mockery online.

Also on HuffPost:
Loading Slideshow
Coming For MacKay

Minister of National Defence Peter MacKay (left) is chased by Liberal MP Justin Trudeau in a motorized wheelchair during a wheelchair race relay on Parliament Hill in Ottawa on Wednesday, May 12, 2010. Twenty-five MPs and senators used a wheelchair for the day in support of the Canadian Paraplegic Association's Spinal Cord Injury and CPA awareness month.

Come At Me, Bro

Justin Trudeau trains at Pan Am Boxing Club in Winnipeg on Friday Feb. 1, 2013.

Peekaboo!

Justin Trudeau & co. making faces.

Riiiiip!

Justin Trudeau splits his pants while pushing the "scrum machine" in support of Prostate Cancer Canada in Toronto Thursday, July 21, 2011.

Don't Shoot!

Justin Trudeau gets his geek on at Montreal Comiccon in September 2012.

So Long 'Stache

Justin Trudeau has his moustache shaved off to raise money for the Judy LaMarsh Fund, that supports female candidates, at the Liberal Party convention in Ottawa on Saturday, January 14, 2012.

All For One, One For All

Justin Trudeau all dressed up for the Montreal Movember Gala in 2010.

Get Him!

Pierre Trudeau's sons, Sacha, left, and Justin, tackle their mother's paperboy in Ottawa in this undated photo.

'Family... And A Cow.'

'Nuff said.

He Can Certainly Take A Punch

Alexandre (Sacha) Trudeau delivers a right hook to his older brother Justin during a play fight in 1980 at Ottawa airport as the boys await a flight with the return of their father, then-prime minister, Pierre Trudeau.

Be Honest With Me, Who's Cuter?

Justin Trudeau strikes a pose with an adorable baby.

A Very Furry Christmas

Justin Trudeau poses with his family on his 2010 Christmas card.

Game On!

Former Liberal MP Ken Dryden, left, and Justin Trudeau play table hockey as they visit Sun Youth, a community organization, Monday, Jan. 14, 2008 in Montreal.

Yanking Their Chain

Then-prime minister Pierre Trudeau, left, watches as his 11-year-old son Justin swings on a chain during a tour of an old fort in the Omani town of Nizwa Dec. 2, 1983. Trudeau and Justin spent the day visiting the towns of Jebel and Nizwa 165 kilometres south of Muscat.

Rocking Out

Justin Trudeau in Muskoka, Ont.

YeeHaw!

Liberal MP Justin Trudeau, centre, has his cowbay taken by his son Xavier, 4 years-old, while his wife Sophie Gregoire, second from left, holds daughet Ella-Grace, 3 years-old, while they attend the party's annual Stampede breakfast in Calgary, Saturday, July 7, 2012. This is the 100th anniversary of the Stampede.

Like Mother, Like Son

Eleven-month-old Justin Trudeau, urged on by his mother Margaret Trudeau, crawls up the steps of an aircraft in Ottawa on Dec. 5, 1972 to meet his father, then-prime minister, Pierre Trudeau on his return from Britain.

Cutting A Rug

Justin Trudeau dances with wife Sophie Grégoire before his speech at the Liberal showcase on April 6, 2013.

Next: What Is Pierre Trudeau Doing?

Magician?

Prime Minister Pierre Trudeau, wearing what someone called his "Mandrake the Magician outfit," walks down the grandstand steps to present the Grey Cup trophy to the victorious Montreal Alouettes in this Nov. 28, 1970 photo.

Hey, It Was The '70s

Pierre Trudeau leans over to kiss an unidentified young lady to the seeming surprise of his recent bride Margaret. Trudeau and Margaret spent Saturday March 27, 1971 at maple tree farm here near Montreal at a sugaring out party.

Fur Wasn't Always Controversial

Pierre Trudeau accompanies Margaret Sinclair, at the annual Governor General's skating party for members of Parliament in Ottawa Jan. 14, 1970.

Ditto For Seal Hunting

Pierre Trudeau looks through the scope of his rifle while on a seal hunting trip in Baffin Island's Clear Water Fjord, July 29, 1968.

A Leg Up

Pierre Trudeau shoes off his frisbee catching style while waiting to board his plane in Vancouver May 16, 1979.

Calisthenics Were Still Cool

Pierre Trudeau had no trouble keeping himself occupied during a break from a boat trip down the Northwest Territories, Nahanni River, Monday Aug. 4, 1970.

The Outfit...

Pierre Trudeau takes a wary look at an ice crevice, decides to chance it and makes the leap successfully during a midnight seal- hunting expedition at Clearwater Fjord in Canada's Arctic, July 29, 1968.

When in France...

Pierre Trudeau receives a kiss from his wife Margaret during a tour of St. Pierre, France, Aug. 1971.

Running Man

Pierre Trudeau in Guayana 1974.

Friendlier With Reporters Than You Know Who

Pierre Trudeau sticks his tongue out to Canadian Press Photographer Peter Bregg during the 1972 election campaign. This photo was taken aboard the campaign plane where such antics were considered off the record. The photo was not made available until after the death of the prime minister

Disco Stu

Prime Minister Pierre Trudeau dances in Montreal Oct. 21, 1979.

Acting like a Beatle

Pierre Trudeau sprints away from a crowd of female admirers in Ottawa April 22, 1968. They surrounded him outside the Parliament Buildings on his third day in office.

Posing with a Beatle

John Lennon and his wife Yoko Ono, meet with Pierre Trudeau Dec. 24, 1969 in Ottawa.

'I See Cigars And Rum In Our Future'

Pierre Trudeau looks on as Cuban President Fidel Castro gestures during a visit to a Havana housing project in this Jan. 27, 1976 photo.

Acting Out A Tory Fantasy?

Pierre Trudeau pretending to strangle himself with a tie given to him as he was presented with honorary membership in the National Press Club in Ottawa Sept. 17, 1968.

Unfortunate Hat

Pierre Trudeau amuses a group of people in Fortune while on tour through Newfoundland, Aug. 3, 1971.

Oh Captain! My Captain!

Pierre Trudeau takes a ride on the Bluenose, Aug. 1972.

Nice Form Pierre

Pierre Trudeau works out at an Oshawa health club during a break in his 1968 election campaign.

Are The Flowers Too Much?

Pierre Trudeau, with a garland around his neck and a Hindu greeting symbol in paste on his forhead, rides a camel Jan 12, 1971 in the village of Benares, India, where he dedicated a water well.

I Do Love Flowers

Pierre Trudeau kids around with a carnation while waiting for voting results at the Liberal convention in this April 7, 1968 photo.

Indiana Jones Of The Great White North

Pierre Trudeau tries cracking a dog sled whip while visiting Baker Lake in the Arctic, March 10, 1970.

Never Afraid To Dance

Saudi Arabian Oil Minister Sheik Yamani, left, and Pierre Trudeau, right, dance a traditional Arabian dance while camping out in the desert in Madein Saleh, Saudi Arabia, Nov. 18, 1980.

Or Rock A Skirt

Pierre Trudeau, seen here taking part in Maori ceremonial dance in Wellington, New Zealand May 13, 1970.

Got The Moves

Pierre Trudeau does a dance after his campaign bus broke down in Montreal June 6, 1968.

Feather In The Cap

Wearing a "feather in his cap," Pierre Trudeau attended the official opening May 20, 1983, of an archaeological excavation in Hull, Que.

Ballet: Act 1

Pierre Trudeau, shown performing his famous pirouette during a May 7, 1977, picture session at Buckingham Palace in London, England.

Ballet: Act 2

Pierre Trudeau, in a moment of joy over patriation of Canada's constitution, preformed his now famous pirouette at Uplands Airport on April 18, 1982 following the Queens's departure for London after the 4-day state visit which climaxed with the proclamation of the Constitution Act.

He Got It From His Father

Pierre Trudeau is saluted by RCMP Officer as he carries son Justin to Rideau Hall in 1973.

Next: Justin Trudeau Through The Years

Prime Minister Trudeau and his then-wife Margaret leave the city's Notre Dame Basilica Sunday afternoon after the christening of their 22-day old infant Justin Pierre James, Jan. 16, 1972. Tasseled shawls kept the baby hidden from photographers and the 10-degree-below-zero weather.

March 1979 photo of the Trudeau children: Michel (front), Alexandre (Sacha) and Justin (rear).

It was a big day for Dad, but a long day for the three Trudeau children. Left to right, Justin, Michel and Alexandre (Sacha) Trudeau attended the swearing in ceremonies of their father Pierre Elliott Trudeau as Prime Minister March 3, 1980 at Government House.