Sexiest MPs In Ottawa: The Hill Times Lists Canada's Hottest Politicians (PHOTOS)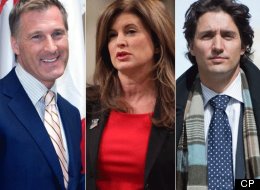 It would appear that Peter MacKay's days as Canada's sexiest male MP are now well and truly finished.
The Hill Times released its 21st annual Politically Savvy Survey on Monday, conducted by Forum Research. More than 100 movers and shakers in Ottawa — including 37 working in politics — answered questions on everything from which MP has the best work ethic to the worst fashion sense.
Perhaps most notably, the survey singled out Foreign Affairs Minister John Baird as the best member of Harper's cabinet.
Yet it is the ranking of MPs according to their sexiness that tends to get the most attention.
It used to be a foregone conclusion that MacKay would win the top male prize. In fact, the defence minister and Nova Scotia Tory was named the sexiest male MP ten times. But MacKay — who fell to third this year — apparently groaned when he learned he was in the running this year.
"That's not what I came here for," he told The Hill Times, rolling his eyes.
MacKay probably isn't sweating it too much, considering he became a father for the first time in April after his wife Nazanin Afshin-Jam gave birth to a boy, Kian Alexander MacKay.
There was also a changing of the guard on the female side with a rising star jumping all the way to the top spot. Calgary MP Michelle Rempel is seen by many as a virtual shoo-in for Harper's cabinet once he shuffles the deck before the 2015 election.
Check out the slideshow below to learn which MPs are considered the sexiest in Canada.