Angelina Jolie's Breast Cancer Fears Led To Double Mastectomy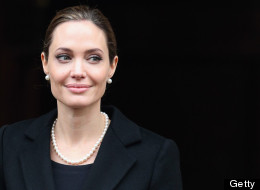 LOS ANGELES -- Angelina Jolie says that she has had a preventive double mastectomy after learning she carried a gene that made it extremely likely she would get breast cancer.
The Oscar-winning actress and partner to Brad Pitt made the announcement in the form of an op-ed she authored for Tuesday's New York Times under the headline, "My Medical Choice." She writes that between early February and late April she completed three months of surgical procedures to remove both breasts.
Jolie, 37, writes that she made the choice with thoughts of her six children after watching her own mother, actress Marcheline Bertrand, die too young from cancer.
"My mother fought cancer for almost a decade and died at 56,'' Jolie writes. "She held out long enough to meet the first of her grandchildren and to hold them in her arms. But my other children will never have the chance to know her and experience how loving and gracious she was.''
She writes that, "They have asked if the same could happen to me.''
Full story continues below slideshow:
Celebrities Who Have Faced Breast Cancer
The actress, who beat ovarian cancer close to a decade ago, shared last month that she had been diagnosed with breast cancer and underwent a double mastectomy, The Huffington Post reported at the time. "Luckily, I don't have to undergo radiation or chemo," she told People magazine. "My family calls me Kat because I always land on my feet and thankfully this is no exception." She also shared the news on Twitter -- with her signature sense of humor intact. "I don't miss my breasts as much as I miss Harry's Law. ;-) Thanks for all the sweet tweets," she wrote. "Y'all kept me going."

Tierney was diagnosed with breast cancer in 2009, but she didn't open up publicly about it until earlier this year. "I remember thinking, 'I'm so young, this can't be happening,'" she told People magazine. "In 2009, I was diagnosed with breast cancer and found out I would need chemotherapy," she said in a video for the Chemotherapy Myths Or Facts campaign. "I asked myself all these questions and was utterly terrified, not just because of the cancer diagnosis, but the fear of chemo itself." And that sense of the unknown is what triggered Tierney, whose cancer was found in its early stages, to sign up as a spokesperson for the campaign. "It's important that you feel educated and confident during this time," she said in her introductory video.

The beloved author of favorites such as "Are You There God? It's Me, Margaret," and "Tales Of A Fourth Grade Nothing," revealed that she was diagnosed with invasive ductal carcinoma in a blog post on her website this past September. "I haven't eaten red meat in more than 30 years. I've never smoked, I exercise every day, forget alcohol -- it's bad for my reflux -- I've been the same weight my whole adult life," she wrote. "How is this possible? Well, guess what -- it's possible." Blume had a mastectomy on July 30. She wrote in her blog: As I've told my friends who've also been treated for breast cancer, I've joined The Club -- not one I wanted to join or even thought I would ever be joining -- but here I am. I'm part of this Sisterhood of the Traveling Breast Cells (apologies to Ann Brashares). Medical diagnoses can leave you feeling alone and scared. When it comes to breast cancer you're not alone, and scary though it is, there's a network of amazing women to help you through it.

Wife to Republican presidential hopeful Mitt Romney, Ann was diagnosed with breast cancer in early 2009. "It's great to have loved ones around you," she told America's Radio News Network in an interview earlier this year of where she found post-diagnosis comfort. "And you just fight these battles, listen you don't fight them alone. You fight them with friends and with family. And you put your arms around each other and you move forward." Romney, whose mother and grandmother died from ovarian cancer and whose great-grandmother died from breast cancer, told the program she's most grateful to have been diagnosed early -- she needed surgery and radiation, but not chemo. "Life is an interesting game, and you just always deal with whatever you're dealt with that day or that week or that month or that year," said Romney, who has also been diagnosed with multiple sclerosis. "No matter what you're living through, we all push forward."

The TV star was diagnosed with breast cancer in 2003, when she was starring in "The Sopranos." "I take very good care of myself (mostly because I didn't many years ago), and that served me well during chemo," she later wrote in an article for Health magazine. "Running every day made me feel calm and strong, even as my self-image suffered from my hair falling out." After her cancer went into remission, Falco decided to adopt -- her baby boy, Anderson, was born in January 2005. She later adopted a daughter, as well. "Obviously, it wasn't meant for me to die of cancer at 40," she wrote in Health. "Every day my life surprises me, just like my cancer diagnosis surprised me."

The "Three's Company" and "Step By Step" actress was first diagnosed with breast cancer in 2000. "We were silent, hardly talking, in disbelief, like this can't be happening, wondering is this a little blip or the end of my life?" she told People magazine in 2001, of hearing the news for the first time with her husband Alan Hamel. Just earlier this year -- more than a decade since her diagnosis -- Somers shared with People that she underwent an experimental breast reconstruction surgery, to repair the damage from a lumpectomy and radiation treatments.

The "Grease" star and singer was diagnosed with breast cancer in 1992 after feeling a lump in a self exam -- her treatment included surgery, chemotherapy, a radical mastectomy and reconstruction. "When you're first diagnosed, people are pulling you in every direction: Do this! Do that! You really have to gather yourself, because you're the one who has to make the hard choices," she said in a Q&A on Susan G. Komen For The Cure's website. "I researched a lot and felt satisfied with my course of treatment. It was sort of an East-meets-West approach." And that meant taking care of her whole body, not just the cancer. "I did everything I could to take care of myself -- body, mind, and spirit," she told EverydayHealth.com. "I look at my cancer journey as a gift: It made me slow down and realize the important things in life and taught me to not sweat the small stuff."

The 36-year-old "E! News" host announced last October on NBC's Today show that she has breast cancer, and that she was alerted to the cancer via a mammogram during her third in vitro fertilization attempt. "Through my attempt to get pregnant for the third time, we sadly found out that I have early stages of breast cancer," she said on the Today show. "It's been a shock. A lot of people have been asking, we saw that you went and got IVF, are you pregnant? But sadly, we've had to put that off." Rancic underwent a double lumpectomy and removal of several of her lymph nodes, but she later went on the TODAY show last December to say that the cancer was not completely cleared by those treatments and that she will undergo a double mastectomy. This year, Rancic finally got her happy ending, with the birth of son Edward Duke via gestational surrogate on August 29.

In a 2011 interview with Ellen DeGeneres, Wanda Sykes revealed that she had been diagnosed with breast cancer and underwent a double mastectomy. "I had breast cancer. Yeah, I know it's scary," Sykes said in the interview. "This was in February. I went for the reduction. I had real big boobs and I just got tired of knocking over stuff. Every time I eat ... Oh lord. I'd carry a Tide stick everywhere I go. My back was sore so it was time to have a reduction." After the reduction, the pathology report found ductal carcinoma in situ in her left breast, which prompted Skykes, who has a family history of breast cancer, to opt for a double mastectomy. And while the diagnosis is scary, she hasn't lost her signature humor. "I was like, 'I don't know, should I talk about it or what?' How many things could I have? I'm black, then lesbian. I can't be the poster child for everything ... At least with the LGBT issues we get a parade, we get a float, it's a party. [But] I was real hesitant about doing this, because I hate walking. I got a lot of [cancer] walks coming up."

In 2008, actress Christina Applegate shared in a "Good Morning America" interview that she had been diagnosed with breast cancer at the age of 36 -- she opted for a bilateral mastectomy instead of radiation or chemotherapy. "I didn't want to go back to the doctors every four months for testing and squishing and everything. I just wanted to kind of get rid of this whole thing for me. This was the choice that I made and it was a tough one," she said in the interview. "Sometimes, you know, I cry. And sometimes I scream. And I get really angry. And I get really upset, you know, into wallowing in self-pity sometimes. And I think that it's all part of the healing." Perhaps the best healing of all came in 2011 when Applegate gave birth to baby Sadie with musician Martyn LeNoble. "She's healed me in so many ways. She's just made my life so much better. I've been kind of sad for a long time, and she's just opened my whole soul," Applegate told People in an exclusive interview in 2011.

In 2005, rock-and-roll artist Etheridge underwent a lumpectomy and five rounds of chemotherapy and radiation to eradicate her breast cancer. "I had been running along in my life at a fast pace. When I heard it was cancer, I just stood still," Etheridge told Shape magazine in a 2009 interview. "My life passed over me like a big wave, and after, I was left there standing. This turned out to be a very good thing. I stopped. I looked at my life, I looked at my body and spirit." In the midst of her treatment, Etheridge found out she was nominated for a Grammy for her song "Breathe" -- and while she wasn't sure she'd make an appearance at first, Etheridge ultimately decided not only to attend, but to perform in a Janis Joplin tribute. Taking to the stage bald and with no eyebrows -- a side-effect of the chemo -- she belted out Joplin's classic, "Piece Of My Heart." "It was very special that I had been presented with a day, that I could come back into this entertainment world, and show everyone that you are back and okay, and thought, okay," Etheridge told MSNBC at the time. "I'm going to do this. And I'm not gonna be afraid of the truth. The truth is, yes I had cancer. Yes, I got it out of me. Yes, I went through chemotherapy. Yes, I'm bald." Check out Etheridge's breast cancer causes on her Pink Rage website.

ABC's "Good Morning America" co-host Robin Roberts was diagnosed with breast cancer in 2007. "I never thought I'd be writing this. ... I have breast cancer," she said in a message released by ABC in August 2007. While working on a tribute to her colleague Joel Siegel, who had died from cancer, Robins reported on how key early detection is -- and, taking her own advice, she did a self breast exam and found a lump. "Much as I was hoping the doctor would say it was nothing, she did a biopsy and confirmed that the lump I'd found was indeed an early form of breast cancer," Robins continued in her statement. Robins underwent a partial mastectomy, chemotherapy and radiation. In 2008, she told People magazine that she complemented her regular doctor's visits with acupuncture, exercise and advice from a nutritionist. "Yes, I am living with cancer," she told People. "But don't go 'woe is me.' I don't want it. Don't need it. I'm still in the game. I don't want to say 'survivor.' I want to thrive." Earlier this year, Roberts announced that she was diagnosed with a rare blood disorder called myelodysplastic syndrome.

Australian singer Minogue was first diagnosed with breast cancer in May 2005 and underwent surgery and chemotherapy treatment. "When you are stripped of everything and you have to grow your eyelashes back, grow your hair back, it's just astonishing," Minogue told British Glamour magazine. "It's hard to express what I've learned from that, but a deep psychological and emotional shift has obviously taken place." This open and honest approach to her diagnosis led Minogue to be voted the most inspirational breast cancer celebrity in an online British-based poll, Reuters reports.

Singer Sheryl Crow was diagnosed with breast cancer in 2006 and, thanks to early detection, underwent a minimally invasive surgery and seven weeks of radiation therapy. Crow told Health magazine that she saw a nutritionist when she was first diagnosed and began a diet full of fish, walnuts, colorful vegetables, fiber and healthy spices. "I kept my breast cancer tattoos -- where the radiation was lined up on my chest," Crow told Health. "Once in a while I look at it to remind myself that I have to put on my oxygen mask first before I put it on anybody else." Today, Crow is focused on spreading the message of early detection. In 2010, she founded the Sheryl Crow Center as part of the Pink Lotus Breast Center, which was founded by her own surgeon, ABC News reports. This past June, Crow also revealed that she was diagnosed late last year with a benign brain tumor.

In 2008, the "Sex and the City" star went public with her cancer diagnosis, revealing that she found a lump in its early stages and had it removed through radiation, The Huffington Post reported at the time. Nixon wrote in a 2008 Newsweek article that her mother was diagnosed with breast cancer twice -- the first time, Nixon was just 13. "I feel like I have a very concrete story to tell. My story isn't just my story, it's mine and my mother's story," the Susan G. Komen for the Cure spokesperson has said.
Jolie said that after genetic testing she learned she carries the "faulty'' BRCA1 gene and had an 87 per cent chance of getting the disease herself.
She said she has kept the process private so far, but wrote about with hopes of helping other women.
"I wanted to write this to tell other women that the decision to have a mastectomy was not easy. But it is one I am very happy that I made,'' Jolie writes. ``My chances of developing breast cancer have dropped from 87 per cent to under 5 per cent. I can tell my children that they don't need to fear they will lose me to breast cancer.''
Phone and email messages left by The Associated Press late Monday night seeking comment from Jolie representatives were not immediately returned.
She is anything but private in the details she provides, giving a description of the procedures.
"My own process began on Feb. 2 with a procedure known as a 'nipple delay,''' she writes, "which rules out disease in the breast ducts behind the nipple and draws extra blood flow to the area.''
She then describes the major surgery two weeks later where breast tissue was removed, saying it felt "like a scene out of a science-fiction film,'' then writes that nine weeks later she had a third surgery to reconstruct the breasts and receive implants."
Many women have chosen preventive mastectomy since genetic screening for breast cancer was developed, but the move and public announcement is unprecedented from a star so young and widely known as Jolie.
She briefly addresses the effects of the surgery on the idealized sexuality and iconic womanhood that have fuelled her fame.
"I do not feel any less of a woman,'' Jolie writes. "I feel empowered that I made a strong choice that in no way diminishes my femininity.''
She also wrote that Brad Pitt, her partner of eight years, was at the Pink Lotus Breast Center in Southern California for "every minute of the surgeries.''
Bertrand, Jolie's mother, died in January 2007. She had small roles in the movies "Lookin' to Get Out'' in 1982 and "The Man Who Loved Women'' in 1983. She raised Jolie and her brother after divorcing their father, Oscar-winning actor Jon Voight, when Jolie was a toddler.
Jolie has appeared in dozens of films including 2010's "The Tourist'' and "Salt,'' the "Tomb Raider'' films, and 1999's "Girl, Interrupted,'' for which she won an Academy Award.
But she has appeared more often in the news in recent years for her power coupling with Pitt and her charitable work with refugees as a United Nations ambassador.
Breast Cancer In Canada:
In Canada, one in nine women is expected to have breast cancer during her lifetime, according to the Canadian Breast Cancer Foundation.
Though fewer Canadian women are dying from breast cancer today than in the past, deaths related to the disease have decreased by nearly 40 percent since peaking in 1986 due to earlier detection and advanced treatments.
Still, the statistics are frightening. Breast cancer is the most common type of cancer in Canadian women over the age of 20 and the third leading cause of death after heart disease and lung cancer. By the age of 90, one in 29 Canadian women is expected to die of breast cancer.
In 2012, an estimated 22,700 more Canadian women were diagnosed with breast cancer, says the foundation. In one year alone, they predict an estimated 5,200 Canadian women will die of the disease.
With files from The Huffington Post Canada