File-Sharing Lawsuits Canada: Canipre, Copyright Group, Accused Of Stealing Photos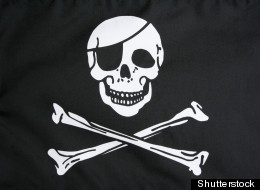 Pot, meet kettle.
The copyright enforcement group helping a U.S. film studio sue Canadians for unauthorized downloading of movies has been accused of committing its own copyright piracy.
Canipre, which last year declared it had collected data on a million Canadians who allegedly downloaded copyrighted material without permission, was accused on Wednesday of stealing copyrighted images for its website.
Three photographers contacted by Vice confirmed to the magazine that they had never given Canipre permission to use their images on its website.
The photos cited by Vice appeared to have been taken down almost immediately following the report.
Story continues below slideshow
Canipre Accused of Piracy
A screenshot of one of Canipre's landing page images.

This photo is reportedly a self-portrait of Steve Houk.

This photo is reportedly the property of Brian Moore.

This image is reportedly the property of Sascha Pohflepp.

Musicians Who's Battled Accusations Of Musical Fraud

Will.i.am isn't experiencing his first copyright-related lawsuit, as 24-year-old singer Tulisa sued the Black Eyed Peas frontman for allegedly stealing some of her lyrics in the Britney Spears collaboration "Scream and Shout." Will had admitted to using her song, recorded as "I Don't Give A F--k," having received it from the original producer, who reportedly didn't want it on Tulisa's album. But that hasn't stopped Tulisa from seeking royalties from the song's profits.

Songwriter Earl Shuman accused Alicia Keys of repurposing his 1962 track "Hey There Lonely Girl," a hit for Eddie Holman, on her 2012 single "Girl On Fire." She is currently facing a legal battle after being sued for copyright infringement.

Popular Spanish salsa singer Jerry Rivera claimed Shakira's "Hips Don't Lie" stole the horn progression from his song "Amores Como el Nuestro," prompting the singer not to show up at Spain's equivalent of the Grammys. Shortly thereafter, Shakira was accused of stealing part of the refrain from the popular Luis Dias song "Carnaval (Baila en la Calle)." Neither of these artists pressed charges.

Atlanta rapper Tyronne Simmons, better known as Caliber, sued 50 Cent, a producer and several music executives for copyright infringement for allegedly stealing the instrumental track for the 2007 song "I Get Money." Caliber claimed he had purchased exclusive rights to the material and proceeded to bring a suit against 50 Cent. It was eventually dropped, as the three-year statute of limitations for copyright infringement eventually passed.

The songwriters for The Rubinoos sued Avril Lavigne and her record label in May 2007, claiming her song "Girlfriend" infringed on their 1979 hit "I Wanna Be Your Boyfriend." The lawsuit was settled in early 2008, with Lavigne's music reps saying the songs' similarities were purely coincidental.

Big Seven Music Corp. sued The Beatles in 1973, accusing the band of ripping the beat and lyrics of "Come Together" from Chuck Berry's "You Can't Catch Me." The parties settled out of court, but John Lennon vowed to record three additional Big Seven songs as retribution. He did so, and Big Music retaliated by issuing unreleased tapes of Lennon's music. Lennon countersued and was awarded almost $85,000.

Chuck Berry strikes again. The R&B singer accused the Beach Boys classic "Surfin' U.S.A." of being a note-for-note rip of his "Sweet Little Sixteen." After a lawsuit, Berry received a writing credit and royalties from the song.

Radiohead's smash single "Creep" was accused of plagiarizing The Hollies' 1973 song "The Air That I Breathe." The Hollies won their lawsuit, which said that "Creep" stole a chord progression and melody from their song. As a result, Albert Hammond and Mike Hazlewood are now listed as co-songwriters on the Radiohead song.

Public Enemy accused Madonna's controversial 1990 song "Justify My Love" of sampling the instrumentals from "Security of the First World." Madonna claimed she'd never heard the song, and Public Enemy never brought a lawsuit anyway, with many speculating it was because they'd sampled music as well. Madonna's "Justify" troubles didn't end there, as poet Ingrid Chavez later sued Lenny Kravitz, the song's producer and co-writer, for stealing the lyrics from one of her poems. The lawsuit was settled out of court, and Chavez received a belated writing credit on the track.

Led Zeppelin has fought several copyright lawsuits unsuccessfully, one of which came in conjunction with 1969's "Whole Lotta Love." In 1985, Willie Dixon claimed the song was fashioned out of his 1962 track "You Need Love." The suit was settled out of court, and "Whole Lotta Love" now features a songwriting credit for Dixon.
Photographer Steve Houk, who said he had not given Canipre permission to use his images, said he contacted the group and was told by its executive director, Barry Logan, that Canipre had hired a contractor build its website, including photos.
Logan reportedly vowed to remove the offending images and said the contractor had bought the photos from an image bank.
"I pointed out to Logan that if that was true, he had basically paid his vendor to rip off other people's creative work," Houk said, as quoted at Vice.
Canipre has been involved in an attempt by Hollywood film company Voltage Pictures — maker of The Hurt Locker among many other films — to sue potentially more than 1,000 Canadians for copyright-infringing downloading of movies.
Indie Ontario internet provider TekSavvy warned customers last fall Voltage Pictures was planning to take the company to court to reveal the identities behind more than 1,000 TekSavvy IP addresses suspected of being engaged in unauthorized downloading.
If successful in court, Voltage will use the subscriber data to send letters to suspected downloaders asking for several thousand dollars in restitution, or face a lawsuit. (The maximum fine for not-for-profit infringement under Canada's new copyright law is $5,000.)
This strategy, known as "speculative invoicing," has been panned by critics as little more than copyright trolling.
Voltage's request for subscriber identification is in front of a federal judge in Toronto, and the case is expected to resume next month.
Canipre's Logan told the media he wants to "change social attitudes toward downloading. … Many people know it is illegal but they continue to do it."
(Downloading copyrighted material without permission for non-commercial use is not treated as a crime in Canada, and is settled in civil courts.)
As the Torrenfreak blog notes, Canipre is not the first copyright enforcement group that has itself been accused of violating copyright.
In 2010, the U.S. Copyright Group was caught stealing the code of a competing copyright group's website.
"Copyright is a double-edged sword, and those who sharpen one side often get cut by the other," Torrentfreak opined.