Toronto Mayor Rob Ford Cancels Casino Debate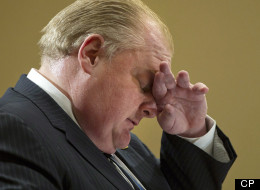 A whirlwind day of late-breaking developments around a possible casino development in downtown Toronto has seen the city's mayor declare the project "dead," the head of the province's gambling agency dismissed without explanation, and an admission from the province that it is only willing to give the city about half the gambling revenue it had been seeking.
A red-faced and angry Mayor Rob Ford called a surprise news conference on Thursday, saying he is scrapping an important council debate over the casino issue, telling reporters that he isn't sure the province is behind the project any longer.
Ford said that he has been unable to get clarification on whether the province actually wants to build a casino in Toronto and the kind of compensation the city would receive.
"Yesterday, we asked the premier's office to confirm that her government still wants a casino in Toronto. In conversations today, we have received no clear answer to that question," Ford said.
With these lingering uncertainties, Ford saw no point in moving forward with the debate at council.
"I will not ask council to go through a very divisive and gruelling debate next week to approve a casino that the premier is no longer interested in," Ford said.
"Therefore today, I instructed the city clerk to cancel Tuesday's special council meeting on the casino issue. Instead, the matter will be added to the agenda of the next regular council meeting scheduled for June 11. At that time, I expect to recommend that council simply receive the city manager's report for information and take no further action."
Toronto needs $100M
Ford said it had long been his position that Toronto would need to receive at least $100 million annually to host a casino in order for it to be worthwhile.
"If the province won't agree to that $100 million, then, folks, the deal is dead," Ford said.
The mayor said his office has made repeated inquiries about the funding formula that the province would use for a Toronto casino, but has been told "they are not ready to make a decision."
In an email to CBC News, Susie Heath, the press secretary for Finance Minister Charles Sousa, said that the government will "put out the formula when we're ready and are confident that it is fair to all municipalities."
But less than an hour later a government sources told CBC News that $53.7 million would be the annual figure Toronto would receive to host a casino — well below what Ford said was necessary.
Godfrey dumped as OLG chair
Then, with the mayor's speech still being studied, the finance minister sent out a statement announcing Paul Godfrey is out as chairman of the Ontario Lottery and Gaming Corp.
Sousa's statement said he delivered the news to Godfrey at a meeting on Thursday afternoon — but gave no reason.
At a news conference on Thursday evening Godfrey said he has spoken with Premier Kathleen Wynne but was not given a satisfactory explanation.
"The chemistry is different between us," he said.
Godfrey also revealed the entire OLG board of directors has resigned.
The secretary of the cabinet, Peter Wallace, takes over as interim OLG chairman.
Unfinished debate on casino
Coun. John Parker suggested the mayor had called off the meeting because it was obvious "there is no enthusiasm for a casino and this was clearly a convenient way of bringing the whole thing to an end."
Parker said it was unfortunate that the mayor was killing the debate, even if the casino concept does not go forward.
"The right thing at this point would be to put a period at the end of a sentence and the debate would do that," he said.
Coun. Mike Layton said that both councillors and constituents want to see council take a position on the casino issue.
"Let's have the debate, let's finish this off," Layton said.