David Beckham And Victoria Beckham: Their Worst Style Moments Together (PHOTOS)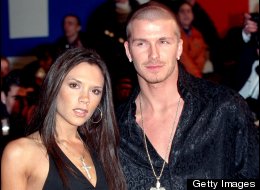 When we think of David Beckham, we picture his sexy abs, his many underwear ads and of course, his wife Victoria Beckham. (Posh and Becks forever!)
But the babe-a-licious star, who is retiring from soccer (or football, as they say across the pond) at the end of this season, wasn't always this hot.
In fact, back in the '90s and early aughts, the 38-year-old father was barely recognizable with his pale skin, goofy smile and slicked back hair. But none of that compares to his questionable style, which he proudly displayed alongside his then-girlfriend/fiancé, Posh Spice, who had major style mishaps of her own. (How these two made the adorably stylish Harper Seven Beckham, we will never know).
So to celebrate Beckham's career, we decided to show you another side of the H&M posterboy; a side that will not leave you quivering with lust.
Check out pics of David and Victoria Beckham back in the day:
David Beckham And Victoria Beckham Back In The Day
Before Becks met Posh, the young Brit still had pale skin, slicked back hair and a goofy grin. Oh, how he would change.

THIS is what David and Victoria wore after they announced their engagement. A hooded peacoat and a fur leather jacket? Come on guys, we can do better than that!

At another "engagement shoot" the couple look slightly better; Victoria pulls out her Posh look - a black mini skirt and matching sweater - while Beckham slums it in baggy jeans and a turtleneck.

Matching gold watchers and rings. Look at how long Victoria's nails are!

That's a lot better Becks! A three-piece pinstripe suit can look good on almost anyone, but please get rid of that goatee. We miss this hair on Posh.

The couple who matches together stays together? But who let Becks wear this hideous green jacket?

The real question is why David is wearing a multi-coloured bandana.

Posh really enjoyed showing off her boob job in strapless corsets. We're just left feeling a little bit uncomfortable. Way to work that open collared shirt, Becks!

This disaster is almost as bad as Britney Spears' and Justin Timberlake's coordinated denim moment. Who wears a leather trench coat other than Neo and Trinity?

Beckham is wearing a do-rag, which was the official accessory for '90s rappers.

Is that a shiny snakeskin motorcycle jacket? Posh should burn it!

Remember when crucifix bling was in style? We wish we could erase it from our memories.