Few things are as coveted as a free flight upgrade and according to a recent survey released by Skyscanner, the chances of travellers being bumped up to business class or better are slim, unless they're a lone, smartly-dressed male in their 30's.
In the flight booking company's survey of 700 cabin crew members, roughly six out of 10 workers admitted to giving out a free seat upgrade, with single male passengers receiving the majority of the offers (58 per cent of the times compared to 42 per cent for women). On the other hand, young teenagers dressed in revealing clothes and travelling in groups were the least likely to get upgraded.
"Not many of us are lucky enough to bag a free upgrade, but if you're a single guy in your thirties, you have a better chance than any of us," said Victoria Bailie, a spokesperson with Skyscanner in an interview with Scotsman.com.
While changing your gender and ditching your entourage may be tough to do mid-flight, there are some things travellers can keep in mind the next time they're looking for first-class seats at economy level pricing.
For starters, casually mentioning you're part of the airline's frequent flyer program serves as an easy way to bolster your chances of an upgrade. More elaborate means also include travelling with an injury (or at least lying about it) as nearly two thirds of the surveyed crew members said they were more inclined to upgrade an injured passengers' seat at no extra cost.
As for travellers who fit none of aforementioned profiles, being friendly and polite to crew or travelling during unpopular times can make a difference according to the Daily Telegraph. To see what other things travellers can do to increase their chances of a free upgrade, check out the infographic below.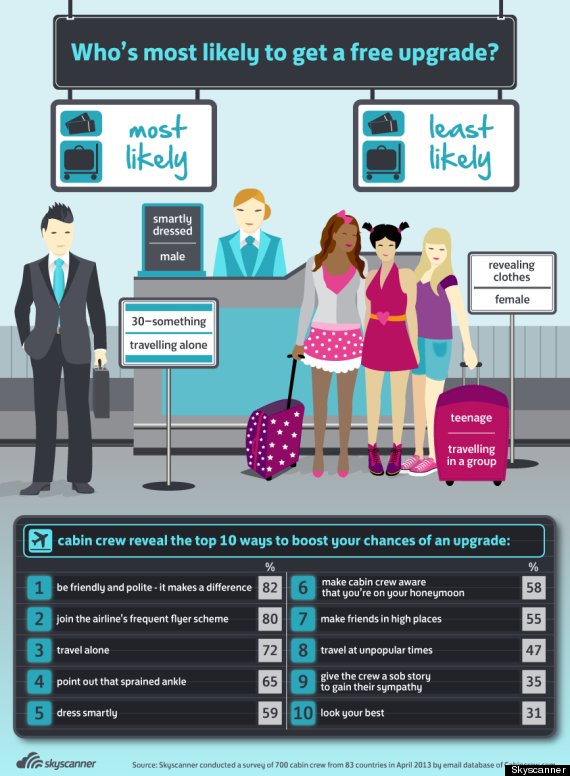 What have you done to score a free upgrade? Let us know in the comment section below or on Twitter @HPCaTravel
Related on HuffPost:
Loading Slideshow
A Fakey Smile Will Make You Seem Dishonest

A smile is perceived as fake unless you show the wrinkles around your eyes, says Mark. A smile without wrinkles might even seem predatorial! Improve your smile with the Cro-Magnon Crinkle and people will know your intentions are genuine.

An Inquisitive Look Can Get You Perks

By slightly raising your eyebrows (the Lizard Lift), you will be viewed as an approachable person. It translates across all cultures as a facial expression showing recognition. Try pleasantly saying to the flight attendant, "Hey, do I see beer back there?" Friendliness always wins courtesy in return (the concept of "reciprocity," according to Mark) – if not a free drink.

Open Wide and Say "Aaah think you're doing a great job."

When meeting the upgrade "gatekeepers" (e.g. agent at the check-in desk or gate, flight attendant) the Paleolithic Pal comes in handy. By opening your arms in a welcoming way, you show others you mean no harm. The smile is a great addition.

Anger Gets You Nowhere

This one's a big "don't": No matter how upset you are about a flight delay, avoid aggressive stances and unpleasant expressions like The Fossil Face. Even if you say kind words, leaning forward will irritate the person behind the desk.

Do the Tribal Dance – Make Yourself Appealing to Anyone You Meet

Mark says if you can associate with other people's "tribes," they'll want to cooperate with you. By creating a varied look (Natty Neanderthal) you'll be welcomed by different groups: Red socks indicate a sense of humour, a suit denotes professionalism, long hair means you're a bit rebellious. Find your travel look – without appearing to wear a costume!