Most Expensive 'Cottages' For Sale In Canada (PHOTOS)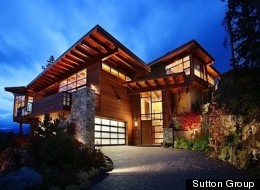 Cottage season officially launches this month, and with that in mind, HuffPost decided to take a look at the most outrageously luxurious, expensive cottages on the market these days.
There is no end of private beaches, landscaped waterfalls and sometimes tacky "rustic" interior design to be found at the top end of Canada's cottage market, though of course it will cost you.
But maybe not as much as it would have a few years ago. The recent slowdown in house sales has hit particularly hard in some of the country's most opulent weekend getaway destinations, such as the Muskoka lake country north of Toronto and Whistler in British Columbia, where high-end houses often have been sitting on the market for months if not years.
Whistler seems to have been especially hit hard, with condos there dropping in value by half, though the higher end of its market is seeing a little bounce lately.
And the cottage country north of Toronto was suffering from a stagnant market since the 2008 financial crisis, even before this spring's flooding washed out any hope for recovery.
All the same, these so-called country "cottages" are sights to behold, and they don't come cheap. Here are some of the wildest, most expensive cottages for sale this spring:
Wildest, Most Expensive 'Cottages' For Sale In Canada
This house in Rockyview County, Alberta, comes with five bedrooms and nine bathrooms on 13,000 square feet of living space. That includes a two-story library, a six-car garage and an 18-seat movie theatre.

Seven bedrooms in this 9,000-square-foot house in Pincher Creek, Alberta. The realtor describes the property as "perched nearly 900 feet above Highway 3 as you enter [the] captivating Crowsnest Pass." There are no fewer than four fireplaces on the property, and the sellers promise "world-class fly-fishing, skiing, and hiking."

Located just outside of Canmore, Alberta, this property features six bedrooms and 10 full or partial bathrooms on 7,500 square feet. "Features include the great hall with towering totem poles ... a hidden staircase leading to the stone wine grotto, massive wood-burning stone fireplaces, a two-storey library, an opulent kitchen, a lavish formal dining room, designer furnishings and fabrics, a passenger elevator, a 'Chauffeur's' quarters, a lower level theatre room and a large games room," the seller boasts.

This "fortress-like preserve" is located on one island in a chain of five about 20 minutes' boat ride from the Nova Scotia coast. The tide rises some 45 feet in that part of the world, and when the tide's out the island is surrounded by a red sand beach. The central residence has six bedroom and three bathrooms, and is linked by a network of walkways to "satellite bedroom cottages" spread across 10 acres of land.

This hybrid of an Ontario cottage and a James Bond supervillain's lair is embedded onto a rocky island in Georgian Bay. The open-concept octagonal cottage features six bedrooms, five bathrooms, a games room and three separate cabins.

Hudson might just qualify as a suburb of Montreal these days, but this palatial property's pool (complete with pool bar) and ice rink make it a great option for outdoorsy types. Ten bedrooms and six bathroooms in the main building.

Inspired by a Rockefeller country home, this log "cabin" north of Montreal was built from hand-picked trees to feature seven bedrooms and seven bathrooms on 10,000 square feet. The property features five fireplaces, a gym, a wine room and an entertainment centre.

Three bedrooms, four bathrooms and a five-car garage in this house in Montreal's cottage country that sits on 83 acres of land. The property features an inground pool and a cedar guest cottage.

Located on a 5-acre spur of land on Lac Tremblant, this cottage features four bedrooms and five baths in a 6,500-square-foot house. The property features a beach, a private dock and a tennis court.

St. Helen's Island in the cottage country north of Toronto features a five-bedroom, four-bath house with 6,400 square feet of living space. The property also features a two-bedroom guest cottage, a three-slip boathouse, a dockside gazebo, a wet bar, a water''s-edge stone patio and a fire pit.

This property called Idylwood features five bedrooms and four bathrooms on more than 6,000 square feet of living space.

This "spectacular gentleman's lakeshore estate," as the realtor confusingly calls it, features eight bedrooms and eight bathrooms on 8,600 square feet of living space. There is also a separate five-bedroom coach house. The property covers more than two acres and features 500 feet of beachfront.

The realtor boasts of this cottage's isolation -- there's a 2,200-foot long driveway that winds its way to the house, which sits on 124 acres and features 1,400 feet of lakefront. Four bedrooms and two bathrooms in this house. There's also a guest house, a boat house and a waterfall on the property.

The realtor describes this as "probably the finest lake shore home in the Okanagan," and with its own basketball court, boat house and boat house bar, it's certainly a contender. Six bedrooms and six bathrooms in this 7,500-square-foot "cottage."

Four bedrooms in this 5,000-square-foot house that promises "breathtaking mountain and lake views from every room." The property features a state-of-the-art media room and a custom landscaped waterfall.

This modernist "cottage" with a view of Whistler Mountain boasts five bedrooms and four bathrooms. The main floor terrace features a gas rock fireplace, BBQ and built-in benches. The house also has a hot tub gazebo and a gym.