Riza Santos, Denise Garrido Speak Out On Miss Universe Canada 2013 Mishap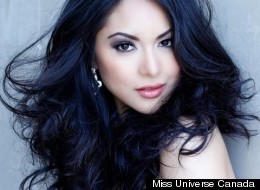 Riza Santos' dream of becoming Miss Universe Canada 2013 have finally come true, but it came at the expense of another contestant's harsh fall to reality.
Denise Garrido, from Bradford, Ont., was initially crowned the winner at the beauty pageant in Toronto this past weekend but not even 24 hours passed before she had the title taken away from her after an audit found that an accidental typo affected the results.
Garrido ended up being third runner-up while Santos earned her rightful place as Miss Universe Canada.
Now, the 26-year-old Calgary native is speaking out about the pageant mishap.
Santos told People that when the initial results were revealed, she was crushed.
"I felt disappointed because I felt that I performed very well throughout the entire night," Santos says. "I had executed everything to the best of my ability."
After it was announced that Santos did in fact win Miss Universe Canada, Riza took to her webpage to thank her supporters.
"I would like to say thank you to God, my family, friends, and all of my supporters during this humbling yet rewarding journey to become Miss Universe Canada. I can't begin to express my gratitude and excitement to represent Canada on the international stage. It's an honour to represent our country and I ask you for your continued support and prayers."
Now that the army reservist is headed to the Miss Universe 2013 competition representing Canada, the brunette beauty is a bit overwhelmed and apprehensive about her packed schedule which includes promotional tours and charity events.
"I'm not really sure how I feel about," she says. "I'm not disappointed about it. I did miss the victory party. At the same time, people who were really close to me – they were the ones who reached out to me afterwards. I do appreciate that a great deal. I actually am content with everything that happens. My heart goes out to Denise."
Garrido, for her part, is showing grace and humility on her unfortunate turn of events. The 26-year-old told People that she was okay with being third runner-up.
"It's definitely a blessing in disguise," Denise says. "I had this dream since I was a kid. I had that moment to be Miss Universe Canada."
Can someone at Miss Universe nominate Riza as Miss Congeniality of 2013?
Riza Santos certainly is a beauty:
Miss Universe Canada Riza Santos
Santos is 26 years old.

She is 5 ft. 7 in. tall.

Served two years with 15 Field Ambulance, a army reserve medical company in Calgary.

Has worked as a TV host.

work in partnership with the Canadian International Development Agency [CIDA] and the Philippine Tourism Authority as an Ambassador of Goodwill.

Speaks English and Tagalog

Worked for Pembina Pipeline.

Studied mechanical engineering at the University of Calgary.

Wants to start her own engineering firm.

Is a television and movie star in the Philippines.

Is a working model.

The crowning moment in Calgary. Santos is officially Miss Universe Canada 2013.

The crowning moment in Calgary. Santos is officially Miss Universe Canada 2013.

The crowning moment in Calgary. Santos is officially Miss Universe Canada 2013.