Canada Has NSA-Style Surveillance System, Documents Show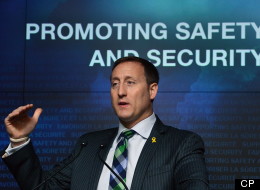 Since the revelations last week that the U.S. culls the phone records of millions of Americans every day and accesses the network of tech giants like Apple, Facebook and Google to trace citizens, questions have been popping up about whether Canadians are subject to similar surveillance.
So far, experts could only say that Canada has the legal loopholes and the capability to do so if it wishes.
But documents obtained by the Globe and Mail and The Canadian Press suggest that Canada is, indeed, engaged in mass warrantless surveillance.
According to the Globe, Defence Minister Peter MacKay signed a ministerial directive in November, 2011, authorizing the re-start of "a secret electronic eavesdropping program that scours global telephone records and Internet data trails – including those of Canadians – for patterns of suspicious activity."
The program evidently had been launched in 2005 by then-Defence Minister Bill Graham, in the Liberal government of Paul Martin. But the Communications and Security Establishment Canada (CSEC) — the Canadian equivalent of the NSA — suspended the surveillance program in 2008 over concerns from the agency's watchdog that it could lead to warrantless surveillance of Canadians, the Globe reported.
The program was restarted under new rules by MacKay, but it's not clear what those rules are.
Story continues below slideshow
9 Gadgets To Help You Avoid Surveillance
The Japanese government counter-terrorism practice of fingerprinting foreigners who enter the country may have inspired Doctor Tsutomu Matsumoto to invent "fingerprinting gels", a way of faking fingerprints for scanners. Learn how to make your own here.

Worried someone around you is secretly recording everything you do? No fear! There's a relatively low-tech way to defeat such snoops, via white-noise-producing audio jammers. These tiny devices use good ol' white noise to blur the sound picked up by hidden microphones and other surreptitious recording devices.

MIT's Technology Review calls it the newest, hottest Thanksgiving accessory -- but you can use phone-size "Faraday cages" like this (sold by uncommongoods) to block your cellphone's call signal, WiFi and GPS. Handy now that federal courts are ruling that cops can track suspects via cellphone sans warrant, and Apple can remotely disable your phone camera with a click. As security researcher Jacob Appelbaum said in an interview with N+1 back in April, "Cell phones are tracking devices that make phone calls." So shouldn't you be prepared for when you don't want to be tracked?

Hidden cameras got you down? Blind them all with a simple baseball cap lined with infrared LEDs. Amie, a hacker on WonderHowTo, shows the world how to make one, while this German art exhibition lays out how these ingenious devices work.

These receivers reveal the telltale electronic crackle of hidden mics and cameras. Strangely enough, they were around long before "surveillance culture" became a common phrase. Today they're sold in all sorts of shops for surveillance paranoids.

Sometimes hiding your face isn't enough; sometimes you don't want to be seen at all. For those days, there's camera maps. The NYC Surveillance Camera Project is currently working to document the location of and working status of every security camera in New York City. This project has been replicated by others in Boston, Chicago and Bloomington, Indiana. Notbored.org has even published a guide to making your own surveillance camera maps (here).

Credit to artist Adam Harvey for this one. Inspired by the "dazzle camouflage" used on submarines and warships during World War I, he designed a series of face paint principles meant to fool the facial recognition schemas of security cameras. Check out The Perilous Glamour of Life Under Surveillance for some tips on designing your own camera-fooling face paint.

Walmart may be the premier symbol of corporate America, but its disposable cellphone selection can help you start a thoroughly maverick lifestyle. $10 TracFones work on most major networks, including AT&T, T-Mobile, Sprint and Verizon, and come with minutes prepaid so you can dispose of the devices when you're done.

Radio-Frequency Identification (RFID) chips are now regularly implanted in passports, ID cards, credit cards and travel papers. These tiny chips make machine-reading your documents easier -- but could also let anyone with the right type of scanner scrape your information and track your whereabouts. Luckily, gadget geeks have come to the rescue again, this time with RFID-blocking wallets. Working on the same principle as the "phonekerchief", these wallets create a Faraday cage around your items, keeping their data secure until you take them out to be scanned where they're supposed to be scanned. Destroying the chip is simpler: just nuke it in the microwave for five seconds. Of course, whatever you're microwaving might burst into flames first...
The surveillance program evidently scours the web for "meta-data" — not the actual content of communications such as emails, but rather information about an email or telephone call, such as the participants, their locations and time of contact.
According to a document obtained by The Canadian Press, in December 2011, the CSEC advised its watchdog, Robert Decary, that MacKay had approved seven new directives to the spy service, including one on the use of metadata gleaned through foreign intelligence gathering.
The document says the CSEC's use of metadata "will be subject to strict conditions to protect the privacy of Canadians, consistent with these standards governing CSEC's other programs."
It lists five steps the CSEC must take to protect Canadian privacy, though the steps themselves were deleted from the version released under the access law.
CSEC spokesman Ryan Foreman said last Friday the agency could not comment on its methods, operations or capabilities, but added the agency functions within all Canadian laws.
While both the U.S. and Canadian security establishments argue looking at metadata offers a measure of privacy protection (and allows the monitoring to fall within the law), many privacy experts argue that metadata is actually more revealing than the content of communications, because it can be used to build detailed profiles of a person's movements, as well as who they know and how well they know them.
"If you can track that, you know exactly what is happening — you don't need the content," Susan Landau, author of "Surveillance or Security?", recently told the New Yorker.
Tech law expert Michael Geist blogged Monday that the revelations about the NSA's program, combined with the revelations of a similar program in Canada, leave many questions that need to be answered:
"[Are] phone companies such as Bell and Telus ... subject to warrants similar to those faced by Verizon? [Do] Internet companies co-operate with Canadian authorities? [Do] Canadian and U.S. authorities share information obtained through programs such as the Verizon meta-data program or PRISM? [Are] Canadians are targeted by the U.S. programs?" Geist asked.
The answer to the last question -- are Canadians targeted by the U.S. programs -- is likely yes.
A number of tech and civil liberties experts say that Canadians using U.S.-based services like Google's Gmail or Facebook are inevitably being caught up in the NSA's surveillance dragnet.
"I think Canadians really need to look at whether it's safe to be trusting foreign companies, in this case a U.S. company, with as much of their private data, given what the American government has been doing," Christopher Soghoian of the American Civil Liberties Union told CTV News.
"When you give your information, whether it's your personal emails or private photographs or social networking information, when you give that to a company not in your country you really give up control of that and you allow a foreign government to access that, in addition to your own."